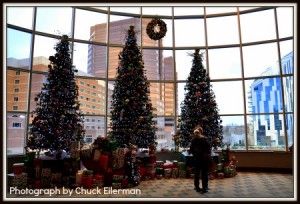 The holiday season is just around the corner, and there are many fabulous Christmas and Holiday activities in Northern Kentucky  that are fun for the whole family.  There are shopping experiences, photo opportunities, music, arts, and more on this list.  There are events on this list for children of all ages, from 1 to 100, because let's face it, aren't we all a kid at heart during the holidays?    So get out your calendar and mark down some of these holiday activities in Northern Kentucky so you don't miss them!
Holiday Activities in Northern Kentucky:
HOLIDAY SHOP HOP ~  November 22, 2014 | 4pm-8pm  Covington, KY FREE Covington's downtown retailers invite you to a holiday shop hop, a tour of our diverse retail offerings with a holiday bus to help you get around downtown. Participating retailers will have special offers and refreshments.  Participating businesses include:  Greenline Salon,  Dragons Hoard,  District 78, Blend, Shrewdness of Apes, Days Gone By Antiques & Vintage, Home Style, flow – a shop for men, Roebling Point Books and Coffee and Sims Furniture.
GRAND ILLUMINATION at NEWPORT ON THE LEVEE :: Tuesday, November 25th from 6-7:30m.  Music, Tree Lighting and MORE!  Visit their website for all the details.
801 HOLIDAY POP UP SHOP GRAND OPENING CELEBRATION ~ November 29, 2014 | 11am-7pm  801 Madison Avenue Covington, KYFreeFour retailers, a gallery, and a Toy Library will all pop-up this holiday season in downtown Covington! These businesses will open for one month with special programs and events. Saturday Nov. 29th is the Grand Opening.
CHRISTMAS TREE LIGHTING – Wednesday,  December 3rd, 6:30 p.m.: Join the City of Covington in lighting the tree on 6th and Main. Complete with carolers, free hot chocolate & cookies plus a petting zoo!  And….a visit from Santa!
SMALL BUSINESS SATURDAY – Saturday, November 29th.   Start your holiday shopping in MainStrasse Village.  Bring your receipt from a participating business to another participating business and receive 10% off your purchase.  Thanks for shopping local this season!
Friday, December 5th through Sunday, December 7th ~  CHRISTMAS TREE SALE in the MainStrasse Village, come get your fresh 
cut trees and wreaths at a reasonable cost on the 6th Street Promenade.  On Sunday (12/7)  you can enjoy live music with local favorites The Turkeys by the Goose Girl Fountain from 2-6pm.  And Christmas Karaoke on Saturday (12/6) from 7-11pm.
TIS THE SEASON TO MAKE MUSIC ~ December 6, 2014 4:30 to 5:30 www.stoneysgifts.com Stoney's Gift & Toy Shoppe Gather up the kidlets – big ones and little ones and come do some caroling on Stoney's front porch – we will have hot chocolate and cookies and fun instruments for the little ones to play
Saturday , December 6th at 6pm  SAINT NICHOLAS ARRIVES at the Goose Girl Fountain in MainStrasse Village, with gifts for the children.  Hot Chocolate & Cookies will be served.  Then stroll the Main Strasse Village visiting the fabulous shops and restaurants.
CHRISTMAS WALK in INDEPENDENCE ::  The First Saturday in December from 6-9pm.  See the City of Independence website to get all the details on this wonderful evening.
Saturday, December 6 from 9am-2pm GLORIA DEI CRAFT AND VENDOR FAIR A great mix of artful crafters, creative artists and direct sales consultants.  A perfect place to do your Christmas shopping because there are great gifts for all your hard to buy friends and family members.   Entrance to the event is only $1 and raffle tickets for some AMAZING baskets are only $1 each.  All proceeds from the event benefit youth and adults doing mission trips.   Event location is Gloria Dei Lutheran Church, 2718 Dixie Highway, Crestview Hills, KY 41017.
FESTIVAL OF TREES & BREAKFAST WITH SANTA at General Butler State Park on Saturday, December 6th ~ Dine with Santa Claus and then visit the decorated trees in the lobby of the State Park Lodge and then enjoy music that evening.  For all the details visit the General Butler State Park website.
BB RIVERBOATS HOLLY JOLLY LUNCH CRUISE  December 6th, 13th & 20th 2014  Boarding at 11am, Sailing 12-2pm  It will be Holly and Jolly aboard BB Riverboats this Holiday Season. Bring the kids down for this popular afternoon cruise. There will be plenty of games and activities for the kids and if they aren't naughty, Santa Claus will even make an appearance! Indulge in some of the seasons culinary treats which including turkey and dressing complete with all the "fix'ins."  Visit the BB Riverboats website for more details.
CATHEDRAL CONCERT SERIES ~ December 7 Advent Festival of Lessons & Carols Cathedral Basilica Bishop's Choir Gregory Schaffer, Organist and Conductor  Scripture and Song foretell of the coming Nativity St. Mary's Cathedral Basilica of the Assumption Madison Avenue at 12th Street, Covington, Kentucky 41011 cathedralconcertseries.org Open to the Public ~ No Admission Charge, Freewill Offering will be Gratefully Accepted All Concerts occur on Sundays at 3:00pm
PEOPLE AND PET PHOTOS :: by Rescue Angels in the Main Strasse Village on Sunday, December 7th from 2-5pm.
December 8th – LAST DAY TO MAIL LETTERS TO SANTA at Kenton County Public Library branches and courthouses! Kenton County Parks & Recreation, in cooperation with the Kenton County Public Library, is excited to announce its annual Letters To Santa ~ Letters From Santa program. Every child who sends a letter to Santa will receive a return letter from Santa just in time for Christmas! PLEASE be sure to check your child's letter to see that Santa can easily read full names and home addresses so that each child will receive his or her letter at home.  When mailing your child's letter to Santa, please remember to bring non-perishable food or personal care items (including diapers) for those less fortunate. Specially decorated barrels will be located right next to the mailboxes at each location. Their goal is again 2,500 letters and 2,500 items! Remember, it's the season for giving!
Tuesday, December 3rd 6-8pm FLORENCE TREE LIGHTING – For more details see their website or contact Florence Parks & Recreation (859) 647-5439.
Friday, December 5th at 6pm TWILIGHT CHRISTMAS PARADE in MAYSVILLE :: Marching bands, floats, and of course Santa Claus himself!  See the City of Maysville website for all the details.
Friday December 5th – Sunday, December 7th BURLINGTON CHRISTMAS ::  See Historic Burlington's website for more details about this event, and other holiday events they have going on all weekend long, like music, a pet parade, a train show, cookie decorating and more!  There will even be special holiday hours at shops & restaurants in Burlington.  Sounds like a fun weekend!
CELEBRATE SAINT NICHOLAS DAY ~ at the Erlanger Library  Ages: 2 – 6  Parent Required  Saturday, December 6, 2:00 pm-3:00 pm Enjoy stories, crafts, and treats celebrating St. Nicholas Day.
HOLIDAY CRAFTING FOR  TEENS ~ Saturday, December 6, 2:00 pm-4:00 pm at the Kenton County Public Library (COV) Create a unique ornament and holiday wreath from pages of a book.
A COOKIE FOR SANTA ~ At the Covington Library for children 12 and under.  Saturday, December 6, 1:00 pm-2:00 pm
Join us for a special Christmas storytime, followed by cookie decorating, and a photo-op with Santa!
HOLIDAY EXTRAVAGANZA! At the Erlanger Library on Sunday, December 7, 1:00 pm-4:00 pm  Enjoy carriage rides from 1-4, visit with Santa from 1:30-2:30 (bring your own camera, please), and create crafts from 1:30-3:00 or while supplies last.
WINTER HOLIDAY STORIES FROM AROUND THE WORLD at the Erlanger Library Monday, December 8, 7:00 pm-8:00 pm Join Miss Lise and Miss Maria for stories from around the world celebrating the winter holidays.
HOME FOR THE HOLIDAYS ~ Friday, December 12, 7:00 pm-8:30 pm at the Independence branch of the Kenton County Public Library.  Enjoy The Florence Community Chorus for a concert of Christmas and Holiday favorites!
Saturday, December 13th WHITE CHRISTMAS PARADE in AUGUSTA.  4-9 pm in the beautiful city of Augusta.  Contests, a parade, Christmas carols and more!  See the Augusta website for all the details on this fun-filled evening!
HOLIDAY CONCERT with the CINCINNATI HARPERS' ROBIN  ~ Saturday, December 13, 1:00 pm-2:00 pm at the Covington Branch of the Kenton County Public Library  The Cincinnati Harpers' Robin performs holiday tunes, traditional, Celtic and contemporary. The group consists of 8 harpers playing traditional, Irish lever harps creating a unique soundwith interesting and beautiful arrangements.
HOLIDAY SWEET SHOP for TEENS ~ Sunday, December 14, 2:00 pm-4:00 pm at the Kenton County Public Library (COV)
Learn how to bake several cookies and candies for the holidays.
HOLIDAY PLAYART AFTER DARK ~ at the Covington Library Ages: 2 – 6 Thursday, December 18, 7:00 pm-8:00 pm  Enjoy stories, songs, and a hands-on art project to celebrate the season. Dress to get messy!
Ongoing Holiday Activities in Northern Kentucky:
HOLIDAY TRAIN DISPLAY at BEHRINGER CRAWFORD MUSEUM  ::  This is one of my family's favorite holiday traditions, we love the train display at the Behringer Crawford!  You do not want to miss this!  The display runs from November 15th 2014 until January 18th 2015.  And on Sundays (November 30 through December 22) there will be a special reading of the Polar Express (reservations required for Polar Express).
 CHRISTMAS TOWN at THE CREATION MUSEUM in PETERSBURG ::  Come see a free Live Nativity & Garden of Lights every Friday & Saturday in December.   Bullittsburg Church Road, Petersburg, KY 41080 For more details call: (888) 582-4253 or visit their website.
DICKENS CHRISTMAS CAROLERS at NEWPORT ON THE LEVEE :: Visit the Dickens Carolers on weekends at the Levee.  See the Levee Website for all the details!
HATS & MITTENS DRIVE :: Give back to those in need this holiday season by dropping off new hats and mittens at the MainStrasse Village Association Office in Covington or you can donate $1 by purchasing paper mittens at  participating Covington businesses.  The hats & mittens will be distributed to children in Covington.
SCHOOL'S OUT MOVIES at the William E. Durr Branch of Kenton County Public Library 1992 Walton-Nicholson Road, Independence (859) 962-4030 Parent Required ::
The Muppet Christmas Carol: Monday, December 22, 1:00 pm-2:30 pm
Elf: Tuesday, December 23, 1:00 pm-2:30 pm
Double Feature – Disney's Planes & Planes – Fire & Rescue: Friday, December 26, 1:00 pm-4:30 pm
Sleeping Beauty: Monday, December 29, 1:00 pm-2:30 pm
Maleficent: Tuesday, December 30, 1:00 pm-2:30 pm
Muppets Most Wanted: Wednesday, December 31, 1:00 pm-2:30 pm
SCUBA SANTA at the NEWPORT AQUARIUM ::  Go see one of the most unique holiday displays in town!  Scuba Santa is sure to entertain the whole family!  Visit the Newport Aquarium website for all the details!   He will be there from November 29th until January 1st.
 SIMS FURNITURE CHRISTMAS WINDOW DISPLAY ::  If you are driving around Covington with the family be sure to stop at 727 Madison Avenue to see what the elves are up to getting ready for Christmas!  This charming window display is a must-see!  The display usually goes up after Thanksgiving.
BRICKmas at Newport on the Levee ~ November 25 through January 1 2015.   A spectacular holiday event for LEGO lovers of all ages!  Visit the Levee website for more details.
VISIT SANTA at Totter's Otterville in Latonia and have your picture taken by a professional photographer ~ takes place on several dates in November and December, visit the Totter's Otterville website for more details!
Give back this season! Support our Hats & Mittens Drive to Keep Covington Kids Warm. During the month of December, drop off new hats and mittens at the MainStrasse Village Association Office (406 W Sixth Street) or donate $1 by purchasing paper mittens at  participating Covington businesses. Donations will be distributed to Covington's kids through Covington Partners.
And to find out about Holiday Events and Festivals around the state of Kentucky check out the Kentucky Tourism website!  Maybe you can take a day trip for some holiday fun!
Want to find a CHRISTMAS TREE FARM in KY?  Check out the Kentucky Christmas Tree Association website.
Looking for more Holiday activities in Northern Kentucky & Cincinnati?  Check out these posts on Family Friendly Cincinnati:
Cincinnati Holiday Shopping Guide
Cincinnati Holiday Light Displays
Shop Local Series: Greater Cincinnati Toy Stores
Did I miss a holiday activity in Northern Kentucky?  If so, please submit it here: http://bit.ly/cincyweekendcalendar
When not blogging for Family Friendly Cincinnati, you can find Katie writing at her personal blog, www.thelittlethingsjournal.blogspot.com.