Places to host a birthday party in Cincinnati & NKY
We all know how important birthday parties are. We work hard to make sure they're perfect, that our children have fun and that great memories are made. Unfortunately, sometimes this is easier said than done, as it can be hard to find places other than the typical ones you think of {you know the places we are talking about

}.
This is exactly why a few weeks ago on Facebook we asked you to share your favorite places to host a birthday party in Cincinnati and Northern Kentucky. Boy were we excited about your responses! So many great suggestions – places we'd not heard of, places we'd been to, places all over the city.  It was a great list and we couldn't wait to share it here on the blog.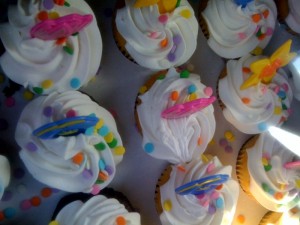 **Please note that our goal is to continue to grow this list, adding new places as we discover them or when you send them our way. If you know of a great place that's not included on our list, please feel free to leave information about it in the comments, or you can shoot us an email at familyfriendlycincinnati@gmail. com.
————————————————————–
 Adventure Zone at Cincinnati Mills Mall ~ Inflatables for the kids to bounce around on, and then you have a party room for half the party.  Prices start at $150 with several packages and add-options available.  Bounce away on your birthday!
Anderson Dance Academy ~ Does your child enjoy dance? How about a dance themed party? Anderson Dance Center offers several themes to choose from including Hip hop, hula and princess ballerina!  Get the details.
Arcade Legacy ~ If gaming is your thing then Arcade Legacy in the Cincinnati Mall is the place to be!
 The Art Spark: Birthday parties at The Art Spark are a special opportunity for your child to envision and plan a party with the Lead Sparklers Miss Jacquelyn and Miss Emily.  Whether your child wants to be a superhero for the day or make cupcakes with Pinkalicious, The Art Spark is sure to SPARK embers of imagination.  Each child will engage in art projects that are relevant to the theme including painting, sculpting, design, and more. We offer two different party packages that cater to each of our customer's needs. To see more information on our birthdays check out our website.  To see examples of some of our parties please go to our Facebook page!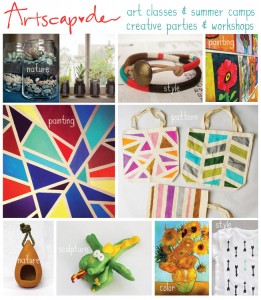 Artscapade ~We love to create a truly creative experience for you and all party guests.  With our variety of creative parties to choose from you will be thrilled to watch kids proudly walk away with their own handmade memory of your party. Choose from painting to sculpture, nature or style. For more information or to book your date please visit www.MyArtscapade.com/parties
Behringer Crawford Museum ~ Combine fun with learning at this great museum in Northern Kentucky.  It's one of my kids' favorite places to explore, and I'm excited to find out that they host birthday parties!  Contact them for more information.
Blue Manatee Books -  In a wonderful and creative setting, parties include stories, activities and games as well as ice cream from Aglamesis and smoothies from the Decafe!  A variety of themes are available from dinosaur and animals to pirates or fairies. Blue Manatee offers a party package for children turning 3 and older, and can accommodate up to 12 children.
Bowling ~ Superbowl in Erlanger & Eastern Lanes in Middletown.
Brazee Street Studios – Have a young artist at home? Why not incorporate the arts into your child's next birthday with a glass art creating party at Brazee Street Studios in Oakely. Parties are available for children ages 3-18 and children will have fun creating their own mini masterpiece from fused glass.
Cincinnati Family Enrichment Center ~ The CFEC has alot to offer…and will make your party-planning painless.  Enjoy a party in their beautiful location which is a Victorian Home.  They have many themes to choose from and party planners who take care of all the details for you.
Cincinnati Museum Center ~  Choose from the Duke Energy Children's Museum or the Cincinnati Museum Center for your party. Lots of party themes available including Construction, Fish, dinosaur, cave and more.  Party includes 15 guests with prices starting at $160 for Museum members, $185 for non members. Visit the Cincinnati Museum Center Web site for complete details and pricing.
Cincinnati Zoo ~ I've heard that birthday parties at the Zoo are spectacular!  Check their website for all the details!
Circus Mojo ~ Are you looking for the perfect party for your little performer?  Circus Mojo staff will entertain you and teach you circus skills like balancing feathers & walking on the globe.  Fun for all ages!  See their party brochure for all the details.
Cincinnati Cyclones ~ Do you have a hockey fan in your house?  A night out watching a cyclones game might be just the tickets!  Ticket prices start at $10 for groups of 30 or more ($11 for 20-29 tickets OR $12 for 10-19 tickets).  What an exciting way to spend your birthday!
CoCo Key Indoor Water Park ~ At Crowne Plaza Cincinnati North.  Wild & Wacky birthday packages start at $19.99 per child, with a minimum of 10 children.  This includes time to play in the water park, a party room, a meal for the kids and a t-shirt for the birthday child.  They also have rooms available in the hotel if you want to make a weekend out of it!
Color Me Mine ~ Located in Crestview Hills Towne Center children will have fun painting pottery with their friends. Prices vary based on pieces painted. Details on Color Me Mine Web site.
Cupcake Crazy ~ This is my kind of party!  Decorating cupcakes, cupcake crafts, decorating chef's hats, and a special present for the birthday child..and more!  All in your own private party room with two party hostesses.
The Enchanted Village in Lebanon~ In addition to being an amazing toy store, one the second level they have the cutest rooms perfect for a princess party for a little girl. You can decorate cookies in the pretend kitchen, play dress up with their beautiful costumes and have cake and a tea party with your animals. Visit the downtown Lebanon web site for contact information.
EnterTRAINment Junction in West Chester - Family friendly birthday parties at the EnterTRAINment Junction in West Chester OH, offers boys and girls exciting indoor themed birthday fun. With the world's largest Train Journey, to the A-Maze-N Funhouse, the entire family will have a blast. Receive food, goodie bags, party supplies, and the most memorable birthday party ever! And of course the admission of the guest of honor is free!
Fire Museum of Greater Cincinnati - All little ones want to experience being a hero! Give them the chance to have their party in an exclusive historical part of Downtown Cincinnati within an old firehouse that offers all the surroundings of being a firefighter for a day. Call (513) 621-5553 for special rates.  Make it extra special for your little firefighter by downloading a FREE party kit from Sparky the Fire Dog. For these DIY plans visit Sparky's birthday website.
Florence Freedom ~ WOW!  For $195 you can host a party for ten people that includes a party space at the ballfield, your child throwing out the first pitch (and being recognized on the PA), a cake from Fantasy in Frosting, tickets to the game, hot dog, chips & soft drink and MORE.  What a memorable way to host a birthday party!
Florence Fundome ~ Have a skate party!  The costs range from $90-$110 for 10 children (additional costs for each extra child up to 15 guests).  The cost includes skate rental for guests, pizza, soft drinks & ice cream.  You provide the cake.  And don't worry about the mess…they will clean it up!   Read more about Florence Fundome in Amy Q's post here.
Gallop Again ~ Gallop Again offers birthday parties March through November where kids get to paint on a real live horse. They get a pony ride, learn a craft and they get to feed the goats and play with the bunnies. Lots of different options to choose from.
GameWorks – With hundreds of exciting video games and lots of other fun things to do, there's no place like GameWorks for kids Birthday Parties! All Packages include a Private Room, Soft Drinks, Pizza, Birthday Cake and game cards. Packages start at $10.99 per person. Visit the GameWorks Website for more information on packages and pricing.
GlowGolf ~ Are you looking for a fun & unique birthday party idea?  How about playing glow-in-the-dark mini golf?  Sounds like a blast for kids of all ages!
Grand Sands All Season Beach Volleyball ~ The perfect place for your active child's birthday party, or for the kid who loves to play volleyball.  Or heck, even the parents who love to play volleyball

  The prices start at $5 per person and go up from there depending on whether you want to be inside or outside and if you want food or not.
Gym Nation ~ Located in Mason, they have several different party options starting at $125.  They offer gymnastics parties or parties in their indoor playground.  Looks like a blast!
The Gymnastics Center ~ Parties include one hour of supervised games and fun and a half hour for the party.  And a free t-shirt for the birthday child!
Gymnastics Central ~ Located in Newtown, parties start at $175 and include gymnastics, obstacle courses, fun on the trampoline and more.
Hamilton County Park District ~ Several locations offer birthday packages:  Sharon Woods, Parky's Ark, Parky's Pirate Cove, Park's Farm, and Woodland Mount.  You can also rent shelters at many of the parks and host your own birthday bash.  There are so many options!
Happen, Inc's Toy Lab ~ How fun would it be to create your own toy? Party goers at Toy Lab on Hamilton Avenue in Northside get to do just that with the help of one of Happen's wacky professors.  Party packages range in price from $160 – $240. Complete details are available on the Happen, Inc. Web site.
Home Depot ~ They offer free kids classes once a month on Saturdays, talk to your local store to see if you could bring your party to Home Depot for the class…and then back to your house for cake & ice cream!
Jump and Jack's ~ If your child wants a party where they can jump and climb and slide, then this is the place for you!  They have several party options to choose from, starting at $199.
Jump Stop Safari -  A Jumping jungle in Lebanon, OH! – Fun includes Safari themed play arena with custom-designed, multi-level, padded play center that includes 2 enclosed slides, a glider, punching bags, rope course, climbing mats, and a hippo look-out!  Also home to a children's playground, plenty of inflatables to play and a Cannonball Air Blaster Cage!
Jump! Zone ~  Jump!Zone is an indoor party center featuring nine large inflatables, interactive games and various toddler activities. Prices start at $159 for 15 kids and run to $259 for 25 kids. Locations in Florence & Milford. Visit the Jume!Zone web site for complete details on party packages and pricing.
Kenton County Parks & Recreation ~ The Kenton County parks system has many locations to choose from where you can rent a shelter for the day.  And the prices are very reasonable.  FFC writer Katie S. had her children's birthday party at Lincoln Ridge Park with a "summer" theme…squirt guns, water balloons and more!   Your local city may have park shelters or civic centers for rent as well.  Amy Q. hosts parties at the Crescent Springs park where she had a nerf gun blowout with her kids and their friends.  So many options!  Call your city building or local parks district for more details!
Kids First Sports Center ~ Celebrate your child's special day with a party palooza!  Trampolines, giant inflatable slides, tunnels, and more.  Followed by pizza, ice cream and cupcakes..YUM.
Lazer Kraze – With locations in Erlanger & Deerfield Township, Lazer Kraze is home to some amazing indoor lazer arenas plus Erlanger has an inflatables section and Deerfield Township has a Lazer Maze! Lots of different party packages depending on your budget, starting around $119.
The Little Gym ~ Located in Mason, Kids who have their birthday party at the Little Gym get the whole place to themselves! Party includes lots of tumbling and "gymnastics" fun and they take care of everything for you.  Visit The Little Gym web site for details, call for pricing.  Perfect for children 12 and under.
Little Songbird Music ~ Perfect for little ones ages 1-4, Little Song Bird music will bring the party to you. Parties include a half hour music class and creating a musical craft. Costs start at just $45.  Visit the Little Songbird Music web site for complete details.
Mayerson JCC ~ Located in Pleasant Ridge, the Mayerson JCC offers parties in their gym or waterpark.
Michael's ~ Check your local Michael's store for an arts & crafts party for your birthday child.
The Mount Washington Educational Arts Center ~ Does your child want to get creative for their birthday party?  The Mt. Washington Educational Arts Center would be just the place…they have parties involving crafts, cooking, games and more!  Check them out!
Movie Theaters ~ Many theaters offer birthday party packages, such as: Parland Theatre, Rave Cinemas Florence, etc.
Northern Kentucky Ice Center ~ Located in Crescent Springs, the Ice Center isn't just for playing hockey and learning to skate.  They also throw Birthday Parties!  Prices start at $115 for up to ten children, for additional costs you can throw in pizza & drinks, more guests and even skating lessons.  Not available during the months of December & January.
Orange Leaf ~ The Hyde Park & Harper's Point locations offer parties which include frozen yogurt, toppings, balloons and a party room.  Contact them for more details on pricing.
Perfection Gymnastics ~ Located in West Chester, take your little gymnast and their friends to Perfection for a fabulous party!
Pump It Up ~ Large private indoor arenas, filled with gigantic inflatable slides, bounce houses, obstacle courses and more (Parents can play too!) Parties include a private party room with a party coordinator to help run things so parents can just sit back and enjoy. Parties run from $189 – $269. Located in West Chester. Complete details on the Pump It Up Web site.
Recreations Outlet ~ A giant indoor wonderland for children that includes swingsets, inflatables, basketball hoops and much more!  The party prices start at $149 for up to 15 children for 2 hours.
Rockquest Climbing Center ~ Head to Sharonville with your adventurer for a rock climbing experience like no other.  Parties start at $215 and include gear & harness rental, pizza and soft drinks as well as a party room.
Roller Skating in OH ~ There are several places you can host a skating party in & around Cincinnati:  Skatetown USA, Skate World in Kettering,&  Beechmont Rollarena.
Run Jump-n-Play offers a wide variety of birthday party or event options at affordable prices.  With easy access off of I-71 located in Mason Ohio, they offer an array of activities including our Three Giant Inflatables Arenas, Glow Bowling Alley, Glow Mini Golf Course, Swings-n-Things Play Area, themed birthday party rooms, a junior basketball court and more.
Scallywag Tag
-  Cincinnati's place to party and plunder.  We host families, friends, businesses, teams and any other group you can put together.  Enjoy our multi-level laser tag arena, 18 hole black-light miniature golf, arcade room or concession area.  Locally owned and Operated.  
www.scallywagtag.com
Silverlake, the Family Place ~ Great place for a party. You get your choice of 2 activities such as gymnastics, bouncy house, Kids Zone, Outdoor or Indoor swimming, etc. My oldest had his party there a few years ago and Robbie, the party organizer was amazing. We really didn't have to do anything but show up.
Skidaddles ~ They want the kids to have a blast and the parents to be able to sit back, relax and enjoy the party!  The staff at Skidaddles will take care of all the details for you!  They will have crafts, snacks and activities and also have many themes you can choose from to make the party perfect for your child.  They have locations in Florence & Mason.
Snappy's Tomato Pizza Party ~ What child doesn't love pizza? How about a party at Snappy Tomato where you get to eat what you helped make?  Call your local Snappy Pizza to see if this is offered. We know in Bright, IN the Snappy location offers a 'make your own pizza' party for kids for just $5 per child.
Stoney's Gifts in the Main Strasse Village offers parties in the garden behind the store.  This charming garden is the perfect place to host a small party for your child, and the prices are very reasonable.  Parties are for no more than 8 children, and you can choose from several different activities for the children.  The party includes lemonade and fruit kabobs, cakes are extra.  Check out Stoney's Gifts on Facebook for more details.  Stoney's Gifts, All Things Princess & Fairy: Home of the Happy Heart Princess & The FairyTale Kids 323 West Sixth Street  Covington, KY 41011  859-655-9571  www.stoneysgifts.com
Sunrock Farm in Wilder, KY ~ hosts birthday parties for kids too. Parties are 3 hours long and include 2-hours of fun with a farmer. Your child's guests will have a chance to hold baby chicks, pet goats, interact with cows and lots more! Costs start at $200, but that includes 20 guests. Details: SunrockFarm.org
Swim Clubs ~ Do you belong to a swim club during the summer?  FFC Contributor Michelle writes: We did a birthday party at our pool last summer. Of course we are members, but the whole thing cost $25. We just paid a few dollars for non-members to come and brought our own stuff. Maybe you can get a discount rate if you are a member somewhere already.
Totter's Otterville ~ I had a party for my children at Totter's Otterville and it was fantastic.  We had a party coordinator that took care of all the details for me, and the kids had a blast.  You have to have a minimum of 8 children, no more than 30.  The prices start at $13.99 per child and includes: pizza, soft drinks, paper products, invitations, one hour of play time, a Free Return Visit Pass for the Birthday child, party room for one hour and a hostess for two hours.  I loved it, because I just had to show up with the cake.  You can also purchase additional food for adult guests.  They also have a Fire Truck party room, which is out of this world!  Read more about Totter's Otterville in Michelle's post here.
University of Cincinnati Campus Recreation Center ~ You can host a birthday party at the University of Cincinnati's Campus Recreation Center in the gymnasium, climbing wall or swimming pool. You can even mix and match two areas or all three for your event! Check out their website for more information about birthday parties at the Campus Rec Center or email robert.weeks@uc.edu
Wake Nation ~ Want to take your party to the 'Extreme'? How about a party at Wake Nation in Fairfield?  Party goers can learn to wakeboard, water ski, and/or kneeboard WITHOUT a boat. The main lake is good for kids 10 and up and this summer they are opening The Practice Pond for ages 5 and up. Pricing starts at $300. Complete details on the Wake Nation Web site.
The Web Extreme Entertainment ~ This place has it ALL: Laser tag, mini-golf, go carts and mini bowling.  Parties start at around $120 for ten kids, and then you can add activities/food/extra kids for additional cost.  Looks like it would be a blast for the whole family!
Whole Foods Market Mason ~ offers fun cooking parties that include everything from sending out the invites to party favors. Perfect for ages 4 and up. Contact Lauren.Pfaltzgraff@wholefoods.com or Anthony.Lamarca@wholefoods.com for details.
Whole Foods Market Cincinnati ~ Each child can make their own pizza…YUM!
World Of Golf ~ Located in Florence, at World of Golf you can enjoy mini golf, games and food for $12.95 per child.  They also will make a video of the party and send it to you, put your child's name on the marquis and give them a t-shirt!
Yesterdays Cafe & Tea Room ~ Located in Florence, this is the perfect place for a prim & proper tea party.  They have such themes as Princess & Pinkalicious.  Prices vary according to party plans, and they have many options.  Children 4 years and older, with a maximum of 12 children.
YMCA ~ Many local YMCA's offer birthday packages, check your local Y's website for details and to see if they offer parties!
Parties at Home
**here's a few ideas for spicing up your birthday parties at home (or location of your choosing)!
Cake Decorating ~ Bake cakes and have a cake decorating contest with the guests.  Gina, an FFC reader and author of the blog Raising2Tweens, did this for her daughter's birthday and put the pictures of the cakes on Facebook for her friends to vote on.  The cakes were adorable, and the girls seemed to be having a blast.  This is a great idea for tweens & teens, who love to be creative!
Gallery to Go ~ Bring the party to your house for your budding artist.  Gallery to Go brings all the supplies to make a beautiful masterpiece.  A perfect way to create a lasting treasure from your birthday party!  Parties are for children 8 years and older.
Learning through Art, Inc. ~ This is a perfect birthday in a box for kids preschool through third grade.  Educational & entertaining!  Bring books alive at your child's birthday party!
Looney Ballooney ~ She'll bring the party to you!  She can either twist balloons to entertain, or teach you how to twist balloons, and her work looks pretty cool!  Check out her facebook page for more details.
Noah's Ark Workshop ~ If your son our daughter likes stuffed animals, you might want to look into an animal stuffing party with Noah's Ark Workshop. They bring the party to your location. Each party includes a professional Party Leader, Party Invitations, optional Party Favor Box, Theme Party Planning Guide, optional Party Supplies, Mascot Entertainment*, Cuddly Animals and Outfits and a FREE gift for the birthday child.
Star Glazers ~No need to travel, Star Glazers brings the party to you.  Paint ceramic mugs, plates etc and w/I 2 weeks your finished pieces return! Details on the Star Glazers web site. Call for party pricing.
Tippi Toes Dance Company ~ They will come to your party and turn it into a dance party!  Or they have a princess party where they send a princess to your party!  Minimum cost is $75, contact them for more details.
Here's a fun idea one reader submitted:  "We take all the kids to a matinee performance at the Ensemble Theatre of Cincinnati and then have a party at home w/ food and games inspired by the show." Lots of great local theater productions for children. Visit the Ensemble Theatre or The Children's Theatre web sites  for details/inspiration.
————————————————————–
Don't forget, we know this is just the tip of the iceberg. If you know of a great place to have a party, please let us know. We want to keep this list up-to-date and growing!
Thanks to everyone who shared ideas on the Family Friendly Cincinnati Facebook Fan page!
This post was originally written on March 30, 2011. It is updated regularly.  Last updated: February 2013