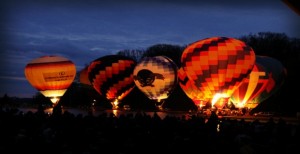 PLEASE NOTE:  BALLUMINARIA IS CANCELLED DUE TO EXPECTED HIGH WINDS. IT WILL NOT BE RESCHEDULED FOR 2013…
The balloons like calmer wind speeds, in the single digits usually less than 8 mph – especially for inflating in smaller confined areas such as Mirror Lake. With predicted winds of 20+ mph we do not want to risk the safety of our balloonists, staff, or guests and feel it best to cancel this year's event. We are sorry for a ny inconvenience!
INFORMATION: For more information please check the Park's Website or call 513.357.2604.
The holidays are going to be here before you know it, and there's one FREE event for the whole family that you do not want to miss to jump start your holiday season: Balluminaria in Eden Park.  It's a night of hot air balloon wonder mixed with holiday cheer.  This annual event is a perfect holiday tradition.
I remember going to Balluminaria as a young girl with my family, it was always such an enchanting experience.  Now I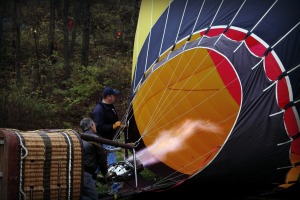 love taking my own children to this wonderful free event in Eden Park.  Balluminaria is an event like no other, and it's the perfect kick-off for the holiday season.  Come to Mirror Lake in Eden Park on Saturday, November 23rd from 4 until 6pm to see the beautiful balloon glow.  If you arrive a bit early you can watch the balloons being prepared, opened up and then the fire roar to bring them to life and  lift them up.  It's so cool to watch the whole process happen!  And then when all of the balloons are ready and the sun sets, they light up in unison, with their reflections glowing in Mirror Lake and it's like magic…so fantastic!
There will also be food, hot chocolate, and crafts for sale,  pictures with Santa, circus performers, nature activities, holiday music, performers from the Ballet and Playhouse in the Park and MORE!  The best part about this event is that it's FREE to attend!  There will be places to purchase food/drinks, but the balloon viewing, holiday carols and such are free fun for your family.  When we go with the kids we like to make an evening of it, buying dinner from one of the vendors and sipping on hot chocolate while we wait for the balloons to take the stage.  Bring a blanket or chairs and have a cozy little picnic!  Please keep in mind that pets are not allowed, and the event will be cancelled if there is rain or it is too windy.

 Don't miss the Balluminaria holiday experience with your family!  
Important Note about Parking at Balluminaria from the Cincinnati Parks Website ::  Please view the event/parking map & road closures for safety as ease of navigation prior to the event.  Free on street parking throughout the Mt. Adams neighborhood; $10 parking in the lot off of Martin Drive between Cliff Drive and Parkside Place – follow the parking signs.  $10 Parking fee includes 1 FREE ticket and a $1 Off coupon to the Krohn Holiday Show; a $7 value.
For More Information be sure to visit the Cincinnati Parks Website.
When not blogging for Family Friendly Cincinnati, you can find Katie writing at her personal blog, www.thelittlethingsjournal.blogspot.com.