Outdoor Dining in Cincinnati and Northern Kentucky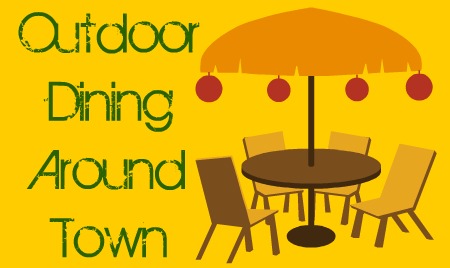 As soon as the weather warms up everyone will be itching to get outside more and more.  And when the weather is warm, restaurants open up their outdoor seating for the season.  I personally love to eat outdoors, and so do many of the FFC bloggers.  So we've decided to share with you our favorite places for outdoor dining in Cincinnati and Northern Kentucky.   We also asked you, the readers where you like to eat outdoors, and we've put that list at the bottom of this post.  Please be sure to comment below if  your favorite place to eat outdoors is not on this list!  Bon Appetit!
Kristin's Picks :: Diggs & Brazenhead
In Mason, we have a great hang out spot that transports you to a beach side oasis (minus the beach).  It's called Digg's and the outdoor pub and dining venue is open and ready to serve.  The food is typical "pub grub" (get the yummy pretzel stix). They do feature kids meals (a tad higher priced since this doesn't include a drink), but I like going more for the ambiance and a cool drink. The restaurant is surrounded by sand volleyball courts and when there isn't an impromptu or league volleyball game going on, the kids can have so much fun in the sand while parents can sit back and relax.  The volleyball courts and bar/patio area are completely fenced in so as long as you can keep an eye on the kids, you are going to thoroughly enjoy Digg's.  It's also a great meeting spot for kids' sports teams after practice or a game since it's outdoors, kids running around in the sand or getting a bit loud don't seem to bother anyone.  Digg's is located at 854 Reading Rd., Mason, Ohio.
Another favorite spot in Mason for some outdoor dining is Brazenhead (see my past post on Burger Wars) They have a large outdoor patio area. On Tuesday night, kids eat free with an adult meal purchase. My daughter loves their fish and chips.  They also have other specials during the week. On Wednesday you can get a burger for $4 (it went up a buck). Plus they also have a great happy hour from 4-7pm, Monday-Friday with drink specials and "happetizers".  Brazenhead is located at 5650 Tylersville Road, Mason, Ohio.
Katie's Picks :: Barleycorn's & Keystone
I had a terrible time narrowing this down, we love so many places around town that have outdoor dining, but I finally settled on Barleycorn's in Fort Mitchell.  You can read more about their cool patio in this post I wrote a while back for FFC.   Another favorite is Keystone Bar & Grill in Covington (they also have a Hyde Park location, I've never been to that one).  Keystone is indeed a Bar, which might not sound so family friendly to some, but earlier in the evening is a different scene.  When we went there were other children dining there, friends meeting up after work, couples enjoying dinner with their pup at their feet and then a crowd of people inside watching a game of some sort (I'm so horrible at sports knowledge).  It was quite a mixed crowd, and I was totally comfortable having my kids there for dinner…I'm sure as the evening gets later there probably aren't as many families dining.  I love Keystone's burger, because I'm a burger & fries kind of girl, but they have so many other options on their menu.  It's not just your typical bar grub.  They are known for their Mac & Cheese (which by the way is half price on Mondays).  It's not just ho-hum Mac & Cheese either, they have a large variety to choose from such as the Buffalo Springfield which is buffalo chicken topped with crumbled bleu cheese (spicy!  and yummy!).  And then there's the Green Day Mac, which has spinach and sundried tomatoes, just to name a few.   On Tuesdays they have half price Quesadillas, which are also delicious.  They have quite an assortment to choose from of these as well…such as the Queen City'dilla or the Veggie'dilla.  Or you can build your own.  This is not all they have, you'll have to go there and see for yourself.  The menu changes often, and the food is always good.  They also have brunch on Saturdays and Sundays from 10-3, which I would love to try sometime.  And they have rooms for private parties.  Keystone is located at: 313 Greenup Street, Covington.
Amy's Pick :: Claddagh Irish Pub
Karen's Pick :: El Pueblo's
Eating outside when the weather is warm is such a nice change. For my family, we find it relaxing – we seem to linger just a little bit longer over the meal and the conversation. Our favorite place to go to eat outdoors is a neighborhood restaurant for us, El Pueblo's.  The restaurant is located in what originally was an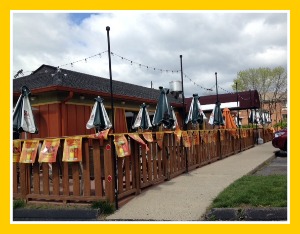 old Pizza Hut – it's located in Blue Ash at 4270 Hunt Rd.  This Mexican Restaurant is one of our favorites and town so we're lucky it's just a short drive or a long walk away from home.
El P's (as locals like to call it), has a great outdoor eating area with nice umbrellas and comfortable seating. Sometimes, especially in late Spring, you do have to fight up off the ducks that live across the road as they seem to have a particularly keen taste for chips, but other than that, it's all good times.
 El P's has a full menu of what you would expect to find on a Mexican Restaurant's menu — my favorite dish on the menu is Enchilada Suisa, my husband's is the Mexican Stew and both my kids are Fajita addicts. They do offer a kids menu with a few American and Mexican choices. Unfortunately for us, our seven and nine year old moved off of the kids menu and on the adult menu way too soon for us. I was hoping they'd eat of the kids menu at least until college, but it was meant to happen.
 The staff at El P's are very efficient and nice. Kids are always welcome and the atmosphere in general is just laid back (but you can feel the hum of a well oiled machine working in the background – staff never stop).
 El P's is almost always busy. If you're planning on coming with a large crowd and want to sit outside, be sure to give them a call ahead of time at 513-791-4405 for reservations.
Erin's Pick :: Cheddars
More Outdoor Dining in Cincinnati & Northern Kentucky ::
Our Favorite Picnic Spots for Outdoor Dining ::
Cincinnati Zoo
Washington Park
Fountain Square
International Friendship Park
Findlay Market (great place to grab lunch and then eat at one of their many tables)
Fountain Square
I know that we did not list every single place around town that has outdoor dining, so if  your favorite place was left off the list please comment below and let us know!!