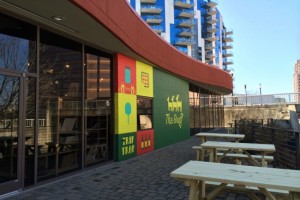 There's a new kid on the block in the Covington restaurant scene.  The Gruff opened on January 13 at 129 East 2nd Street and word spread quickly about the pizzeria & delicatessen.  All the chatter amongst friends convinced me that I needed to get there quickly.  One week after they opened I met a friend for lunch and I went in with an open mind, knowing that new restaurants need a honeymoon sort of period to work out all of the kinks.  I was pretty blown away by our dining experience, because it seemed that the kinks (if there were any) have already been worked out.  The service was super-fast despite a crowded dining room, and very friendly.  The food was delicious and arrived at the table in a very timely fashion.   And to top it all off they have a small area in the corner just for kids, where they can play with wooden trains or read books.  I loved having the opportunity to actual have uninterrupted chatting with a friend while Henry occupied himself.
The Kids Area: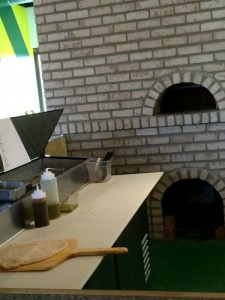 The Gruff offers meals made with fresh quality ingredients including brick oven pizzas – specialty or create your own,  sandwiches, salads, appetizers and desserts.  They also have a bar where you can get wine, cocktails or beer (they had quite a selection of local craft beers).  Their pizzas are large enough for two or three people to share.  Today we shared a pizza and pickle fries and it was plenty of food and quite reasonably priced.  There is not a children's menu at The Gruff, but they did offer to make Henry a grilled cheese.  He opted for a pizza and a portion of our pickle fries instead.  He gobbled that pizza up too!  The Brick Oven is right next to the bar, so you can watch your pizzas be made, and I have always been one to enjoy watching the pizza making process.
Our Lunch:
The Menu: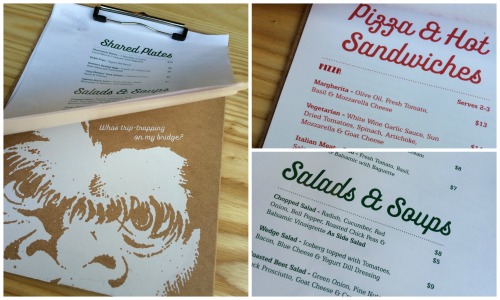 The casual dining room is brightly lit thanks to huge windows lining the front of the restaurant, and along with table seating they have a bar you can sit at, and when the weather warms up you can choose to sit outside at a picnic table.  The Gruff is so unique because along with the restaurant they have a delicatessen where you can pick up ingredients to make a meal at home.  The Gruff is also home to a small specialty shop where you can grab what you need to make a great dinner at home or a snack to take to work with you.  The shop also has a nice selection of wine and beer for sale.   Another added bonus at the Gruff is that they offer a drive through window where you can pick up orders you place online or by phoning ahead.  So many great things happening under one roof!  Even though I loved our lunch, I left feeling like I missed out on other great food because there were just too many things to choose between on the menu.  I'm hoping to get back there very soon so I can try a sandwich or have some soup and salad.   I can foresee this becoming a hangout for my family.
The Bar: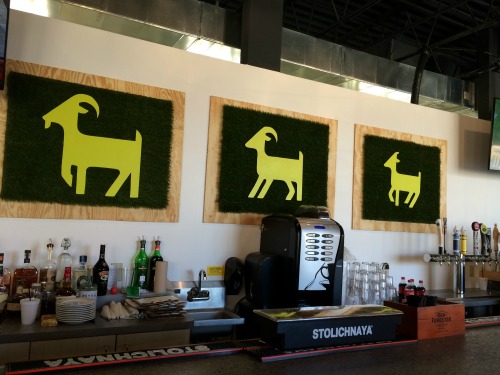 Shop for specialty Groceries while you are there: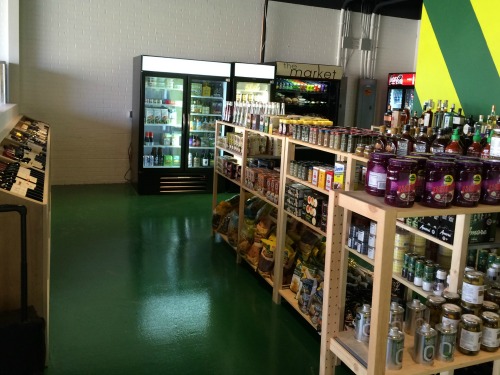 The Gruff is located at 129 East Second Street in Covington.   Visit The Gruff's website to find out more about their menu, parking and hours of operation.  And then make plans to have dinner or lunch there soon…you won't be sorry!