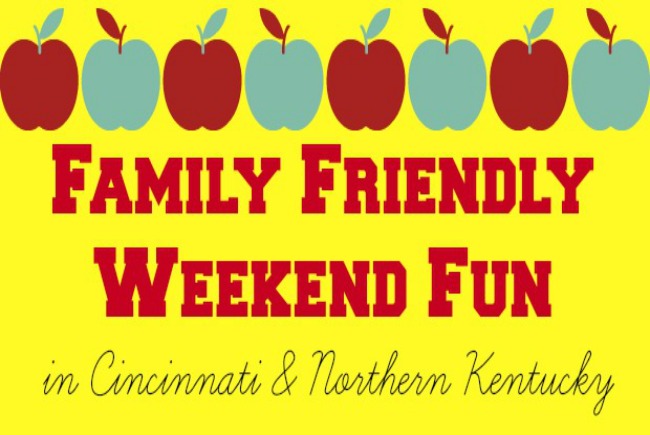 It's that time of year…the buses are circling, the back to school pictures are popping up all over Facebook and the parents are all stocking up on coffee to combat the early mornings with grouchy kids.  School is back in session.  But that doesn't mean that the summer fun has to end!  We're here to help you figure out how to squeeze a little more fun out of this summer.  Check out this huge list of events going on around town this weekend!
Family Friendly Things to Do in Cincinnati & NKY ::
Friday ::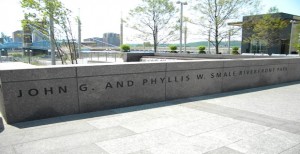 FREE Family Fun at Smale Riverfront Park 2014:  FREE Movie in the park on Friday night at 7pm – Cloudy with a Chance of Meatballs.  Pack a picnic and bring the family down to the riverbanks for a fun evening!
Superhero Run for Kids!    August 15, 2014, 7:00 pm – 10:00 p.m.     Cincinnati Bar Association Young Lawyers Section & ProKids    www.prokids.org/superhero    St. Xavier Catholic Church, Downtown Cincinnati    $35.00 for Race registration, free to kids!     This family friendly 5K Run / walk is the perfect event for a Friday night. The event is for adults and children of all ages. For the young kids, there is a Kids Fun Run, face painting, and more! After the race, there is food, drinks and live music! Come on out and support ProKids!
Hilltop Stories A Neighborhood Film Project    August 15, 2014 | 9pm-10pm    Hilltop Stories    https://www.facebook.com/hilltopstories    2800 Woodburn Ave – A decorated parking lot    Free/Open to the public    OUTDOOR FILM FESTIVAL Bring your Lawn chair, family, friends & neighbors  After the Walk on Woodburn  PUBLIC PARKING LOT FOR DESALES CORNER on Woodburn between Myrtle & Clayton Special thanks to Fuel Cincinnati for funding this event!
Ft Thomas Artisan Market     August 15, 2015    FT Thomas Central    https://www.facebook.com/Fortthomascentral    3 North Fort Thomas Ave    Free    Enjoy live music, local art, shopping and community fun. Bake sale benefiting Histio (www.histio.org) research & Marty's Waffles. Fun for the whole family.
Saturday ::
Family Day: National Aviation Day    August 16, 2014 | 10 am-3 pm    National Museum of the U.S. Air Force    http://www.nationalmuseum.af.mil/education/family/index.asp    National Museum of the U.S. Air Force, 1100 Spaatz St., Dayton, OH    Free    Commemorate National Aviation Day (and Orville Wright's birthday) by learning about aerospace technology and history from 1903 to 2014 and beyond through fun demos and hands-on activities.
Date Night Movie in the Park:  9pm at Washington Park – FREE – this week's movie: The Wizard of Oz.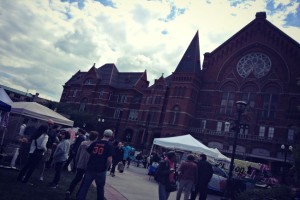 The City Flea : August 16 / Washington Park 10a-4p ~  The City Flea is one of the most interesting and unique markets around.  Check out the works of awesome crafters and vendors while chowing at the food trucks and listening to fine tunes by the DJ.  Take the whole family!  Read more: http://www.familyfriendlycincinnati.com/2014/06/08/city-flea-washington-park/
Curiosity Saturday:  FREE kid-friendly activities in Washington Park from 11am until 1pm.  This Saturday kids can participate in hands on activities and learn about nature!
Critters in the Crick at Pioneer Park in Covington!Join KCP&R and Out of Control Wildlife on Saturday, August 16 from 9 until 11 am for Critters in the Crick, a-wade-in-the-creek- and-catch-stuff-with-nets-and-seines adventure in Banklick Creek at Pioneer Park. It's free!   Meggy Cooper from Out of Control Wildlife will lead a hike that will have participants investigating stream bed, stream banks, and everything in between! And, using seines and dip nets, all aquatic life will be examined ~ insects, salamanders, fish, frogs, and maybe even a turtle or water snake!   You might get a bit wet so wear old shoes, or waterproof shoes, boots, or waders and bring a towel… You know, just in case! (Wink, wink!) Meet at the parking lot near the Iron Bridge that crosses the creek to get to the Kenton Paw Park. The hike will last at least an hour.   Pioneer Park is easy to find! From I-275, take Exit 80 (Covington/Independence) and go south on KY Hwy. 16 about one mile. You will see the park on your right before you come to the entrance. Turn right into the park, then turn right again. Pass Shelterhouse 1, and look for us near the Iron Bridge.
FREE Family Fun at Smale Riverfront Park 2014: Bullooney Puppetworks & Madcap Puppets 4 – 7pm
Sunday ::
Make Goebel Great Free Concert    August 17, 2014 5-8 pm     www.makegobelgreat.com    at Goebel Park in the Mainstrasse Village, Covington    This will be a FREE family friendly event. Featuring two local bands the Turkeys and the Rocket Fly. The Turkeys are a local bluegrss favorite and the Rocket Flys consist of three local boys ages 11-13. Please come and support this event and learn how you can help Make Goebel Great.
Third Sunday Fundays    Third Sunday of the Month    Taft Museum of Art       http://www.taftmuseum.org/    316 Pike Street  Cincinnati, Ohio 45202 Free    Bring the whole family to the Taft Museum of Art on select third Sundays to explore, create, and play. Activities are free and ongoing, so drop in when you have time and stay as long as you like. Monthly Theme: It's a Zoo in Here!    FREE. No reservations taken.  Information: (513) 684-4515.
All Weekend Long ::
Battery Hooper Days at James A. Ramage Civil War Museum in Fort Wright.  Go back in time to the days of the Civil War and learn about local history at this family friendly event that will have battle re-enactments, music, food and more!  Visit the Battery Hooper Days facebook page for more information.
Midwest Regional Black Family Reunion ~ August 15-17  ~ "Bringing Families Together"- Sawyer Point & Yeatman's Cove, downtown Cincinnati riverfront – FREE.  For more information : http://www.midwestbfrc.com/
This is your LAST CHANCE to see the exhibit Diana, A Celebration at the Cincinnati Museum Center.  We had the chance to preview this event and it is FANTASTIC!  For any Diana fans and lovers of royalty, it is a must see!  More than 15 years after her death, Princess Diana's memory still stirs interest and emotion. The award-winning exhibition Diana, A Celebration, which chronicles the life of the late Diana, Princess of Wales, will be on display at Cincinnati Museum Center from Feb. 14 through Aug. 17, 2014. This is the final showing for the renowned exhibition, which has been touring the world since 2003, before the items return to her sons in England to be preserved for future generations.
Shakespeare in the Park :: There are several performances this weekend by the Cincinnati Shakespeare Company, of Macbeth and Misdummer's Night Dream.  Read this post on FFC for all the details and then pack your picnic and head to one (or more) of the shows!
Everything Thomas at EnterTRAINment Junction    Aug. 1-Sept. 14. 10 a.m.-6 p.m. Mon-Sat. Noon-6 p.m. Sun.    EnterTRAINment Junction    www.entertrainmentjunction.com    7379 Squire Ct., West Chester, OH 45069    Starts at $9.95     Everything Thomas At EnterTRAINment Junction, an indoor celebration of the world's most famous tank engine Thomas, with
several Thomas wooden train layouts, Thomas HO scale electric train display, videos,Thomas & Friends scavenger hunts and crafts. Also, two outdoor train rides (weather permitting). The hobby & toy shop has Sodor's new limited-release engine Logan, the latest addition to the Thomas & Friends collection.  (513) 898-8000.  FREE parking.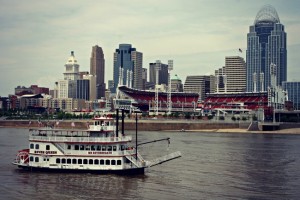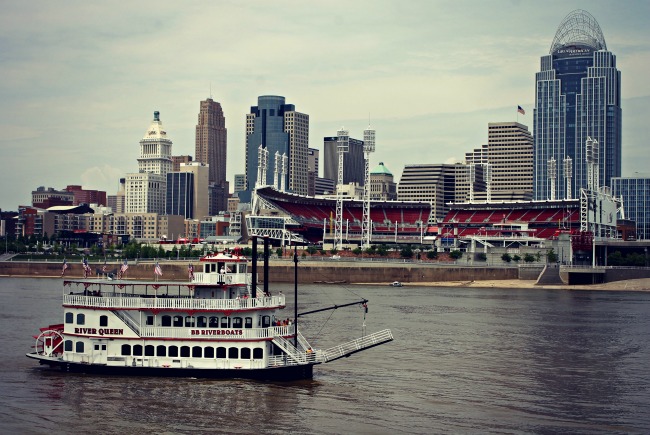 BB Riverboats offers many family friendly cruises and summer is a perfect time to take a cruise on the Ohio!  On Fridays there are Pirate cruises and on Sundays they have Ice Cream Socials.  There are also Super Hero Cruises, Princess Cruises, Sightseeing Tours and MORE!  Visit BB Riverboats for all of the details and to purchase your tickets: http://www.bbriverboats.com/index.html
Farmers Markets: Warm weather means that it is Farmers Market Season!  Find a market near you, or try a new one in a different neighborhood, either way you are sure to find fresh produce and other delicious and healthy things to feed your family.  Here's our line up of some of the great Farmers Markets in Northern Kentucky and Cincinnati
FREE Movies!  Check out this post with a huge list of free movies all over town this summer.
Looking for somewhere to take the family for Brunch this weekend?  Check out our post about all the best places to grab brunch in Cincinnati & NKY: http://bit.ly/1lgwq2F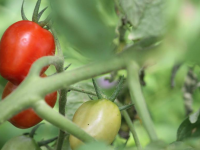 2014 Krohn Summer Floral Show The Edible Landscape    July 4, 2014 – August 24 2014    Krohn Conservatory    www.cincinnatiparks.com/krohn    Krohn Conservatory $4 Adults, $2 Children (5-12) (4 and under FREE)    The Edible Landscape will run from July 4 – August 24.  This year's creative floral show will feature a landscape filled with summer annuals and edible plants.  Included among the plants will be fruits, vegetables, edible trees and shrubs, as well as new, top-rated plants from All America Selections selected by the National Garden Bureau.  The Edible Landscape, presented by Scherzinger Termite and Pest Control, will demonstrate how a carefully planned landscape design can create a residential garden that is both attractive and productive.