The Cincinnati Museum Center has the great honor of being the final stop of an epic exhibit spotlighting Princess Diana of Wales.  Diana, a Celebration opens on February 17 and will run until August 17, 2014.  We had the opportunity to visit the Diana exhibit during the Media preview, and we were all fascinated with this glimpse into the life of Princess Diana.  I grew up enamored with Princess Diana, so you can imagine how elated I was to stand so close to her wedding dress and to see toys she played with as a child.  Diana, a Celebration chronicles the life of Diana over the years, from her childhood to her tragic death.  The exhibit includes home movies, photo albums, childhood toys, family heirlooms from the Spencer family, the fairytale wedding dress Diana wore when she married Prince Charles, more than 25 fabulous outfits worn by Princess Di, Jewelry (including two gorgeous heirloom tiaras), and much much more.
Diana, A Celebration:
Here are a few highlights from the Diana exhibit, starting with THE dress of course…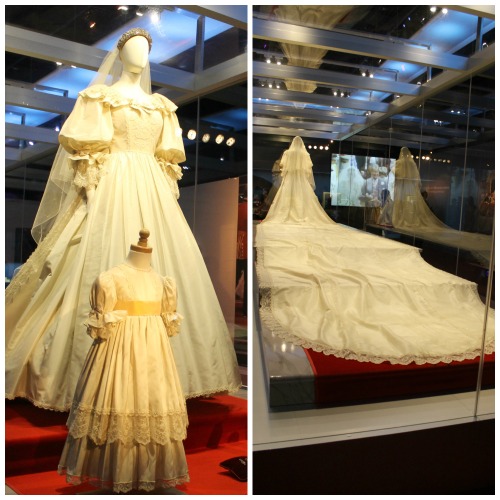 Diana's Wedding Dress is one of the biggest highlights in this exhibit, you can't help but feel awestruck when you walk into the room with the wedding dress and hear the wedding music playing in the background with wedding pictures and video footage of the wedding.  It's a magical moment, especially for those like myself who are fans of the Princess. The dress is gorgeous and quite obviously made for a princess with it's 25 foot train and veil topped with an antique restructured family tiara.  The dress is made with 25 yards of ivory silk taffeta, 100 yards of tulle crinoline, and 10,000 hand embroidered pearls and mother of pearl sequins.  Can you imagine how heavy this dress was for her to walk in?  She had to have rehearsals ahead of time to practice walking in the dress with such a long train.  As this dress travels with the show from place to place, only two men in the entire world are permitted to touch the dress.  Nick Grossmark and Graeme Murton travel with the exhibit to facilitate installation and de-installation.  They were also instrumental in choosing which of her many outfits were included in the exhibit.
Along with the iconic wedding dress, more than 25 other outfits are included in this show: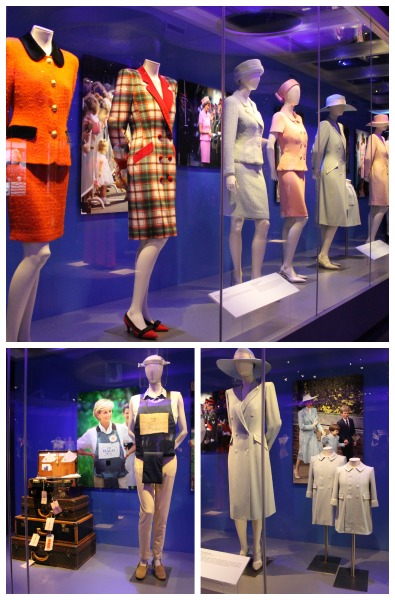 Here's more information about Diana, A Celebration: 
More than 15 years after her death, Princess Diana's memory still stirs interest and emotion. The award-winning exhibition Diana, A Celebration, which chronicles the life of the late Diana, Princess of Wales, will be on display at Cincinnati Museum Center from Feb. 14 through Aug. 17, 2014. This is the final showing for the renowned exhibition, which has been touring the world since 2003, before the items return to her sons in England to be preserved for future generations.
The exhibition presents the life and humanitarian work of Princess Diana through nine galleries containing 150 objects-ranging from her royal wedding gown and 28 of her designer dresses to family heirlooms, personal mementos, paintings and rare home movies and photos. The exhibition is on loan from the Althorp Estate, the Spencer family's 500-year-old ancestral home.
The exhibition showcases the life and work of one of the most remarkable women of her time – certainly one of the most photographed – with over one billion television viewers who watched the 1981 Royal Wedding. Her charm, beauty and easy grace touched people worldwide during her short and complex life.
Daughters of the Queen City:
After you go through the Diana, A Celebration exhibit you find yourself in a new special exhibit at the Museum Center that acts as a local companion to the Diana exhibit with wedding dresses displayed that belonged to Cincinnati "princesses".  Be sure to linger in the Daughters of the Queen City exhibit for a while to learn more about some of the wonderful women who helped shaped Cincinnati.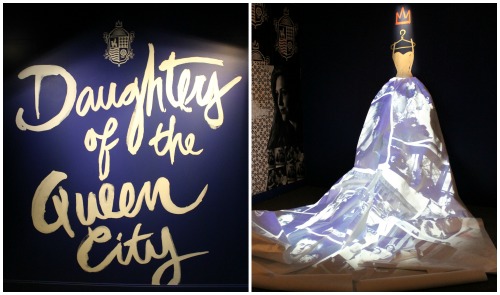 Information about Daughters of the Queen City:
Items from Cincinnati Museum Center's historic collections illustrate a sampling of philanthropic efforts by Cincinnati women from the 1850s-1960s. The gallery also recognizes a modern city of women leading, giving and caring, inviting visitors to learn more about several local organizations at work today.
Daughters of the Queen City features historic gowns and objects of women who raised funds for charity and awareness about issues ranging from the city's widows and orphans to education and the arts. Drawn from Cincinnati Museum Center's collections, these gowns range in date from 1853 to 1947 and represent eras of fashion spanning a century.
Daughters of the Queen City also highlights stories of philanthropy at work throughout the 19th and 20th centuries. Women featured in the gallery include Olivia Procter Benedict, Helen Pogue Fisk, Josephine Lytle Foster, Carol Ann Homan Haile, Louise Dieterle Nippert, Jennie Porter, Mary M. Emery, Patricia Corbett, Maria Longworth Nichols Storer and Virginia Keys Jones Coffey.
With the creative support from Museum Center's partner Landor, Daughters of the Queen City presents these gowns and objects in a way that celebrates the collection and captivates visitors. The gallery utilizes video mapping to project media animation onto a wedding dress. A mirror with crowns painted on it invites you to take a selfie of yourself as a princess, complete with a crown. A collection of community partners inspires you to go out and act like one.
Even though I have already been to these two exhibits, I am hoping to visit again before they end in August.  Perhaps I will plan a ladies day out to visit the exhibits.   Time to dust off my tiara!  And it's important to note that the Museum Center will have extended hours for this exhibit.  And on Wednesday evenings  they will have a cash bar: "Diana: Toast of the Town" where you can purchase wine, small snacks and English beers.  There will also be other events related to the Diana exhibit , such as Diana & Shakespeare on March 15, a summer day camp with a design and fashion theme, Afternoon Tea Birthday Party packages, and more.  For more information about these programs, Diana, a Celebration and the Cincinnati Museum Center visit the Cincinnati Museum Center Website.  For more pictures from my sneak peek at the Diana exhibit, visit the Little Things Blog.