We're a bit late, but better late than never!!  Here's our list of great summer fun to be had around town this weekend…don't miss out!
SATURDAY
SOG Summer: Mini STACKS — 1:30pm-2:30pm — Brazee Street School of Glass-4426 Brazee St, Cincinnati, OH 45209.
Parking is located behind the building. In this exciting one-hour class, students will learn the basics of glass cutting, then design and create their own original 5" STACKS dish. These beautiful bowls will show how light moves through glass, and will demonstrate the "6mm Rule". Ages 8+.$25/student. www.brazeestreetstudios.com
July Family Open House: Mini Sun-Catchers — 10am – 1pm –Brazee Street School of Glass-4426 Brazee St, Cincinnati, OH 45209. Parking is located behind the building.Celebrate Summer with us! Join us any Saturday in July to design and create a hanging Mini Sun-Catcher using a variety of Bullseye Glass materials. Open to all students ages 5+, so bring the entire family anytime between 10am-1pm. $15/Sun Catcher.www.brazeestreetstudios.com
SOG Teens: Intro to Glass Bead Making — 1pm-2pm –Brazee Street School of Glass-4426 Brazee St, Cincinnati, OH 45209. Parking is located behind the building. Calling all young bead makers! Your budding glass artist will learn the basics of glass bead making, participating in an art form with nearly 30,000 years of history. IN this weekend workshop, students will learn how to create round beads, square beads, and dot beads as they build comfort and control on the torch. All materials included. Ages 11-18, no experience necessary.$90/student.www.brazeestreetstudios.com
Elvis and the Shoemaker — 4pm –Smale Riverfront Park.  The puppets will be performing a new skit "Elvis and the Shoemaker along with their zany songs and silliness. A meet & greet with the puppets and their puppeteer will follow the performance. Free. WumpMucketPuppets.com/cincinnatiparks.com
Family Day: To the Moon —  10 am-3 pm — National Museum of the U.S. Air Force, 1100 Spaatz St., Dayton, OH. Commemorate the 45th anniversary of the first moon landing by learning about rocketry and space flight through fun demos and hands-on activities.http://www.nationalmuseum.af.mil/education/family/index.asp
Smart Investing at your Library Workshop — 1-5pm  –Public Library of Cincinnati and Hamilton County –Sharonville Branch, 10980 Thornview Drive. "Smart investing@your library®" workshops engage teens with hands-on activities, games and materials for better understanding of personal finance topics. The website Teenspace.CincinnatiLibrary.org/money offers a booklist, money tips, games, web comics and video blogs. Teens who attend a workshop will receive a pack of supplies, including books. Free.http://Teenspace.CincinnatiLibrary.org/FINRAgrant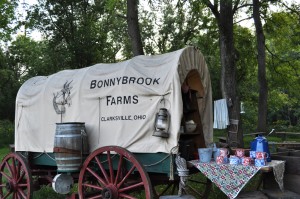 Bonnybrook Farms' Chuck Wagon Dinner Ride  — Saturdays June, July & August 5pm-9pm —  Bonnybrook Farms       3779 State Route 132, Clarksville, OH 45113    $35. adults, $23 youths 4 -12, 3 & under free    A Chuck Wagon Dinner Ride offers a FUN Evening of GREAT Food and Camaraderie for Families, Friends and Groups of all Sizes on a Beautiful and Historic 370 Acre Working Farm.  Chuck Wagon BBQ, Giant Slingshots, Clodhopper Golf, Petting Animals, 80′ Horseshoe Hill Underground Slide & Farmyard Play Area, Wagon Ride, Campfires and S'mores.  www.BonnybrookFarms.com
Date Night Movies at Washington Park — 9-11 PM —  This Saturday it's James Bond in GoldFinger rated PG.  Bring a blanket or chairs, and a picnic basket and enjoy a date night in beautiful Washington Park. http://washingtonpark.org/event/date-night-movies/2014-07-19/
Saturday, July 19: Goldfinger (1964)
Rating: PG
Film Description:
 James Bond's newest mission takes him to Fort Knox, where Auric Goldfinger and his henchman are planning a raid in an effort to obliterate the global economy. To save the world once again, Bond will need to befriend Goldfinger, dodge gunfire, and avoid succumbing to the deadly allure of Pussy Galore. – See more at: http://washingtonpark.org/event/date-night-movies/2014-07-19/#sthash.L7xGlevl.dpuf
You've got one more day to check out the Kenton County Fair! http://www.kentoncountyfair.com/
SUNDAY
Puppy Tales —  2 – 4pm — Erlanger Branch Library, 401 Kenton Lands Road, (859) 962-4000. Join us for Puppy Tales and you can read to a dog at the library! Studies have shown that reading to dogs improves children's reading skills. Each child will receive a certificate with a photo of themselves with the dog they read to. For children in grades 1-6. Call 962-4003 to register.
National Ice Cream Day at Graeter's –To commemorate 144 years of handcrafting its famous French Pot ice cream, Graeter's is celebrating National Ice Cream Day with $1.44 single scoop cones. Fans can get one scoop of their favorite ice cream for this special price at all area Graeter's retail locations. Graeter's stores open at 11 a.m. or earlier on Sunday. Visit www.graeters.com for a location near you.www.graeters.com
Cake Wars — 2 – 4pm –Kenton County Public Library –Covington Branch,Covington Meeting Room 1, 502 Scott St. Covington, KY.Teen Cake wars! Join Angie, cake extraordinaire from Sweet Treats O'Mine, as she teaches the basics of cupcake and cakeball making. Face off in the cake wars, winner takes home a sweet prize. FREE. http://www.kentonlibrary.org/events
Double Talk 2014 — 3pm-5:30pm –Notre Dame Academy Theater, Park Hills, KY. Vent Haven Museum is thrilled to announce Double Talk 2014, a family friendly public show starring Tony Award winning ventriloquist Jay Johnson and featuring performances by Jake LaMarca, Denny Baker, and David Turner. The event will be held at the Notre Dame Academy Performing Arts Center, 1699 Hilton Drive, Park Hills, KY, on Sunday, July 20th at 3:00 p.m.  This show will serve several purposes: to serve as a fundraiser for Vent Haven Museum, to promote the art of ventriloquism to a local audience, and to raise awareness of Vent Haven Museum in the greater Cincinnati area.  For more information about Double Talk 2014 or to purchase tickets, go to www.ventshow.com or call Vent Haven Museum at 859-341-0461. $20. www.ventshow.com
ALL WEEKEND LONG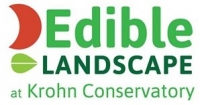 Krohn Conservatory 2014 Summer Show: Edible Landscape — The Edible Landscape will run from July 4 – August 24. This year's creative floral show will feature a landscape filled with summer annuals and edible plants. Included among the plants will be fruits, vegetables, edible trees and shrubs, as well as new, top-rated plants from All America Selections selected by the National Garden Bureau. The Edible Landscape, presented by Scherzinger Termite and Pest Control, will demonstrate how a carefully planned landscape design can create a residential garden that is both attractive and productive. www.cincinnatiparks.com/krohn
Today you can also take advantage of these two seminars, FREE with paid admission to the show:
Urban Gardening….you can grown food no matter how much space you have…got a patio or deck…you have room to grow!
Edible Flowers…learn about edible flowers and how to use them in recipes..like lavendar or squash blossoms
Immaculate Heart of Mary Festival ~ July 18-20 ~ www.ihom.org/festival  All of the fun of a summer festival!
BB Riverboats offers many family friendly cruises and summer is a perfect time to take a cruise on the Ohio! On Fridays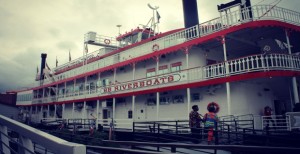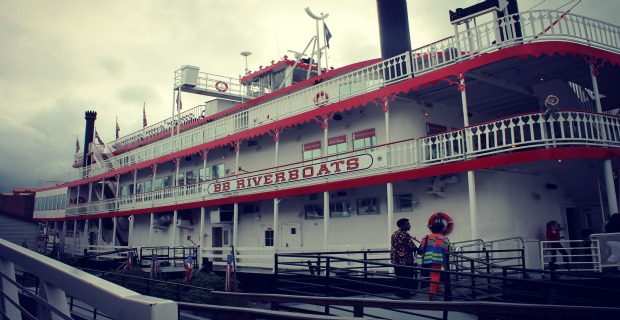 there are Pirate cruises and on Sundays they have Ice Cream Socials. There are also Super Hero Cruises, Princess Cruises, Sightseeing Tours and MORE! Visit BB Riverboats for all of the details and to purchase your tickets: http://www.bbriverboats.com/index.html
Farmers Markets: Warm weather means that it is Farmers Market Season!  Find a market near you, or try a new one in a different neighborhood, either way you are sure to find fresh produce and other delicious and healthy things to feed your family.  Here's our line up of some of the great Farmers Markets in Northern Kentucky and Cincinnati
Looking for somewhere to take the family for Brunch this weekend?  Check out our post about all the best places to grab brunch in Cincinnati & NKY: http://bit.ly/1lgwq2F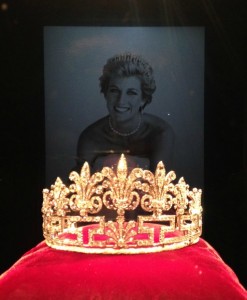 Cincinnati Museum Center:: Diana, A Celebration.  You don't have much time left…this exhibit retires permanently and returns home to England after August 17! We had the chance to preview this event and it is FANTASTIC!  For any Diana fans and lovers of royalty, it is a must see!  More than 15 years after her death, Princess Diana's memory still stirs interest and emotion. The award-winning exhibition Diana, A Celebration, which chronicles the life of the late Diana, Princess of Wales, will be on display at Cincinnati Museum Center from Feb. 14 through Aug. 17, 2014. This is the final showing for the renowned exhibition, which has been touring the world since 2003, before the items return to her sons in England to be preserved for future generations.
If you want an adventure, grab a towel take the Southbank Shuttle to Smale Riverfront spray park, stop for yogurt at Orange Leaf and enjoy the river view!  Check out this post by Amy Q for more details!
Do you have a Teen or Tween who is bored this summer?  Check out our Fun Things to Do Around Cincinnati: Tweens and Teens Edition for loads of fun activities around town for your tweens and teens!