I could open this post up by asking "how about that heat?" but that would just be begging for an eye roll.   We all know how bad the heat has been…but have you, like me, run out of fun new ways to entertain your kids and keep them cool?  Katie S and I have been looking for ways to beat the heat and have fun at the same time and the all new Smale Riverfront Park is the answer!
The best part is that you can make your visit an all day adventure!  Here's how we did it:
First, take the trolley over from Covington or Newport.  My boys love the Southbank Shuttle, it runs every 15 minutes so you don't have to wait forever and you don't have to worry about being on time.  At $1 per person to ride it's a great way to see the city as well.
When you arrive in Downtown you'll disembark near the National Underground Railroad Freedom Center.   If you have time to spare go in and check it out, you will be glad you did.  While you are walking past make sure you take a minute to check out Cincinnati's piece of the Berlin Wall.  It was my first time seeing it and I was surprised at how emotional it was.  Take a minute to play a little tune on the Play Me I'm Yours piano stationed near the Freedom Center (and hurry, that particular one will be gone after August 27…you can find a list of pianos remaining in the area at the link).  Then make sure to check out the painted Big Pig Gig, also nearby on your walk to the park.
Next up…Smale Riverfront Park!  There is so much you can do while you are here: playgrounds, water spraygrounds, walking/bike trails, gardens…it's amazing!   Our main goal here was water…lots and lots of cool, splashing, spraying water!  There are two separate 'sprayground' areas, one being right up front at the main entrance to the park.  That's where we headed, we couldn't wait!  The kids splashed, played, ran amok and generally had a fantastic time.  Truth be told, the moms got a little wet while we were there as well…it was hard to resist on a super hot day!
When your kids are good and waterlogged walk them over to the event lawn and let them run off some more energy and drip dry (provided there are no actual events happening, of course!)  It's a great big wide-open space just begging to be run through.  I can imagine some fantastic events taking place there in the near future.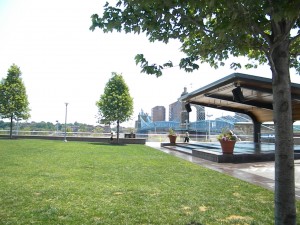 When you've had enough of fun and sun head up the street just a block to The Banks and have yourself an Orange Leaf Frozen Yogurt to finish up the day before heading back on the Southbank Shuttle.  If you haven't tried Orange Leaf yet you are missing out.  So many tasty flavors and toppings…it was the perfect end to this awesome day at the park!
The park is located on 45 acres along Cincinnati's downtown riverfront. When complete it will extend from the east at Great American Ballpark to Paul Brown Stadium.  The eastern half enjoyed its grand opening in May of this year and honestly I can't wait to see what the west side will offer when complete!  For park information and maps please visit their website or the Cincinnati Parks website.  For information on restaurants and more located at The Banks check out their website as well, there is so much more to do and see, we only hit the tip of the iceberg!  We hope you check it out for yourself soon…come back and tell us all about it!
When not blogging for Family Friendly Cincinnati, you can find Amy Q writing at her personal blog In a Galaxy.