Spring break is coming, and you know what that means. You have to figure out what to do with your school-age kiddos for a whole week, while simultaneously gaining a renewed appreciation for teachers — how do they do it?!
Not to worry! Family Friendly Cincinnati's got you covered. You'll find tons of fun spring break staycation ideas around the greater Cincinnati area to fill your schedule for the week.
March 24 – 28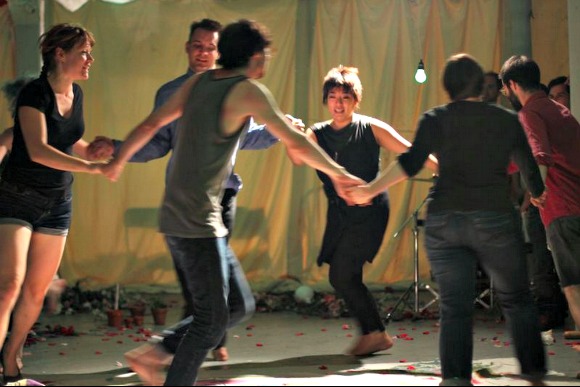 Experimental Music: All the way from Brooklyn, NY, Panoply Performance Laboratory returns to Cincinnati's Main Library for a night of music and performance art on Monday, March 24, from 7 to 8:30 p.m. Last time they tied up the audience in twine, rhapsodized about the end of the world from the point of view of a slice of cheese, dressed up as squirrels, and invited the audience to throw ping pong balls at them. Cincinnati's own Frying Barry will play clarinet with circuit bent electronics.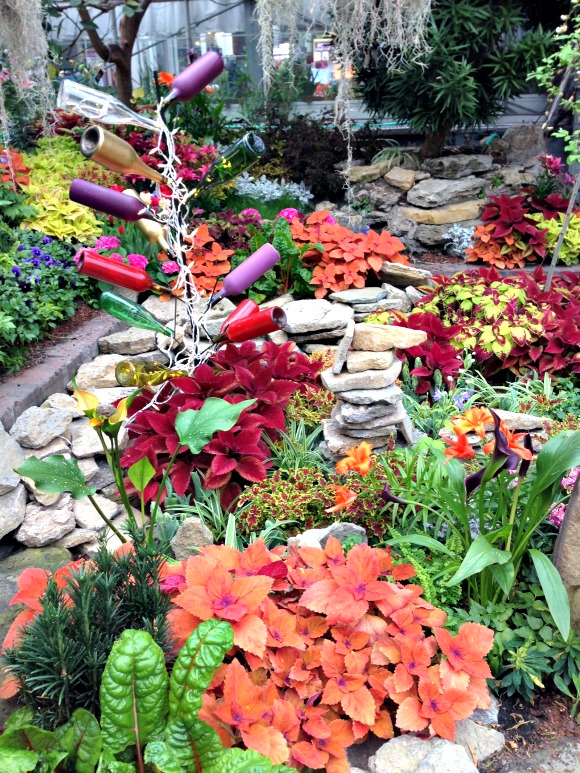 Flower Power: Don't miss the final week of the "Avant Garden" Spring Floral Show at Krohn Conservatory. It might be a while before you see actual blooming flowers outdoors, but inside Krohn, you'll be dazzled by a colorful array of exotic spring bulbs, fragrant shrubs, and bright annuals. Your kids will be fascinated by how recycled materials are used in an avant-garde style to enhance the imaginative landscape. Hours: Tuesday through Sunday, 10 a.m. to 5 p.m.
Weird Science: Geek out at Boone County Main Library's Family Science Night on Wednesday, March 26, from 6 to 8 p.m. Learn how to hold up a stack of books using only paper, engineer a catapult, or help create a Rube Goldberg machine.
Farm Fest: At this Pen Pals spring break event, get an up-close and personal chance to say hello to some of Parky's Farm animals. Your child will have time to play in Parky's Playbarn and a wagon ride. Thursday, March 27, from 9 to 10:30 a.m. at Winton Woods/Parky's Farm.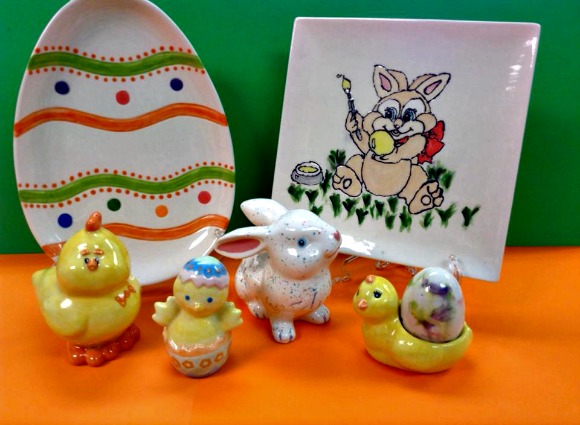 Painting Bunnies: Make your own Easter decorations at The Pottery Place in White Oak on Friday, March 28, from 4 to 5:30 p.m. Kids ages 6 to 13 can paint their own ceramic bunnies for just $12. Call 513.741.1500 to reserve a spot.
March 31- April 4
Museum Camp: Try passing some time by looking at the sky with Cincinnati Museum Center's spring break camp for kids ages 7 to 12. Each day has a different theme, and during that time you'll study space, play games, explore and make crafts. The camp is available by the day, or you can attend the whole week. Camps run from 9 a.m. to 3 p.m., with before and after care offered from 7:30 to 9 a.m. and from 3 to 5:30 p.m.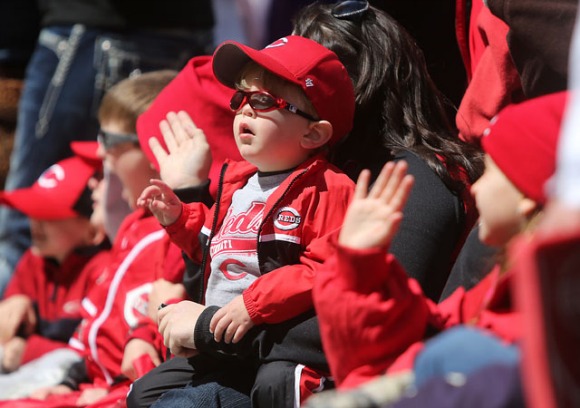 Opening Day: One of Cincinnati's most beloved traditions, Reds' Opening Day, happens to be Monday, March 31, this year. If it coincides with spring break, we call that a home run for baseball fan kids out there! Even if you don't have tickets to the game, you can still join the 95th Findlay Market Opening Day Parade. The parade starts at noon at Findlay Market on Race, then a right on Liberty and a left on Elm down to Central Parkway and then back to Race with a right on Race.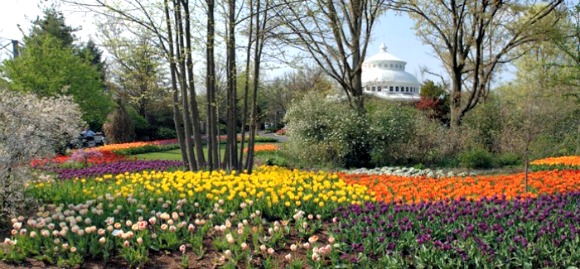 Zoo Blooms: Celebrate the beginning of spring with the opening of Zoo Blooms at the Cincinnati Zoo starting Tuesday, April 1 (open daily through April 30). One of the largest tulip displays in the Midwest, Zoo Blooms also features more than a million daffodils, hyacinths, flowering trees, shrubs and other spring bulbs exploding with color.
April Fools: Can you separate fact from fiction? Celebrate all that's weird in the natural world during this free interactive program. Come to Farbach-Werner Nature Preserve/Ellenwood Nature Barn on Tuesday, April 1, at 1 p.m.
Pretty Ponies: Brush and decorate a real pony and learn how to care for it on Thursday, April 3, from 9 to 10:30 a.m. at Winton Woods/Parky's Farm. This Spring Break Farm Fest program includes time to play in Parky's Playbarn and a wagon ride.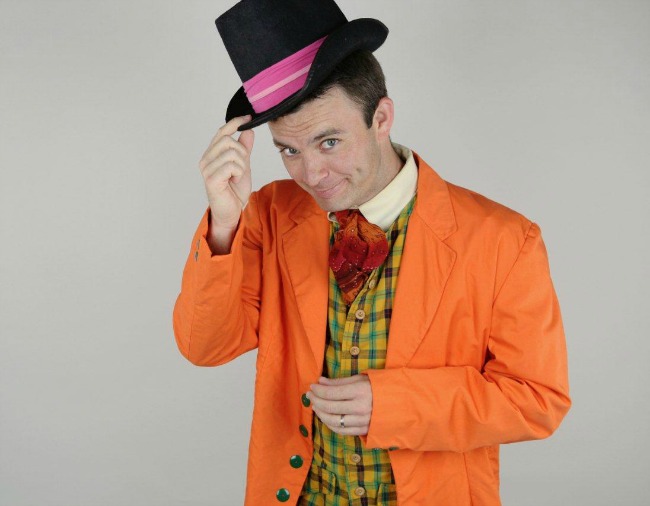 Willy Wonka: Take in some live theatre starting Friday, April 4, with Roald Dahl's Willy Wonka Jr. produced by The Children's Theatre of Cincinnati. This production stars  Local 12′s Bob Herzog in the role of Willy Wonka. See Amy's post for all the details on the show.
April 7-11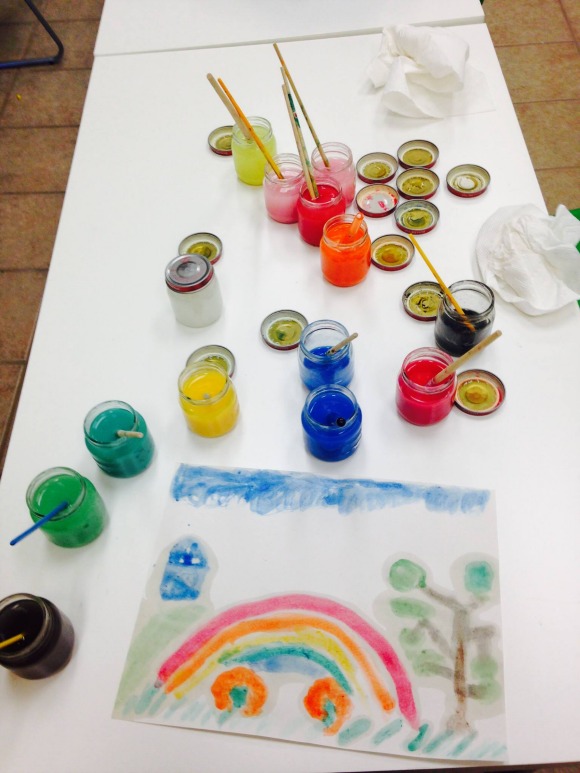 Art Camp: For your budding artist, the week-long Spring Break Art Camp at the Lively Learning Lab in Florence might be the perfect way to spend a week off from school. From 9 a.m. to 6 p.m., kids ages 3 to 14 can explore art in many forms. That includes painting a mural, using watercolors, learning pencil drawing, making chalk art, learning about clay and pottery, painting your own canvas and  more. Attend camp by day or for the entire week.
Familie Nacht: Tuesday, April 8, at Hofbräuhaus Newport is Family Night. Kids eat free, and can enjoy face painting, balloon animals, origami art and more from 6:30 to 9 p.m.
Knitting 101: Always wanted to learn how to knit, but never known where to start? Ages 10 and up are welcome to learn the basics of casting on, knit and purl stitches, and casting off. This Beginning Knitting class is Tuesday, April 8, from 6:30 to 8 p.m., at Broadhope Art Collective in Westwood.
April 14-18
Butterflies Are Back: No one is immune to the beauty and wonder of Krohn Conservatory's annual butterfly show, which opens on April 12 and continues through June 22. "Pura Vida Butterflies of Costa Rica" is a lush tropical hideaway that celebrates the spectacular animals, plants and ancient cultures found in this abundantly diverse country. Cascading waterfalls, colorful parrot fish, and mysterious stone sculptures will set the stage for thousands of free flying butterflies which often flutter together among visitors and fill this indoor tropical paradise. Open daily from 10 a.m. to 5 p.m.
Crochet 101: Tiptoe your way into crochet at Broadhope Art Collective on Monday, April 14, from 6:30 to 8 p.m. You'll learn the basics, including the chain, single, and double crochet stitch. This class is for ages 12 and up, all skill levels.
Architecture for Kids: This week, the Betts House in the West End opens a new interactive exhibit for children to learn about architecture.  The Build It exhibit is open Tuesday, Wednesday and Thursday from 11 a.m. to 2 p.m.
Fused Glass: Make your own fused glass coaster set at Broadhope Art Collective on Wednesday, April 16, from 6:30 to 9 p.m. This workshop is open to ages 12 and up, as well as ages 5 to 11 when accompanied by an adult. Pre-registration is required. 
Nibble & Gnaw: Explore ways animals find and capture tasty tidbits at this Parky's Farm Spring Break Farm Fest on Thursday, April 17, 9 to 10:30 a.m. The program includes time to play in Parky's Playbarn and a wagon ride.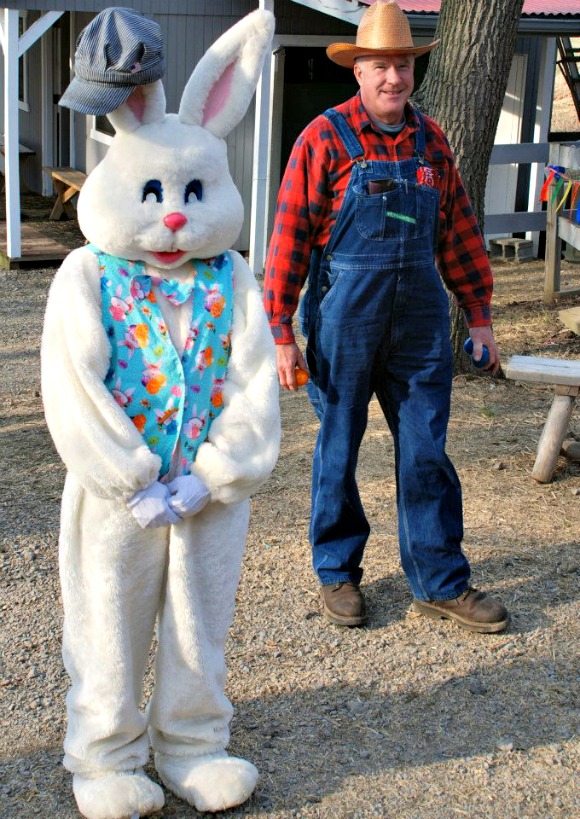 Easter Bunny Express: Hop aboard the LM&M Railroad's Easter Bunny Express, including a train ride to the LM&M Junction for a special visit with the Easter Bunny. All children will receive a special gift and have the opportunity to take part in an Easter Egg Hunt. On Friday, April 18, departure times are 10 a.m., 12:15 p.m., 2:30 p.m., and 4:45 p.m.
More Spring Break Staycation Ideas
Along with all the special events listed above, you can choose from many ongoing events and activities to keep your family entertained during spring break. Here are a few possibilities:
Go see a movie. Did you know many local movie theaters have bargain ticket prices on Tuesdays? Springdale Cinemas offers tickets for $7.50, Kenwood and Esquire theatres are $6, and at Danbarry theaters in Cincinnati Mills, Eastgate and Western Hills, tickets are $1.75 on Tuesdays. New kid-friendly movies in theaters include Mr. Peabody & Sherman, Muppets Most Wanted, Captain America: The Winter Soldier, Rio 2 and Bears.
Watch live theatre. Cincinnati Playhouse in the Park's Off the Hill series brings a wacky and charming fable to audiences 5 and up. The Short Tree and the Bird that Could Not Sing will be performed from April 8 through May 24 at community centers around Cincinnati. See details and performance dates.
Take 'em out to a ballgame. The Reds kick off their baseball season on March 31, with seven more home games during "spring break season." So bring the family downtown for a baseball game while the kids are off school. And don't miss the new exhibition at the Cincinnati Reds Hall of Fame & Museum. Kings of the Queen City features a dynamic graphic timeline that emphasizes the greatest moments and biggest names in Reds history and a wide range of artifacts that represent Reds history from the early days of the team in the late 19th century to present day.
Slip-slide away the day. We're lucky to have two indoor waterparks nearby for a quick spring break escape from cold weather. Your crew might enjoy a day (and maybe an overnight, too) at CoCo Key Water Resort or Great Wolf Lodge.
Hit up at least one fish fry. Whether you observe Lent or just enjoy a tasty, cheap meal, you'll find lots of fish fries your family can attend in Katie's recent post.
Visit your local library or a kid-friendly bookstore. Just because school's out doesn't mean reading has to stop. I hope you find some fun new reads using my guide to Cincinnati's best children's bookstores.
Do some toy-store window shopping (or actual shopping, if your kids have some cash saved up in the piggy bank). Give your kids something new to do by perusing one of these independent toy stores in Greater Cincinnati.
Try something your family's never done before. Our friend Nedra from Adventure Mom shared four unique family adventures to try in Cincinnati, such as trapeze classes and extreme tree climbing.
Still need more ideas? Check out our post full of Cincinnati staycation ideas from last summer, along with this one with 50 kid-friendly things to do in Cincinnati/Northern Kentucky.