The Lenten Season is upon us, and for many in the Tri-State area Lent means that it is Fish Fry Season.  But Fish Fry happenings are not just for those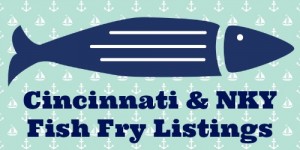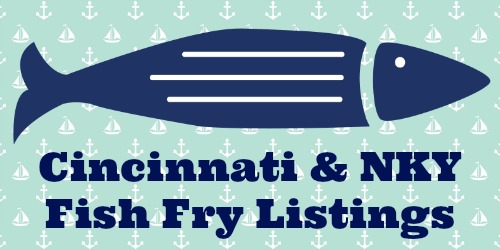 celebrating Lent.  A good ol' Fish Fry can be an easy dinner for anyone!  Fish Fry dinners are my favorite thing this time of year.  I love to go and have someone else do the cooking and cleaning up, and as an added bonus there's a bake sale!  I also love that many Fish Fry Dinners are working to raise money for local organizations such as schools, charities, organizations like Scouts, and other great causes.
Every Friday from now until Easter you can find numerous Fish Fry dinners in neighborhoods all over the area.  They are at churches, fire houses, schools, community centers, and many other organizations.  We developed a handy dandy Fish Fry Listing to help you find a Fish Fry near you.  Or who knows, maybe you want to travel outside of your neighborhood to find a new Fish Fry.  Some have music, some have entertainment, some have themes, most have bake sales, and they ALL have fish!
Northern Kentucky & Cincinnati Fish Fry Listings:
Bridgetown Finer Meats  6135 Bridgetown Road,  45248  Gigantic 11 oz. beer battered haddock, bakery rye bread, homemade regular or jalapeño tartar sauce, Mac and cheese, slow simmered green beans, cole slaw, lobster bisque.  Fish sandwich $9.00, but well worth it, sides $2.00. Lobster bisque $8.50… Real lobster heavy cream, butter, sherry, etc. Every Friday during lent, 11-6     513-574-3100
Dixie Heights High School Band  3010 Dixie Highway Edgewood, KY  The Dixie Heights High School Band kicks off Lent today with their fish fry drive-in with all the fixings. Stop on by the outdoor concession stand from 4:00 pm to 7:30pm. The once-a-year celebration dishes out more than 500 pieces of fish.  Our Fish Frys in observance of Lent continues every Friday until Good Friday. It's one of the band programs largest fundraising events annually.  Throughout the Northern Kentucky / Cincinnati region, we along with local churches and fire departments will spend the next 40 days angling for customers. At Dixie Heights, we make it fast, easy, convenient and inexpensive for you. There is no need to even get out of your vehicle. Just pull in and place your order with one of our smiling band kids. A fish sandwich or dinner with mac & cheese, fries or onion rings nets $6; A big slice of pizza, with mac & cheese, fries or onion rings goes for $6; Two delicious crab cakes, mac & cheese, fries or onion rings sells for $7. A la carte items such as a fish sandwich, pizza slice, macaroni and cheese, fries, and onion rings go for $2. Two crab cakes $3. We also have Coca-Cola drinks including bottled water for $1. How about bringing home fresh Krispy Kreme doughnuts (starting Friday March 7th) for your Saturday morning breakfast. We'll have them available for $6 a dozen or $3 1/2 dozen.  Our Fish Fry's not only help meet our annual budget but bring together the Dixie Heights Nation and surrounding communities. Drive on in and have an amazing dinner all while supporting our amazing band kids. Wish them luck as they continue to compete and perform during the winter season.  Every Friday during Lent 4:00pm – 7:30pm www.eyeswithpride.net
Fort Wright Civic Club 115 Kennedy Rd., Ft. Wright, Ky. 41011  Fort Wright Civic Club Co-hosts with community Boy Scouts, Girl Scouts, Cub Scouts, Covington Catholic Community Service Club, and N.Ky. Young Marines.  Menu (Including Dinners) consists of Fried Fish, Baked Fish, Shrimp, Chicken Tenders, Mac & Cheese, Fries, Slaw, and Green Beans.  Prices $1.00-$7.00.  Discounted Beverages, Free Coffee, Bake Sale.  March 7th,14th,21st,28th. April 4th,11th,18th. 5:00-8:00 www.fortwrightcivicclub.com
Immaculate Heart of Mary  5876 Veterans Way, Burlington, KY 41005 Delicious Cod- baked or fried!   Shrimp too!  Fish sandwich or shrimp for just $5 Platters $7.50  New this year:  Soup of the Day! Just $2 (Dine in only)  Drive through available!  Stop on your way home from work! Fridays of Lent (except Good Friday).  5:00 – 8:00pm (Drive through available 4:30 – 7:30pm) ihm-ky.org
Immaculate Heart of Mary Cincinnati 7820 Beechmont Avenue Dinner includes: Crispy Fried, or Tender Baked, Fish. Choice of 3 sides (2 sides for children), Macaroni and Cheese, French Fries, The Best-Recipe-Ever Cole Slaw, Applesauce, Hush Puppies or Side Salad and Dessert. Coffee, iced tea, and lemonade included. Pappa John's Pizza will also be served. Carry out available.  4:30 p.m. – 7:00 p.m. in the School Cafeteria. Adult Dinners: $8.00, Senior Dinners: $6.00, Children Dinners: $5.00, Shrimp Salads: $8.00.  You can now phone in your order between 4 -7 p.m. at 513-388-0031 and it will be ready for pick up. Every Friday in Lent! (Except Good Friday) 4:30 p.m. – 7:00 p.m.                www.ihom.org
Mary, Queen of Heaven Parish  1130 Donaldson Hwy., Erlanger, KY  41018  Home of the Codfather. Check out our menu online at www.mqhparish.com.  Recognized by the Cincinnati Enquirer as one of the region's finest Fish Frys. We have a dine-in service, a carry-out and a drive-thru.  Call ahead for carry-out at 859-371-2622.  March 14 – The Cincinnati Reds mascot, Mr. Redlegs will be here. March 21 – Florence Freedom mascot, Belle  & friends will be here  March 28- Q102 DJ's from the Morning Show, Jeff, Jenn & Fritsch  March 7, 14, 21, 28, April 4 & 11 from 4:00-8:00PM www.mqhparish.com
Nativity of Our Lord        5936 Ridge Avenue Cincinnati Ohio 45213 Hand-breaded haddock fried fish dinners including two side choices homemade macaroni and cheese, french fries, sweet potato fries, green beans and homemade coleslaw.  Price: $8.00.  Fish sandwiches on bun and/or rye bread with choice of a side. Price: $7.00.  Kids Meal your choice from Italianette cheese pizza or one piece of fish includes one side choice with apple sauce. $5.00  Meals include lemonade and water.   Craft beer, draft beer and soda are available for purchase.  Our 8th Grade class has a bake sale each week to help fund their year end class trip.   Join us to DINE IN OR CARRY OUT!!!!  5:30-7:30pm March 7, March 14, March 21, March 28, April 4, April 11  www.nativity-cincinnati.org
Prince of Peace School  625 West Pike Street Covington KY ~ We are the only Catholic School fish fry with live entertainment. We also have our very own in house chef with a special beer batter recipe. Our location is next to Saint John's church with extra free parking under I-75. Bring the whole family for a great time!  Every Friday (Except Good Friday)  through Lent 4:00 – 7:00pm
St. Catherine of Siena Church 1803 N. Ft. Thomas Avenue, Ft. Thomas, KY  41075
Fish Frys Around The World:
March 7 – American: Fish, French fries, hush puppies, macaroni & cheese, slaw, applesauce, cookie
March 14 – Irish: Salmon croquettes, Izzy's potato pancakes, slaw, cookie
March 21 – Italian: Cheese Tortellini, garlic bread, salad, cookie
March 28 – Chinese: S;weet-n-sour shrimp, fried rice/steamed rice, egg rolls, fortune cookie
April 4 – Mexican:  Fish tacos, Fiesta rice, chips/salsa
April 11 – American:  Fish, French fries, hush puppies, macaroni & cheese, slaw, applesauce, cookie
Not quite ready to venture away from the usual fish fry fare?  Not to worry – a traditional fish dinner, cheese pizza, grilled cheese and tomato soup will also be available every week.  We will also offer baked fish and healthy sides. Serving time is 4-7 PM, March 7, 14, 21, 28, April 4 & 11 www.stcatherineofsiena.org  859-653-7573
St. James Church of White Oak  3565 Hubble Rd., White Oak Baked and fried fish sandwiches and dinners, LaRosa's pizza, North College Hill Bakery Bread, Servati's pretrzels.  A great family and community event.  We could not have our fish fry last year because of construction so we are glad to be back.        3/7 thru 4/11 4:30 to 8.m.  www.stjamesfishfry.org
St. John the Evangelist Catholic Church – West Chester   9080 Cincinnati-Dayton Rd., West Chester, OH, 45069     We have fried fish, baked fish, crab cakes, shrimp, cheese pizza, nachos, mac & cheese, soft drinks, iced tea, Bud and Bud Light, Yuengling, and desserts.   4:30-8 p.m. on March 7, 14, 21, 28, April 4 and 11 www.stjohnwc.org & 513-777-6433
St. Joseph Academy  48 Needmore Street, Walton, KY   41094 across the street from Krogers.  We offer adult fried or baked fish dinners as well as shrimp for $10.  Dessert and drink are included with dine-in meals. We also offer family-size dinners.  We have a wide variety of great side selections.  We also offer a quick drive-thru for those who don't want to dine in.  We will have a $500 cash drawing for those who dine all 6 weeks with us.  March 7th, 14th, 21st 28th, April 4th, & April 11th, beginning 4:30 – 8 pm  www.saintjosephacademy.net or 859-485-6444
St. Lawrence Elementary PTO    3680 Carson Avenue, Cincinnati, Ohio 45205        The PTO of St. Lawrence Elementary has year in year out provide one of the best Fish Fries in the Cincinnati Area.  We provide free parking, a fun, family, friendly atmosphere.  When you come into our fish fry you are treated as an old friend.  We have a drive-thru for those Friday nights when you just want to eat at home.  We have kid's meal for $4.50 which includes a toy and drink.  For the Adults we have a range of choices from Breaded Jumbo Shrimp, Baked Salmon, Cod Breaded or Beer Battered, and for those Fridays when you just don't want seafood we have Spaghetti with tomato sauce, Grilled Cheese Sandwich or a garlic Grilled Cheese Sandwich, and our famous Pizza Bread.  Dinner Prices range from $5.00 to $7.50 this includes the main dish plus 2 sides and a drink.  Please visit are Facebook page for more details.           The times of each fish fry are 4pm to 7pm.  Starting on Ash Wednesday and every Friday up to and including Good Friday.  https://www.facebook.com/pages/St-Lawrence-PTO-FISH-FRY/524126934349151 and phone number during the advent 513-921-4230
St. Patrick Church 3285 Mills Road, Taylor Mill, KY Menu includes Fish, Hot Buffalo Fish (taste like a chicken wing), Salmon or Shrimp. Dinner prices $8.50-$9.50, includes two sides and free drink, if dining in. Other menu items include: pizza, cheese sticks, and hushpuppies. Side items: cole slaw, french fries, green beans, mac-n-cheese and black beans & rice. For quick service try the drive-thru or separate carry-out. There is Blue Grass/Country band playing each week. Come and enjoy great food and fun.         Every Friday 4:30 – 7:30 pm during Lent (except Good Friday)      859-356-5151
St. Thomas  528 South Fort Thomas Ave, Fort Thomas, KY 41075 St. Thomas will host their annual Lenten Fish Fry starting Friday, March 7th.  Hand battered fish, homemade mac and cheese, cole slaw and popcorn shrimp are just a few things to look forward to. Located at 528 South Fort Thomas Ave; Ft. Thomas, KY 41075 in the St. Thomas Cafeteria  $6.50 set up (main dish including sides), $5.50 seniors, $4.50 ages 9 and under.  Pizza by the slice or whole cheese pizza also available. 3/7, 3/14, 3/21, 3/28, 4/4 and 4/11 all from 4-8pm www.sttschool.org
 St. Thomas More Church – Boy Scout Troop 452 ~ 800 Ohio Pike, Cincinnati, OH 45245     The scouts in our Troop serve the food to the patrons, bus tables, and such.  Patrons get to pick from 5 different entrees (baked fish, fried fish, fried shrimp, grilled cheese, or mac -n- cheese), 2 side dishes, a dessert, and drink – for $8.25 per adult or $6.25 for children.  Carry out is also available and we can take credit and debit cards.  Proceeds from the Fish Fry help off-set the cost of Summer Camp for the Scouts.  March 7, March 14, March 21, March 28, April 4, April 11, 2014 from 5-7:30pm www.sttm.org (click on Lenten Fish Fry 2014 link)
St. Vincent Ferrer Church 7754 Montgomery Road, Cincinnati Ohio 45236 Fried fish (for the traditionalists), baked fish (for the health nuts), cheese pizza and chicken strips (for the kids and heathens), hush puppies, mac & cheese, green beans, homemade desserts, beer, wine … what's not to love?  Come support our church, athletic group and Cub Scout pack!  Dine-in and Carry-out options March 7, 14, 21, 28, April 4 – 5:30-7:30 p.m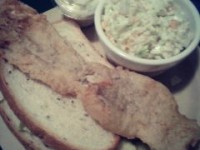 If you don't see your organization's Fish Fry on this list you can submit it using an easy online submission form, just click this link:

FISH FRY FORM