The holidays are almost here and Family Friendly Cincinnati has a great list of things for you and your family to do to ring in the holiday season!  There's quite a list here, so get out a pen and make a list of all the fun things you want to do this weekend!

And please stay tuned to Family Friendly Cincinnati…in the next few days we'll be starting our EXPERIENCE CINCINNATI giveaways!!!  They are NOT to be missed!
**Keep in mind, if the weather is snowy you should check to make sure any event you are attending is still going on by contacting the organizations hosting the events.
 Friday ::
Friday , December 6th at 6pm  SAINT NICHOLAS ARRIVES at the Goose Girl Fountain in MainStrasse Village, with gifts for the children.  Hot Chocolate & Cookies will be served.  Then stroll the Main Strasse Village visiting the fabulous shops and restaurants.  Come back to the Goose Girl Fountain from 7-11pm for Christmas Karaoke!
Friday, December 6th at 6pm TWILIGHT CHRISTMAS PARADE in MAYSVILLE :: Marching bands, floats, and of course Santa Claus himself!  See the City of Maysville website for all the details.
SWEET HONEY IN THE ROCK: CELEBRATING THE HOLYDAYS    Friday, December 6, 2013 • 8:00 PM     Cincinnati Arts Association      Aronoff Center • Procter & Gamble Hall          $22.00 – $37.00    Internationally renowned a capella ensemble SWEET HONEY IN THE ROCK presents a one-of-a-kind seasonal concert, celebrating music from many faiths and religions of the globe through stunning vocal prowess rooted in the rich textures of African American legacy and traditions. With American spirituals, Latin, Chinese, African, and Hebrew influences, this program honors the holiday spirit from Christmas to Kwanzaa. The repertoire includes traditional holiday standards such as "Go Tell It On The Mountain," "This Little Light of Mine," and more, all blended with new holiday favorites.   $5-OFF DISCOUNT TICKETS:  CincinnatiArts.org/promotions (use promo code ROCK)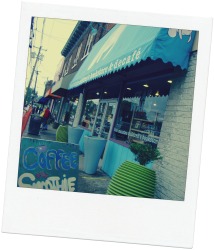 A Cincinnati Night Before Christmas story time    December 6, 4-5 pm    blue manatee bookstore   Free    To celebrate Christmas and the greatest gift of all – adoption, blue manatee welcomes Cincinnati author and illustrator duo, Nadine Huffman and Marilyn Lebhar, for a reading of their book, A Cincinnati Night Before Christmas. Based on a true story, a child awaits his new sibling while experiencing many of our city's holiday traditions. 100% of the book's proceeds go to area adoption organizations.
Saturday ::
Open House – Ornaments    December 7, 10am – 1pm    Brazee Street School of Glass   $15    Celebrate the holidays by making ornaments with your family! Bring your parents, grandparents, siblings, and children to this introductory class and create fused glass ornaments for each other or someone you love. Open to all ages (we suggest 4+), kids young and old! Ornaments fired and ready in time for the holidays. No experience necessary.
Grinch-mas!    December 7, 2-3pm    blue manatee bookstore    Free    Meet the Grinch and grow your heart three sizes this holiday season! Join us as we celebrate the true meaning of the holidays with a Seuss classic about the power of good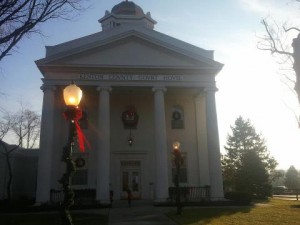 cheer and a big heart. Hear "How the Grinch Stole Christmas" by Dr. Seuss, and take a picture with the star of the book! Children are encouraged to come in costume.
Independence Christmas Walk ~ The First Saturday in December brings this sweet holiday tradition in Independence.  Check out the City of Independence website for more details.
Breakfast with Santa    December 7, 2013; 10 am – 1 pm     https://www.eventbrite.com/e/breakfast-with-santa-to-benefit-the-boys-and-girls-club-of-clermont-county-tickets-9403713761    RSVP Event Center, 453 Wards Corner Road, Loveland, Ohio 45140    $15 Adults; $7 Kids    Please join us for this fun event to benefit the Boys & Girls Club of Clermont County! We will have games, crafts, music, food, cookie decorating, pictures with Santa and entertainment! Please pre-order your tickets via eventbrite.
 Sunday ::
Sunday, December 8th at 1:30pm HOLIDAY EXTRAVAGANZA at the ERLANGER LIBRARY ~ Bring your camera to take pictures with Santa from 1:30-2:30. Crafts while supplies last.  Follow the KCPL on Facebook to keep up with all the great things they do.  And check out the KCPL Events Calendar for more Holiday Fun!
SOG Teens: Into to Glass Bead Making    December 8 12-4pm and Dec. 12 5:30-6:30pm    Brazee Street School of Glass       $90    Calling all young bead makers! Your budding glass artist will learn the basics of glass bead making, participating in an art form with nearly 30,000 years of history. In this weekend workshop, students will learn how to create round beads, square beads, and dot beads as they build comfort and control on the torch. Ages 11 and up, no experience necessary. Bead making on Sunday, Bead pick up & cleaning on Thursday.
PEOPLE AND PET PHOTOS :: by Rescue Angels in the Main Strasse Village on Sunday, December 8th from 2-5pm.
All Weekend Long ::
Dixie Heights High School Craft Show

~ www.dixiecraftshow.com ~ December 6 & 7 at Dixie Heights HS, 3010 Dixie Highway in Edgewood.  Just in time for the holidays…stock up on crafts for everyone on your list!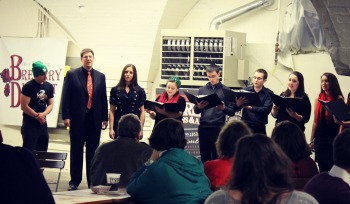 Christmas Saengerfest in Cincinnati
~ This was one of my family's most favorite holiday events last year.  We enjoyed our evening in Over the Rhine hearing the most beautiful music, spending peaceful time in gorgeous old churches, visiting the live nativity at St. Francis Seraph, singing along t our favorite carols, sampling brews at Moerlein
Brewery
, and eating sweet treats.  It really is an amazing holiday experience.   Here's the description of the event from the
Saengerfest website
(where you can visit to find ticket information, times and more): 
See award winning choirs from the World Choir Games and visit five great venues in Over-The-Rhine.  Enjoy great Beer from Christian Moerlein and food from Taste of Belgium, Servatii's and more.  Shop at the Holiday market.Tour the Churches, Hall, and Brewery and help support numerous organizations with one ticket.  Shuttle buses will be available to move patrons from venue to venue.
Christmas in the Country    Saturday and Sunday, December 7 & 8, 2013.  1:00 – 5:00 p.m. both days and 6:00 – 8:00 p.m. Saturday evening.    Dinsmore Homestead    http://www.dinsmorefarm.org    5656 Burlington Pike, Burlington, Kentucky 41005    $5.00 for adults under 60, $3.00 for members and adults 60 and over, $2.00 for ages 5 to 17, No charge for children under 5    "See the historic Dinsmore Homestead in all its holiday splendor, decorated by the Boone County Garden Club.  Afternoons:  dulcimer music, tours, refreshments & children's activities.  Saturday Evening:  Forget-Me-Not historic dancers and candlelight tours.
Holiday Toy Trains at the BehringerCrawford Museum in Devou Park.  With 250 feet of train track, over thirty push buttons, countless miniature buildings, several zooming trains, and a  layer of fluffy fake white snow, the Behringer Crawford Holiday Toy Train provides families with a great day of fun.  The Behringer Crawford Museum is located in Devou Park at 1600 Montague Road.  859-491-4003. For the 2013 Holiday Season the Toy Trains will be on display until January 19, 2014.  For more information see our post about the Behringer Crawford Toy Train Display.
Christmas in the Village in Waynesville Ohio!    December 6-8, Friday, 12-9, Saturday, 12-9 and Sunday, 12-5    Waynesville Area Chamber of Commerce    www.waynesvilleohio.com    Downtown Waynesville    FREE    Step back in time and enjoy the holiday season in historic Waynesville Ohio.  You will enjoy costume characters, strolling entertainment, barbershop quartets, Santa Claus arriving daily via a Fire Truck, a heated entertainment tent,  on Friday and Saturday evenings 1300 luminaries, and don't forget about the all delightful shopping!  We have 70 store and antique malls that will fill your sleigh with all the wonderful goodies Waynesville has to offer.  We have plenty of restaurants that will thrill you with their wide array delectible food.  See you this holiday season in Waynesville Ohio!
Take the whole family to see the
Ensemble Theatre's production of Around the World in 80 Days. 
Make holiday memories with a day at the theatre!  Several Family Friendly Cincinnati writers attended a preview of the show, and are raving about the show.  Read all about it in this post on
Family Friendly Cincinnati
.
Ornament Blow 
   December 6 &7, 2013    Neusole Glassworks    www.neusoleglassworks.com    656 E.McMillan St, Cincinnati, OH 45206    $35 an ornament    You can blow your own ornament! It's from 10-8. Call or e-mail to schedule your session anytime between those hours: 513-751-3292,
[email protected]
Santa Skates
at the USBank Ice Skating Rink on Fountain Square every Saturday & Sunday!  Visit the
Fountain Square website
for all the details!
Cincideutsch Christkindlmarkt  
 December 6-8, 13-15    Cincideutsch    markt.cincideutsch.com    Findlay Market    Free    German holiday market. Vendors offer imported and local gift items, German sweets and foods, and m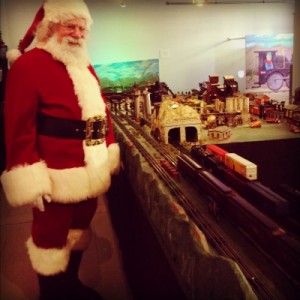 ore. Free crafts for kids, choirs, and brass groups.
Newport Express Holiday Depot at  Newport on the Levee 
The Newport Express Holiday Depot is a brand new, customized train attraction that will also feature a Lego display by OKILUG – including a model of Cincinnati's Music Hall – family photo opportunities, and visits with Santa!  General admission tickets are $5.00 and children 3 and under are FREE (one child free with  one paying adult).  Read about our visit at 
http://www.familyfriendlycincinnati.com/2013/11/28/see-trains-lego-santa-newport-express-holiday-depot/
A Cincinnati Scenic Railway at the Krohn Conservatory
~ Make holiday memories at the Krohn Conservatory!  This one of a kind floral show highlights this region with replicas of local icons such as the Museum Center.  Don't miss it.  Visit the
Cincinnati Parks website
for all of the details.
Santa's Workshop  6940 Madisonville Road, across from the Mariemont Inn in the Village of Mariemont  The  historic Shillito's Elves have moved to Mariemont and are opening the workshop for public tours.  Bring your letters to mail to Santa and see us fast at work!  Pictures with Santa are available on Saturdays and Sundays.  Dates and times to visit Santa and his elves are: November 29 – December 29. Wed – Fri 2 p.m. to 8 p.m. Sat – Sun 10 a.m. to 8 p.m.  Christmas Eve 10 a.m. to 4  p.m.  Closed Christmas Day.   Admission $4, children under 3 are free  A portion of the proceeds will benefit Cincinnati's Ronald McDonald House  Visit us at:  http://www.thesantaworkshop.com/
Friday, December 6th through Sunday, December 8th ~  CHRISTMAS TREE SALE in the MainStrasse Village, come get your fresh
cut trees and wreaths at a reasonable cost on the 6th Street Promenade.  On Saturday (12/7)  you can enjoy live music with local favorites The Turkeys by the Goose Girl Fountain from 2-6pm.
PNC Festival of Lights at the Cincinnati Zoo ~ Bundle up and head to the zoo to visit the animals, see countless lights twinkling in the night, drink hot chocolate and maybe even sing some carols!  Visit the Cincinnati Zoo website for all the details.
RedsFest at the Duke Energy Convention Center on December 6 & 7 ~ Fun activities for all ages with our favorite Cincinnati Reds!
Friday December 6th – Sunday, December 8th BURLINGTON CHRISTMAS ::  See Historic Burlington's website for more details about this event, and other holiday events they have going on all weekend long, like music, a pet parade, a train show, cookie decorating and more!  There will even be special holiday hours at shops & restaurants in Burlington.  Sounds like a fun weekend!
More Holiday Happenings around Cincinnati & Northern Kentucky ::
Holiday Activities in Northern Kentucky
Duke Energy Trains at the Cincinnati Museum Center
Where to Find Santa in Cincy & NKY
Holiday Happenings Up North (Mason/Deerfield Township)
Shop Local Series: Greater Cincinnati Toy Stores
Do you have a FAMILY FRIENDLY WEEKEND EVENT that you'd like to add to our upcoming weekend posts?  Submit it using this easy online form: http://bit.ly/cincyweekendcalendar