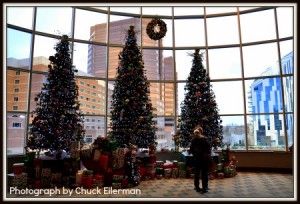 Are you looking for Christmas and Holiday activities in Northern Kentucky  that are fun for the whole family?  We have put together a list of many different options for you to choose from! 
Holiday Activities in Northern Kentucky:
CHRISTMAS ART SHOW :: The Baker Hunt will present its Christmas Art Show on Sunday, November 17 from 11 am until 4 pm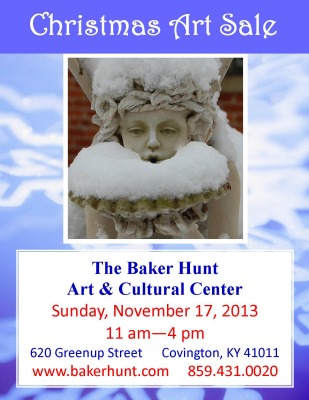 featuring works by Jane Bresser, Amanda Nielson, Judy Sanders, Jackie Slone, Rosemary Tople, Carla Trujillo, Chad Turner, Ken Swinson, Amy Walker, and Debra Gleason. Come for an afternoon of fun and holiday merriment! Browse some amazing art and find that unique perfect gift for yourself or someone special! FREE admission and refreshments! The Baker Hunt is located at 620 Greenup St. in Covington, KY 41011. For more, call (859) 431-0020 or visit bakerhunt.com.
GRAND ILLUMINATION at NEWPORT ON THE LEVEE :: Tuesday, November 26th from 6-9pm.  Carols, Tree Lighting and MORE!  Visit their website for all the details.
CHRISTMAS WALK in INDEPENDENCE ::  The First Saturday in December from 6-9pm.  See the City of Independence website to get all the details on this wonderful evening.
Sunday, December 8th at 1:30pm HOLIDAY EXTRAVAGANZA at the ERLANGER LIBRARY ~ Bring your camera to take pictures with Santa from 1:30-2:30. Crafts while supplies last.  Follow the KCPL on Facebook to keep up with all the great things they do.  And check out the KCPL Events Calendar for more Holiday Fun!
December 5th – LAST DAY TO MAIL LETTERS TO SANTA at Kenton County Public Library branches and courthouses! Kenton County Parks & Recreation, in cooperation with the Kenton County Public Library, is excited to announce its annual Letters To Santa ~ Letters From Santa program. Every child who sends a letter to Santa will receive a return letter from Santa just in time for Christmas! PLEASE be sure to check your child's letter to see that Santa can easily read full names and home addresses so that each child will receive his or her letter at home.  When mailing your child's letter to Santa, please remember to bring non-perishable food or personal care items (including diapers) for those less fortunate. Specially decorated barrels will be located right next to the mailboxes at each location. Our goal is again 2,500 letters and 2,500 items! Remember, it's the season for giving!
Tuesday, December 3rd 6-8pm FLORENCE TREE LIGHTING – For more details see their website or contact Florence Parks & Recreation (859) 647-5439.
Friday, December 6th through Sunday, December 8th ~  CHRISTMAS TREE SALE in the MainStrasse Village, come get your fresh
cut trees and wreaths at a reasonable cost on the 6th Street Promenade.  On Saturday (12/6)  you can enjoy live music with local favorites The Turkeys by the Goose Girl Fountain from 2-6pm.
Friday , December 6th at 6pm  SAINT NICHOLAS ARRIVES at the Goose Girl Fountain in MainStrasse Village, with gifts for the children.  Hot Chocolate & Cookies will be served.  Then stroll the Main Strasse Village visiting the fabulous shops and restaurants.  Come back to the Goose Girl Fountain from 7-11pm for Christmas Karaoke!
PEOPLE AND PET PHOTOS :: by Rescue Angels in the Main Strasse Village on Sunday, December 8th from 2-5pm.
Friday, December 6th at 6pm TWILIGHT CHRISTMAS PARADE in MAYSVILLE :: Marching bands, floats, and of course Santa Claus himself!  See the City of Maysville website for all the details.
Friday December 6th – Sunday, December 8th BURLINGTON CHRISTMAS ::  See Historic Burlington's website for more details about this event, and other holiday events they have going on all weekend long, like music, a pet parade, a train show, cookie decorating and more!  There will even be special holiday hours at shops & restaurants in Burlington.  Sounds like a fun weekend!
Saturday, December 14th WHITE CHRISTMAS PARADE in AUGUSTA.  4-9 pm in the beautiful city of Augusta.  Contests, a parade, Christmas carols and more!  See the Augusta website for all the details on this fun-filled evening!
Saturday, December 21st at 3pm TUBACHRISTMAS CONCERT at NEWPORT ON THE LEVEE Over 70 Tubas playing Holiday Carols.
Ongoing Holiday Activities in Northern Kentucky:
DICKENS CHRISTMAS CAROLERS at NEWPORT ON THE LEVEE :: Visit the Dickens Carolers on weekends at the Levee.  See the Levee Website for all the details!
HOLIDAY TRAIN DISPLAY at BEHRINGER CRAWFORD MUSEUM  ::  This is one of my family's favorite holiday traditions, we love the train display at the Behringer Crawford!  You do not want to miss this!
 CHRISTMAS TOWN at THE CREATION MUSEUM in PETERSBURG ::  Come see a free Live Nativity & Garden of Lights.   Bullittsburg Church Road, Petersburg, KY 41080 For more details call: (888) 582-4253 or visit their website.
HATS & MITTENS DRIVE :: Give back to those in need this holiday season by dropping off new hats and mittens at the MainStrasse Village Association Office in Covington or you can donate $1 by purchasing paper mittens at  participating Covington businesses.  The hats & mittens will be distributed to children in Covington.
NEWPORT EXPRESS HOLIDAY DEPOT ::  November 26 – January 5th, Tuesday – Sunday 12-8pm at Newport on the Levee.  Tickets are $5, children under 3 are FREE.  Visit with Santa, LEGO display, Train display and more!  Visit the Newport on the Levee website for all the dates/times and details!
SCUBA SANTA at the NEWPORT AQUARIUM ::  Go see one of the most unique holiday displays in town!  Scuba Santa is sure to entertain the whole family!  Visit the Newport Aquarium website for all the details!
 SIMS FURNITURE CHRISTMAS WINDOW DISPLAY ::  If you are driving around Covington with the family be sure to stop at 727 Madison Avenue to see what the elves are up to getting ready for Christmas!  This charming window display is a must-see!  The display is usually up after Thanksgiving.
And to find out about Holiday Events and Festivals around the state of Kentucky check out the Kentucky Tourism website!  Maybe you can take a day trip for some holiday fun!
Looking for more Holiday activities in Northern Kentucky?  Check out these posts on Family Friendly Cincinnati:
Duke Energy Trains at the Cincinnati Museum Center
Shop Local Series: Greater Cincinnati Toy Stores
Did I miss a holiday activity in Northern Kentucky?  If so, please tell us about it in the comments below!!!
When not blogging for Family Friendly Cincinnati, you can find Katie writing at her personal blog, www.thelittlethingsjournal.blogspot.com.