Around the World in 80 Days at the Ensemble Theatre Cincinnati runs December 4th thru January 4th and is a great way to add some fun to your holiday schedule!  Family Friendly Cincinnati visited Thanksgiving weekend for a blogger preview and all of our families enjoyed the show, from age 4 and up (we won't tell you how far up!).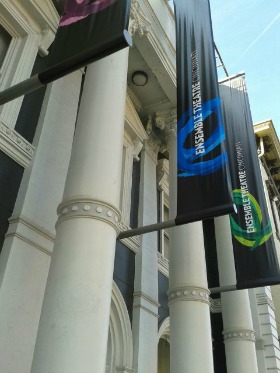 Join Phileas Fogg, who is never late and calculates his day down to the minute—not wasting any of it, as he takes on a bet from his friends to travel around the world in 80 days.  On his journey he meets his future wife, rides an elephant, rescues his travel companions from robbers and is arrested.  Here's what the Ensemble Theatre Cincinnati has to say about the show:
For the holidays, ETC features the long-awaited return of Around the World in 80 Days, one of the theatre's first commissioned musicals, last performed in 1999. It is 1899 and the mysterious, brilliant, mathematically precise Englishman Phileas Fogg has wagered his considerable fortune that the world can now be circumnavigated in 80 days. Will bandits, buffalo, winter storms and even the meddlesome Scotland Yard prevent him and his wily valet, Passepartout, from completing this daunting task? Jumping between trains and steamships, even employing an elephant, this magical family-friendly adventure leads Fogg to discover a wider world as well as his own heart in this swashbuckling musical retelling of Jules Verne's classic tale.\
We enjoyed last year's performance of Alice in Wonderland at the Ensemble Theatre Cincinnati and recognized several actors from that performance in Around the World in 80 Days.  Their performances did not disappoint.  I was worried my kids would not be as interested because last year's performance was certainly colorful and action packed.  But, Around the World in 80 Days was fast paced and exciting.  The kids even got to participate and pretend to be buffalo as a stampede helped rescue one of the characters from wild bandits.  There was a lot of giggling from two little girls next to me as a straggler buffalo made his way across the stage wiggling his rump.
This season, Around the World in 80 Days reminds us that time is precious and it's okay to get off task.  How else would Phileas have met his wife?  Or rescued his friend?  What could you miss if you do the same thing every day, day after day?  One thing is sure, make sure you don't miss this holiday performance at the Ensemble Theatre Cincinnati.
When not blogging for Family Friendly Cincinnati, you can find Michelle writing at her personal blog, I'm Living the Good Life.