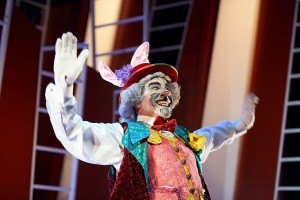 Do you or your kids enjoy Alice in Wonderland? I know mine do. Both of my children love this story and love the latest movie version. It's watched over and over. When we were asked if we'd like to see a live production of Alice in Wonderland at the Ensemble Theatre, I was so excited and my kids were so excited.
We went this past Friday to an early viewing and I have to tell you that in all honesty, this was excellent. I'm not making this up and I'm not fluffing this because we were given tickets. This. was. awesome. I don't even know where to begin……
The costumes were so neat, the characters were perfect and the story was entertaining. We just plain had a great time. There were puns my ten year old daughter and I giggled over and things I had to explain to her that made her then giggle and smile. We just loved this performance.
My son, who is seven,  adores the latest "Alice in Wonderland" movie production. He never tires of watching it. I was concerned he might not enjoy seeing it performed live and not portrayed exactly like the movie.  I need not have been worried. He thought this was "pretty cool".  He said his favorite characters were the Mock Turtle and the White Rabbit. For my daughter, she liked the Queen of Hearts and the Cheshire Cat the best. She loved the singing in the production.  My husband enjoyed the antics by the Cards (I agree; they were fabulous!). Personally, my favorite was the Queen of Hearts. Her voice, her costume, everything about her was wonderful! I couldn't help but smile and just sit back and enjoy. A firm second for me were Tweedle Dum and Tweedle Dee — these two characters did a great job of pulling the audience into the play.
I've not seen a musical production of Alice in Wonderland, so I have nothing to compare this performance to — I thought this was well rehearsed and well done. The songs were enduring and captivating.
After the performance, the cast members were in the lobby to talk to us and to get their photos taken. This was in a word: NEAT!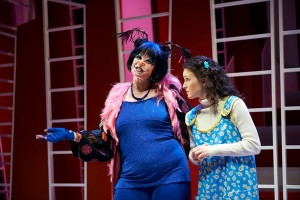 Here's an excerpt from the press release:
Ensemble Theatre Cincinnati (ETC) presents the return of one of its most cherished holiday musicals Alice in Wonderland, by local playwright Joseph McDonough with music and lyrics by David Kisor, playing November 28 through December 30, 2012. In the tradition of ETC's "fractured fairytale" holiday productions, Alice in Wonderland is a modern spin on the classic fairytale by Lewis Carroll and features exuberant colorful costumes, and an updated fantastical set design that will delight audiences of all ages. ETC's sassy version is the toe-tapping tale of a lost girl, a cool cat, a wild hare, and the original "dancing queen." Moreover, this year's version features several new songs along with the return of several Cincinnati's favorite actors reprising their roles for returning and new audiences alike. Directed by D. Lynn Meyers. Premiere Sponsor is Macy's.
Each season, ETC produces a magical fairy tale musical written with families in mind. As a theatre that also seeks to nurture new audiences, ETC has specifically commissioned these shows that take classic fairy tales and give them a fresh, modern spin with contemporary cultural references to make the shows' message accessible for the next generation of arts patrons.
Following the success of recent holiday musicals, ETC has expanded its performance schedule to include over 30 chances for audiences to see this popular production. ETC will also offer a convenient show calendar for families with many weekend matinees, early 6:00 pm Sunday evening shows, and 7:00 pm evening shows throughout the holiday season. ETC's Producing Artistic Director D. Lynn Meyers says, "What's so great about David and Joe's fairytale creations is that the lessons are timeless and will always appeal to and engage new audiences, especially all the children who get to explore this revamped Alice in Wonderland for the first time. Alice needs to learn a lesson and each of the show's characters, as well as the audience, become part of her learning this lesson."
Performances take place November 28-December 30, 2012 — with Opening night being held on  Wednesday, November 28 at 7:00 pm on select Tues-Fri at 7:00 pm; Sat at 2:00 pm and 7:00 pm; Sun at 2:00 pm and 6:00 pm. Tickets are $38-$42 for adults; $16 for children ages 12 and under. (Discounts are available through AAA, ArtsWave Fun Card, Cincinnati Public Radio Perks Card, Military/Educator and ETA discounts available. Group discounts available for 10+. Complete details available at www.ensemblecincinnati.org.)
As our performance was on Friday afternoon with lots going on downtown, we decided to park at Washington Park and walk over. If you'd prefer to park closer,  parking is available directly across the theater at the surface lot and Gateway Garage, both at the corner of 12th and Vine Streets. As with all performances downtown, give yourself 15-20 minutes extra time to find parking. Trust me. This will save you stress and make sure you don't miss part of the first act.
The show has two Acts – the first one took about 45 minutes while the second was a bit shorter. At intermission there's drinks and snacks available. As the theater has a smaller restroom, I appreciated that the staff made sure everyone was finished before the second act began.
If you'd like to treat yourself and your children to a wonderful show, you can't go wrong with this one.
Dislaimer: I was given four free tickets to this performance. This review, though, is my own opinion. 
When not blogging for Family Friendly Cincinnati, you can find Karen writing at her personal blog at Little World After All.