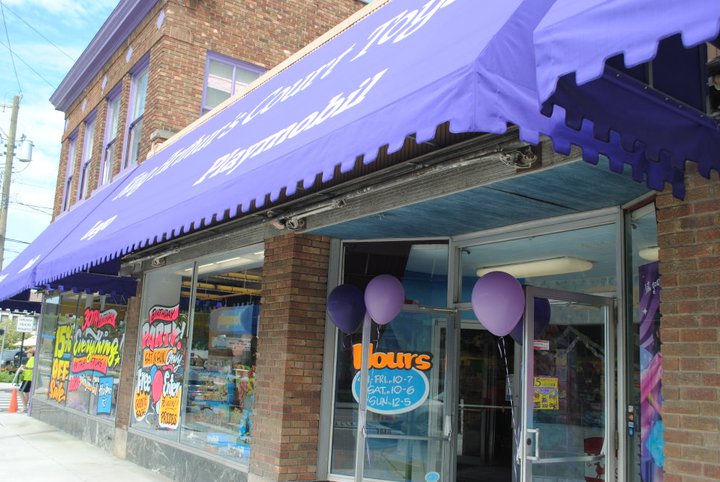 It's hard to believe, but it is that time of year. Time to start thinking about the holiday shopping season! Luckily, the folks at King Arthur's Court Toys in Oakley are here to help. If you are like me then you absolutely dread asking your kids "What do you want for Christmas this year," because you'll be met with either a blank stare or an "I don't know…"  If this is you, then be excited — because King Arthur's Court Toys is hosting its 4th Annual Demo Day on Saturday, October 29th from 10am – 4pm!
Demo Day is awesome for many reasons — #1. You get to let your kids check out some of the season's hottest toys, giving you a chance to see if they really LOVE them, or just like them. #2. Bring along a pen and paper and let them make those Wish Lists right then and there, so when you're ready to head out shopping, you'll be ready to go.  #3. Giveaways!  You can toss your name in the hat and possibly win toys from Melissa & Doug, LEGO, Playmobil and more, making the holidays even brighter!
Some of the giveaways at this year's Demo Day include:
LEGO City Airport Passenger Terminal $99 value
Basket of children's games
Gian T'Rex $99 value
Melissa & Doug Wood Kitchen $179 value
Playmobil Dollhouse $99 value
If you are looking to make your holiday season less stressful, this is a great opportunity to check out the hottest toys of the year, and to find out what your kiddos are really interested in finding under the tree this year.
King Arthur's Court Toys is located at 3040 Madison Road in Oakley.  For info on the Demo Day event visit their Facebook event page; For store hours visit their website www.kingarthurstoys.com.  Get a head start: Check out the 2016 King Arthur's Court Toys Holiday Toy Catalog: