Halloween Happenings in Cincinnati & Northern Kentucky

Halloween is just around the corner and we've put together a list of hauntingly fun Halloween Activities all over our region!  By now you've seen our fabulous

Family Friendly Fall Festivals and Farm Fun in Greater Cincinnati

post.  It's full of fun things to do to celebrate fall…festivals, apple picking, pumpkin parties and more!  THIS post will focus on all of the HALLOWEEN things going on!  Costumes, Haunted Houses, Spooky Stories, and MORE!!  We've put together a list that should please ALL ages, and ALL scare levels.  Do you have older children or thrill seekers in your family?  Or perhaps your kids are more interested in watching elephants play with pumpkins?  There's all sorts of fun Halloween events to choose from, just pick the ones that are right for your family!  We've added a few new events this year that might require a road trip…Cedar Point, Louisville, General Butler and more!

Family Friendly Halloween Happenings in Greater Cincinnati ::
BB Riverboats has some fun Halloween Cruises for the whole family!  Every Saturday in October they offer the Haunted Pirates of the Ohio cruise where you can party with the pirates and have some not-so-scary fun!  And for the biggest kids and adults in the family that are looking for BIG scares, check out the USS Nightmare!  For more information and to order tickets visit BB Riverboats.
Cincinnati Parks Magic Forest Halloween Hikes ~ October 21 & 22 at Caldwell Nature Center.  Reservations required.  This non-scary Halloween walk is perfect for children ages 3-10. Hikes last one hour, walkers will be led through pumpkin lit trails and meet costumed characters from history and nature.  For times and pricing visit the registration page.
American Legacy Tours offers haunted tours of Newport, Cincinnati and Covington.  Check out their website for all the details.
Halloween Hoopla Oct. 28, 2016 5 – 7p.m.  Behringer-Crawford Museum $10/ Family- All BCM members and $25/ Family for future members, Family= up to 6 people, additional guests $3 each for BCM members and $5 each for future members Vote for your favorite decorated pumpkin in our pumpkin parade and enjoy refreshments, crafts, games, face-painting and more. Located in NaturePlay@BCM. In case of rain, we move inside the museum.
HallZOOWeen at the Cincinnati Zoo ~ Select Weekends in October from Noon until 5pm  Free with ZOO Admission.  This has to be one of the most interesting places to trick or treat with the family!  There are so many activities going on and fun things to do while you trick or treat throughout the zoo.
Halloween Skate Party on Fountain Square on October 29th from 12pm – 1pm.
Covington Halloween Bash:  Disco of the Dead:  This is a great date night event!  Dust off your best costume and head to the Main Strasse Village for a night of fun, you could even win a cash prize!  Check out the FB event page for all the details.
MainStrasse Village Dog Costume Pawrade:  The 15th annual MainStrasse Village Dog Costume Pawrade will be held on the 6th Street promenade. This year's pawrade theme will be Favorite Fairytail. Create a great costume for you and your dog and pawrade down the promenade!n Don't have a dog, come enjoy all the creative canines dressed as their favorite fairytail character.  There will be food, drinks, activities, vendor booths and lots of fun for everyone at Goebel Park. The pawrade will start at 2:30 in Goebel Park and pawrades down the 6th Street Promenade and back.  Register your dog to participate at Goebel Park. The registration fee is $5.00 and will be donated to local charities. Prizes, doggie swag bags, and more!  *Open to dogs only. Must be kept on a leash at all times. Proof of current rabies vaccination is required.
Kenton County Public Library:  There will be Halloween storytimes at all three branches the last week of October, along with all kind of other fun events during the month of October. Check the events calendar for details: http://www.trumba.com/calendars/kcpl.
The Haunted Library  Kenton County Public Library  1992 Walton Nicholson Road, Independence – Thrills, chills and laughs await all who dare to enter our family-friendly Halloween experience! Please bring a canned good or non-perishable food item for a charity donation. The Haunted House is open Saturday, Oct. 29, from 5:30-8:30 and Sunday, Oct. 30, from 2-4.
Boone County Public Library has family friendly Halloween activities and events going on, visit the BCPL Website for more details!

Jack-O-Lantern Junction September 24 through October 31 at EnterTRAINment Junction www.entertrainmentjunction.com 7379 Squire Ct., West Chester, OH 45069  Halloween celebration in a kid-friendly, themed environment; Main Street Halloween decorations; walk-through trick-or-treat maze with non-scare ghosts, skeletons, cobwebs and multiple treat stations, area's only indoor Pumpkin Patch (where kids get a free mini-pumpkin), Halloween crafts and more!
Campbell County Public Library  has many Halloween events for the wee ones including making spooky snacks, decorating pumpkins, creating monster puppets and MORE!  Visit the CCPL website for a full list of events.
Halloween Nights at Parky's Farm at Winton Woods ~ Thursdays–Sundays, October 13-30 2016 from 5:30-9:30 p.m. 10073 Daly Road, Cincinnati, Ohio 45231 ~ Fun for the whole family!   Mini golf, hay rides and more not-so-scary fun!  Visit the Halloween Nights website for more details
Haunted Village October 14-15, 21-22, 28-29, 2016
6:00 pm-10:00 pm (Gate closes at 9 pm)  Heritage Village Museum inside Sharon Woods Park 11450 Lebanon Road Cincinnati OH 45241 $10 for everyone 2 and up A family friendly, slight fright event that features a village full of ghostly attractions. Take a wagon ride through the village at night, visit the witches house and haunted cemetery. There will also be games, face painting and trick or treat through the village.

Pumpkin Blow October 1,2,8,9,14,15,23,29 30 min slot between 10-8 Neusole Glassworks  11925 Kemper Springs Dr, Cincinnati, OH 45240 $40 per pumpkin Looking for something fun to do for Halloween? Come make pumpkins in our PUMPKIN BLOW where with the help of our professional glassblowers, you can blow your own glass pumpkin! Come experience the wonder that is glassblowing this holiday season! Reservations required by phone (513-751-3292) or email ([email protected]). Must be 5-6 years or older.
Halloween Happenings at the Public Library of Cincinnati and Hamilton County (there were just too many to list!  Check out their website, there's plenty to choose from!)
Burger Farm Pumpkin Festival Every Sat. & Sun. in Oct. 10am-6pm Jan Bell www.burgerfarms.com Newtown, Ohio $3.00 per person Burger Farm Pumpkin Festival offers fun for the whole family. Hayrides, Puppet Shows, Pumpkinland (A Storybook Fantasy World) Farm Animals, Entertainment and more. Rides, Games and Festival Food available for an additional fee.
Halloween Road Trips ~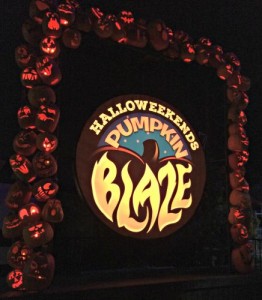 Cedar Point HalloWeekends in Sandusky, Ohio: The witches are preparing their brew. Over 50,000 pumpkins and cornstalks are placed. Fog is creeping across the midway. That means it's time for Cedar Point's HalloWeekends, the Midwest's biggest and baddest combination of fall family fun by day, and thrills, chills & shrills by night.  HalloWeekends takes on two distinct personas.  The Great Pumpkin Fest,  features attractions, crafts, activities and shows geared just for little spooksters and their families hosted by the ever-lovable PEANUTS™ pals.   But when the sun goes down, evil rises at HAUNT, Friday & Saturday nights. Monsters and the undead take to the midways to bring guests a truly terrifying trip into the darkness.   Check out this post we wrote for more details about HalloWeekends at Cedar Point.
Louisville: Jack O'Lantern Spectacular ~ October 13 – November 6  in Iroquois Park, Louisville  with thousands of creatively carved pumpkins along a walking trail.  The trail is open daily from dusk to 11 p.m. during the week and until midnight on Friday & Saturday.  Visit the Jack O'Lantern Spectacular Website for more details!
General Butler State Park Halloween Family Weekends ~ There will be two Halloween Family Weekends at General Butler, Oct 21 – Oct 23, 2016 and Oct 28 – Oct 30, 2016.  There will be costumes, trick or treating, Haunted Train Tracks, Ghoulish Mini Golf, family friendly activities and MORE!  Sounds like fun!  Make a weekend of it and go camping!  More details at the General Butler State Park Website.
Haunted Houses ::
**This list is for the thrill seekers…the adults or teen kids in the family…proceed with caution!
Halloween Haunt at Kings Island
Land of Illusion (5 Haunted House for 1!  AND a chance to hunt zombies)
Springboro Haunted Hayride and Black Bog
 If you have a Halloween Event to add to this list please submit it here: http://bit.ly/cincyweekendcalendar