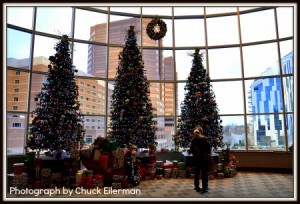 There are so many fantastic family-friendly Christmas and Holiday activities in Northern Kentucky going on in the coming weeks.   There are shopping experiences, photo opportunities, music, arts, and more on this list.  There are events on this list for children of all ages, from 1 to 100, because let's face it, aren't we all a kid at heart during the holidays?    So get out your calendar and mark down some of these holiday activities in Northern Kentucky so you don't miss them!
Holiday Activities in Northern Kentucky: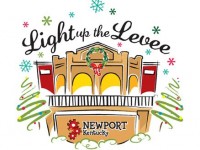 GRAND ILLUMINATION at NEWPORT ON THE LEVEE :: Tuesday, November 24th from 6-7:30m.  Music, Tree Lighting and MORE!  Visit their website for all the details.
MAINSTRASSE VILLAGE TREE LIGHTING November 27, 2015/6:30pm-7:30pm MainStrasse Village Association www.mainstrasse.org 6th & Main Street, Covington KY 41011 No Charge Please join us in lighting the tree on 6th & Main, complete with music, free hot chocolate, cookies…and a visit from Santa! While you're here, be sure to visit our shops and restaurants throughout the Village.
Tuesday, December 1st  FLORENCE TREE LIGHTING – For more details see the City of Florence website or contact Florence Parks & Recreation (859) 647-5439.
SANTA CLAUS AROUND THE WORLD Dec. 3, 7-8 Kenton County Public Library  Erlanger Branch, 401 Kenton Lands Road  Bring the family for a look at Santa figures around the world! We'll share some stories along with hands-on activities and a craft.
Friday, December 4th at 6pm TWILIGHT CHRISTMAS PARADE in MAYSVILLE :: Marching bands, floats, and of course Santa Claus himself!  See the City of Maysville website for all the details.
Friday December 4th – Sunday, December 6th BURLINGTON CHRISTMAS ::  See Historic Burlington's website for more details about this event, and other holiday events they have going on all weekend long, like music, a pet parade, a train show and more!  There will even be special holiday hours at shops & restaurants in Burlington.  Sounds like a fun weekend!
COVINGTON NIGHT BAZAAR  December 4 and 5, 2015, 6pm-10pm Renaissance Covington  Park Avenue between E. 3rd Street and Court Street, Covington, KY Free To make your holiday shopping a thrill without the chill a giant tent will be erected at Roebling Point in Covington, KY on December 4th and 5th from 6 pm to 10 pm and will house craftspeople, and artisans selling everything.
FRESH CUT CHRISTMAS TREE & WREATH SALE  December 4/5 pm-10 pm, December 5/10 am – 10 pm, December 6/10 am – 4pm  www.mainstrasse.org MainStrasse Village, Covington KY 41011 Boy Scout Troop 717 is coming back to MainStrasse Village to sell fresh cut Christmas trees (Frasier Firs) and wreaths. They will be available on the 6th Street Promenade, Trees will also be available November 27-29 by appointment only. Please call 859-491-0458 to schedule an appointment.
STORYTIME WITH SANTA December 5, 1-3 Kenton County Public Library  Covington Branch  Kick off the holidays with Santa at the Library! Join us for storytime with Santa, a special Christmas craft and a photo ops.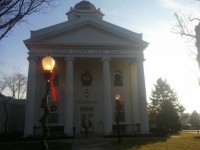 CHRISTMAS WALK AND HOLIDAY MARKET ::  City of Independence Saturday December 5th, 2015  5-10pm Independence, Kentucky at the Kenton County Courthouse, Madison Pike The annual Christmas walk begins at the courthouse at 6pm and ends at the Senior Center.  Festivities include a lighted parade, Santa & Mrs. Claus, Carolers, dancers, live Nativity, camel rides,  and much, much more!! Family events at all businesses along Madison Pike.  This year, L&M's Busy Hands Crafts and Gifts Shoppe has added an outdoor Holiday Market and Craft Fair.  Come shop the wide variety of homemade, hand spun crafts, gifts,  decor and more ~ More than forty crafters, artisans and vendors will be offering sweet treats to satisfy all the senses!!! Secure package check will be available while you walk the town.  HO.HO.HOPE to see you there!!!
HOPEFUL MARKETPLACE December 5 2015 Hopeful Lutheran Church Florence Kentucky Crafter/vendor Fair Over 30 booths will be set up. Come get your Christmas Shoppong done. 859-525-6171
FROZEN WONDERLAND & FESTIVAL OF TREES  at General Butler State Park on Saturday, December 5th ~ Dine with Santa Claus, hang out with characters from Frozen and visit the decorated trees in the lobby of the State Park Lodge.  For all the details visit the General Butler State Park website.
PET & PEOPLE PHOTOS with music by Kyle Knapp and Chris Cusentino December 5, 2015/ 2:00 pm – 5:00 pm  www.mainstrasse.org 6th & Main St, MainStrasse Village, Covington KY Free Have your photo taken with your pet and enjoy music by Kyle Knapp and Chris Cusentino. Photos by the Christmas Tree at 6th & Main, music at the Goose Girl Fountain. Proceeds from the photos benefit Rescue Angels Animal Rescue Group.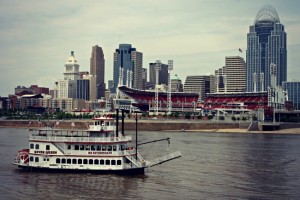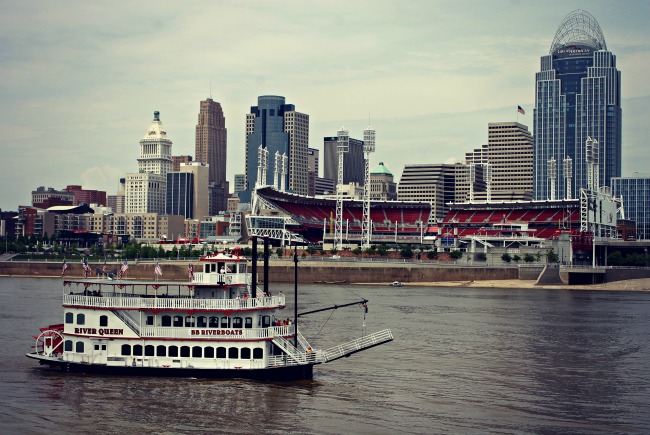 BB RIVERBOATS HOLLY JOLLY LUNCH CRUISE  December 5th, 12th and 19th.  Boarding at 11am, Sailing 12-2pm  It will be Holly and Jolly aboard BB Riverboats this Holiday Season. Bring the kids down for this popular afternoon cruise. There will be plenty of games and activities for the kids and if they aren't naughty, Santa Claus will even make an appearance! Indulge in some of the seasons culinary treats which including turkey and dressing complete with all the "fix'ins."  Visit the BB Riverboats website for more details.
SAINT NICHOLAS ARRIVES at the Goose Girl Fountain in MainStrasse Village,  December 6, 2015/ 6:00 pm to 7:00 www.mainstrasse.org   Free Saint Nicholas arrives at the Goose Girl Fountain in Covington at 6 pm with a special treat for all of he boys and girls. Hot chocolate and cookies will also be served.
CHARLIE BROWN CHRISTMAS CONCERT December 6th from 6:00 – 8:30pm at the Sanctuary Events Center in Newport, KY.  $5/person $10/family
HOLIDAY EXTRAVAGANZA Sunday, Dec. 6, 1-4 pm Kenton County Public Library  Erlanger Branch, 401 Kenton Lands Road  It's time for our annual Holiday Extravaganza! Enjoy carriage rides from 1-4, visit with Santa from 1:30-2:30 (bring your own camera) and create crafts from 1:30-3 or while supplies last. Cosponsored by Erlanger Parks and Recreation.
CATHEDRAL CONCERT SERIES ~ December 6th and 13th  St. Mary's Cathedral Basilica of the Assumption Madison Avenue at 12th Street, Covington, Kentucky 41011 Visit the Cathedral website for all the details.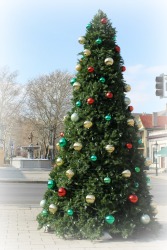 DIY ORNAMENT MAKING PARTY Dec 8, 4:30-6 pm Kenton County Public Library Covington Branch Teens are invited to create several beautiful holiday ornaments and enjoy holiday treats!
December 9th – LAST DAY TO MAIL LETTERS TO SANTA at Kenton County Public Library branches and courthouses! Kenton County Parks & Recreation, in cooperation with the Kenton County Public Library, is excited to announce its annual Letters To Santa ~ Letters From Santa program. Every child who sends a letter to Santa will receive a return letter from Santa just in time for Christmas! PLEASE be sure to check your child's letter to see that Santa can easily read full names and home addresses so that each child will receive his or her letter at home.  When mailing your child's letter to Santa, please remember to bring non-perishable food or personal care items (including diapers) for those less fortunate. Specially decorated barrels will be located right next to the mailboxes at each location.
AN OLD KENTUCKY CHRISTMAS December 10-13 visit the First Church of Christ in Burlington for an old fashioned holiday event.
HOLIDAY CONCERT Dec. 12, 1-2 pm Kenton County Public Library  Covington Branch The Cincinnati Harpers' Robin performs holiday tunes, traditional, Celtic and contemporary.
Saturday, December 12th WHITE CHRISTMAS PARADE in AUGUSTA.  In the beautiful city of Augusta.  Contests, a parade, Christmas carols and more!  See the Augusta website for all the details on this fun-filled evening!
CANDY CANE HUNT December 12, 2015/ 1pm – 3 pm  www.mainstrasse.org Goebel Park, MainStrasse Village, Covingto KY Free Candy cane hunt for age groups 3-5 years, 6-8 years, 9-12 years with a special Reindeer Patch for children under 3. Hot chocolate, a petting zoo and Wiley Wahoo's Winter Wonderland will be a part of the fun, free event.
The Florence Community Band & Chorus will be holding a CHRISTMAS CONCERT on Sunday, December 13 at 2:30pm at the Florence Government Center
GINGERBREAD HOUSE Dec. 14, 6-7:30 pm Kenton County Public Library Erlanger Branch, 401 Kenton Lands Road Children and caregivers are invited to the Erlanger Branch Library to take part in a winter tradition, decorating a gingerbread house! Supplies provided. Teens and children welcome.
CAROLING ON STONEY'S FRONT PORCH  December 19/4 pm-5 pm www.mainstrasse.org 323 West 6th Street, MainStrasse Village,Covington, KY Free Enjoy making the music of the holidays come alive. Instruments, hot chocolate and cookies will be provided.
HOLIDAY CRAFT MAKING Dec. 20, 2-4 pm Kenton County Public Library Erlanger Branch, 401 Kenton Lands Road Still not sure what to give your loved ones this holiday season? Come to the library and make holiday crafts to keep keep or give your family and friends. We will have cookies and hot chocolate too.
Ongoing Holiday Activities in Northern Kentucky:
HOLIDAY TOY TRAINS – Behringer Crawford Museum Nov. 21 – Jan. 17, 2016. Open Tuesday-Saturday (10am-5pm) and Sunday (1-5 pm). Register for Polar Express readings (Nov. 29 is the first one). 1600 Montague Road – Devou Park, Covington, Kentucky 41011.
JINGLE BOOKS December 1-31 Kenton County Public Library  Children ages 2-12 can pick up a Jingle Books booklog at any location. Read or listen to five books and return your log tot he Library for a prize and raffle entry. Complete as many book logs as you like for more chances to win. Logs are due by 5 pm on December 31.
 CHRISTMAS TOWN at THE CREATION MUSEUM in PETERSBURG ::  Come see a free Live Nativity & Garden of Lights every Friday & Saturday in December.   Bullittsburg Church Road, Petersburg, KY 41080 For more details call: (888) 582-4253 or visit their website.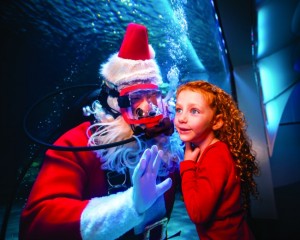 SCUBA SANTA at the NEWPORT AQUARIUM ::  Go see one of the most unique holiday displays in town!  Scuba Santa is sure to entertain the whole family!  Visit the Newport Aquarium website for all the details!   He will be there from November 27th until December 31st.
WILEY WAHOO'S WINTER WONDERLAND Nov 27,28, 29, Dec 3, 4, 5, 6, 10, 11, 12, 13, 17, 18, 19, 20, 21, 22, 23, 2015  Goebel Park, MainStrasse Village, Covington, KY Free A whimsical, animated holiday attraction in Goebel Park featuring a candy cane forest, ice-skating dogs, photos with Santa…and so much more. Kids of all ages and dog lovers everywhere will enjoy this display, based on a fun-filled tale of two furry friens who share holiday happenings all over town.
BRICKmas at Newport on the Levee ~ November 24 through January 1 2016.   A spectacular holiday event for LEGO lovers of all ages!  Visit the Levee website for more details.
SIMS FURNITURE CHRISTMAS WINDOW DISPLAY ::  If you are driving around Covington with the family be sure to stop at 727 Madison Avenue to see what the elves are up to getting ready for Christmas!  This charming window display is a must-see!
And to find out about Holiday Events and Festivals around the state of Kentucky check out the Kentucky Tourism website!  Maybe you can take a day trip for some holiday fun!
Looking for more Holiday activities in Northern Kentucky & Cincinnati?  Check out these posts on Family Friendly Cincinnati:
Christmas Tree Farms in Greater Cincinnati
Holiday Events at Local Libraries
Holiday Season Theatre in Cincinnati & NKY
Shop Local Series: Greater Cincinnati Toy Stores
Did I miss a holiday activity in Northern Kentucky?  If so, please submit it here: http://bit.ly/cincyweekendcalendar
When not blogging for Family Friendly Cincinnati, you can find Katie writing at her personal blog, www.thelittlethingsjournal.com