School starts this week and this past weekend, I took my girls and their friends for an end of summer camping adventure at Hueston Woods State Park.  Hueston Woods is part of the Ohio State Park system and it's a beautiful place to visit and enjoy nature.  Plus it was an easy 45 minute drive from Mason. Activities include hikes, swimming in the lake, renting boats at the marina (canoes, kayaks, small motor boats), golfing, fishing, campfires, and visiting the Nature Center to see large birds of prey being rehabilitated and the resident cougar.  They also have naturalist programs, horse rentals ($20 for 1.5 mile trail), and plenty of scenic beauty.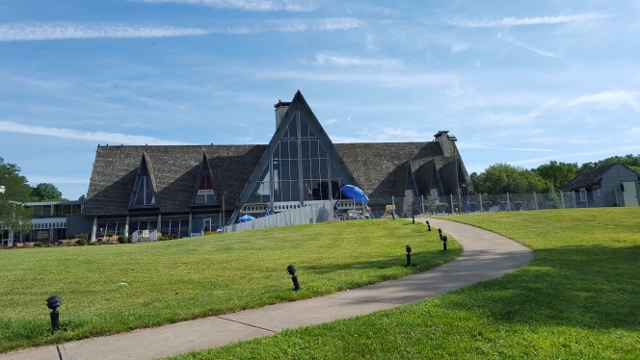 There are a few options for overnight guests.  You can either stay in "deluxe" accommodations at the Hueston Woods Lodge (pictured above) or in their cottages or you can "rough it" a bit more and head over to the Hueston Woods campground.  If you stay in the Hueston Woods Lodge, you have access to the indoor and outdoor pool.  Campground visitors only have access to swim at the lake or you can pay a fee to swim in the outdoor pool. The Lodge is on the other side of the park from the campground so you'll need to hop in your car to get there.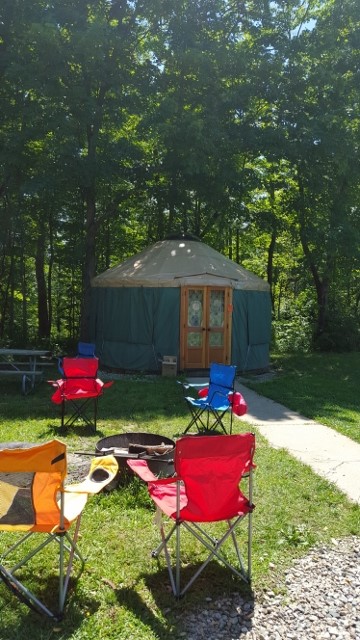 We opted to stay at the campground and we were lucky enough to reserve the only yurt onsite.  We were pleasantly surprised with the yurt.  It not only was very spacious inside, but it also included 2 futons (sleep 2 on each), a small refrigerator, microwave, TV/DVD player, and two fans. We also brought an air mattress so we comfortably fit 6 people in the yurt. A yurt is a round structure on a raised platform. The girls thought it was great fun.  We had a picnic table, fire ring and grill at our campsite.  The restrooms and wash house were only a short walk. The yurt was only $45 for the night and they usually require a two night minimum to stay.
Itinerary: You can modify your visit to include other activities that they offer.
2 p.m. – Checked into the campground and got the keys to the yurt.
2-3 p.m. – Unpacked the van and the girls set up their sleeping quarters quickly.  They had fun hanging out in the yurt.  I relegated myself to a chair outside and read a book.
3 p.m. – Visited the Nature Center.  Seeing the large birds of prey was quite something.  There are small signs telling about each bird and how they came to the park and how they were injured. I liked seeing the grumpy turkey vulture, Ralph. Felt we shared an affinity since he arrived at the Nature Center the year I was born (yes, showing my age).  We also loved visiting the resident, Cougar.  Inside the Nature Center their are smaller animals including snakes, lizards and turtles.
3:30-6:00 p.m. – Swimming in the lake.  The girls loved this.  There isn't a lifeguard onsite so make sure you watch your swimmers.  The entry is a sandy bottom too.
6:30-7:30 p.m. – Dinner bell.
7:30 – 9:00 p.m. – Exploring the campground, hanging out at the campsite and visiting the playground.
9:00-10:30 p.m. – Bonfire and night hike Since we visited on a Friday night, there was a naturalist taking guests on a hike.  You weren't allowed to bring any flashlights and could only use the light of the moon to help guide you along your way. The naturalist told us to rely on our hearing, feeling with our feet (lots of roots to be careful of) and each other.  I definitely ended up relying on my 10 year old partner in front of me and some stranger behind me. Never thought I would be holding hands with a nice stranger man in the middle of the night on a walk, but when it is dark and you have terrible night vision, you do what you have to do. Ha ha.
10:30-11:30 p.m. – Bonfire at our campsite. Whew, by now I was tired but the girls wanted to have the entire camping experience and that included a bonfire and s'mores.  I have to say, I was proud of myself for getting that fire going (shhh, no one needs to know I had some help with fire starters). We made s'mores, roasted the remaining hotdogs, and had lots of laughs.
11:30 p.m. – Lights out!  Surprisingly, it only took 15-20 minutes for all the girls to settle down and fall asleep.
Here are some of the Nature Center pictures: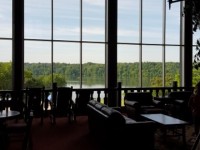 The next morning, we woke up fairly early and enjoyed breakfast at the picnic table. The girls visited the playground one last time and we packed up all of our gear for home.  Before leaving, we drove over to see the Hueston Woods Lodge & Conference Center.  The setting is beautiful.  If you go, stop in the lobby and take a few minutes to sit in one of the rocking chairs that overlook the pool and view of the lake.  Then after you see the view from the inside, walk downstairs and head towards the lake.  Just before you head down the hill to the dock, turn around and see the lodge from this angle. It is gorgeous and looks like a movie setting.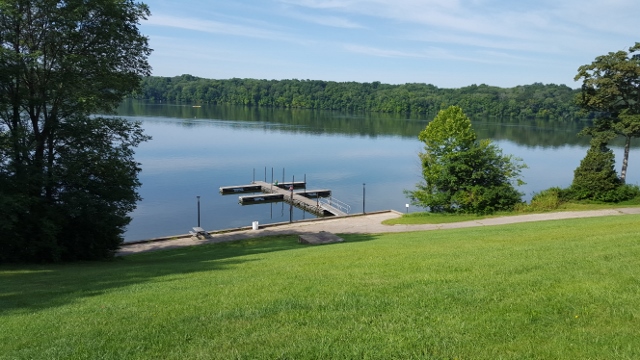 Camping Checklist: Even though we were only going for one night, my van was packed full.  Taking five girls camping is no easy feat.

Sleeping bags
Pillows
Sheet (2 full) for the futons (we brought extra air mattress and pump)
Swim gear – towels, bathing suits
Sunblock
Bug spray
Change of clothes
Old sneakers for hiking
Cooler for drinks (bring extra water, you go through it fast on a hot day)
Food – our dinner menu included hot dogs, brats, macaroni salad, strawberries, apple slices, chips and dessert. For the morning, I went the easy route with cereal and donuts.
Charcoal – I bought one of those all in one bags that you just light up. Don't forget a lighter.
Tablecloth or large beach towel to cover picnic table.
S'more supplies – graham crackers, Hershey chocolate, marshmallows
Roasting sticks
Chairs for the campfire (we brought 6)
Rain ponchos
Paper towels
Hand sanitizer and Clorox wipes
Flashlights (extra batteries)
Flip flops for bathroom or shower
Wood for campfire, (fire starters help too and newspapers you crinkle up)
When not blogging for Family Friendly Cincinnati, you can find Kristin writing on her personal blog, MasonMetu (from me to you).