I have found in my travels over the years that when you step outside of this region many people associate Kentucky with horse racing and fried chicken.  Fortunately for us there are several places around town to get some fantastic fried chicken.  The Greater Cincinnati area is home to some great locally owned restaurants who know how to serve fried chicken with flair!
Five Places to Get Fantastic Fried Chicken in Cincinnati & NKY
BrewRiver GastroPub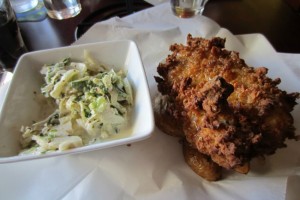 The Buttermilk Crispy Amish Chicken at BrewRiver Gastropub is the most perfectly crisp chicken you will ever dine on.  The chicken is served with homemade slaw and potatoes.  It's a hearty meal, I'd suggest splitting it with your dining companion and starting with one of their amazing appetizers like Truffle Mac n Cheese or the Short Rib Poutine.  And then after the chicken leave room for one of the unique desserts like the "Adult" Beer Float or the Listermann's Peanut Butter Brownie.
BrewRiver GastroPub is located at: 2062 Riverside Dr, Cincinnati, OH 45202
The Eagle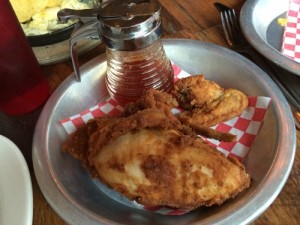 I think that the fried chicken served at the Eagle is the most talked about fried chicken in our area.  As well it should be…their chicken is delicious, and you can give it a little extra kick if you dip it in their spicy hot honey.  If you make plans to go to the Eagle I'd suggest going with a group so you can share some sides and appetizers.  All of the sides are ala carte, and can serve several people because they are huge portions, and if you are sharing with others then you have a chance to try more sides than if you were flying solo or just with one other person.  And I highly recommend starting your dining experience at the Eagle with an order of the Brown Sugar Bacon…you can thank me later.
The Eagle is located at: 1342 Vine St, Cincinnati, OH 45217
Greyhound Tavern
Monday and Tuesdays are known to many in Northern Kentucky as fried chicken nights.  That's when you can get a family style fried chicken dinner at the Greyhound Tavern in Fort Mitchell that includes  a half chicken, mashed potatoes with gravy, cole slaw, green beans and biscuits.  It's a Northern Kentucky tradition!
Greyhound Tavern is located at: 2500 Dixie Hwy, Fort Mitchell, KY 41017
The Gruff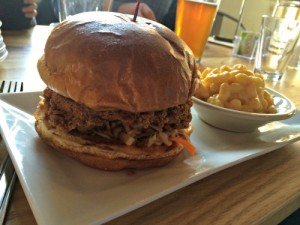 New to Covington, the Gruff quickly had people all over town talking.  They are known for great pizzas, salads and sandwiches.  Fried chicken doesn't have to always to come with a side of mashed potatoes and green beans.  If you want to mix things up try it on a sandwich!  The Gruff serves their Fried Chicken with a spicy pickled slaw on a homemade bun, and you can add a side like pickle fries or mac and cheese to complete the meal!
The Gruff is located at:  129 E 2nd St, Covington, KY 41011
Otto's
Otto's, located in the Main Strasse Village has a Fried Chicken Sandwich that is scrumptious, and while you are there pair the sandwich with the Truffle Fries appetizer and you will be in heaven!  Otto's does change their menu seasonally, so be sure to check their website before going to make sure the fried chicken sandwich is on the menu.  That being said, even if you can't order the fried chicken sandwich, every dish I have eaten at Otto's has been divine.
Otto's is located at: 521 Main St, Covington, KY 41011
These are just my five favorites, but I'm sure there are other great fried chicken dinners out there in addition to these!  Be sure to leave your favorite in the comments below and then add these five restaurants to your Fried Chicken "Bucket" list.
Side note, for some of the fried chicken dinners at restaurants you might want to be prepared to wait just a little big longer as they make it fresh to serve, and it takes a little bit longer to prepare than other dishes on the menu.  It's totally worth the wait though!