This past December my family and I decided to start a new tradition and take a family vacation over Christmas break. Based on work and school schedules, we decided to sneak away Christmas Day after opening gifts from Santa.  We weren't sure where we wanted to go, but we knew we wanted to drive, and we knew we didn't want to drive for more than a day.
As we started to look over the map and weigh our options, a winner emerged.  We were going to go explore Charlotte, NC. None of us had been there, and heck, it was warmer than Cincinnati was at the time.
About the same time we were planning our trip, the folks with Comfort Suites reached out to see if we'd be interested in visiting one of their recently renovated Comfort Inn or Comfort Suites properties. Having stayed at Comfort Suites in the past, and not having yet booked our hotel, we were excited to work with them and check out the results of their recent renovations (the just finished renovated more than 1,900 Comfort hotels).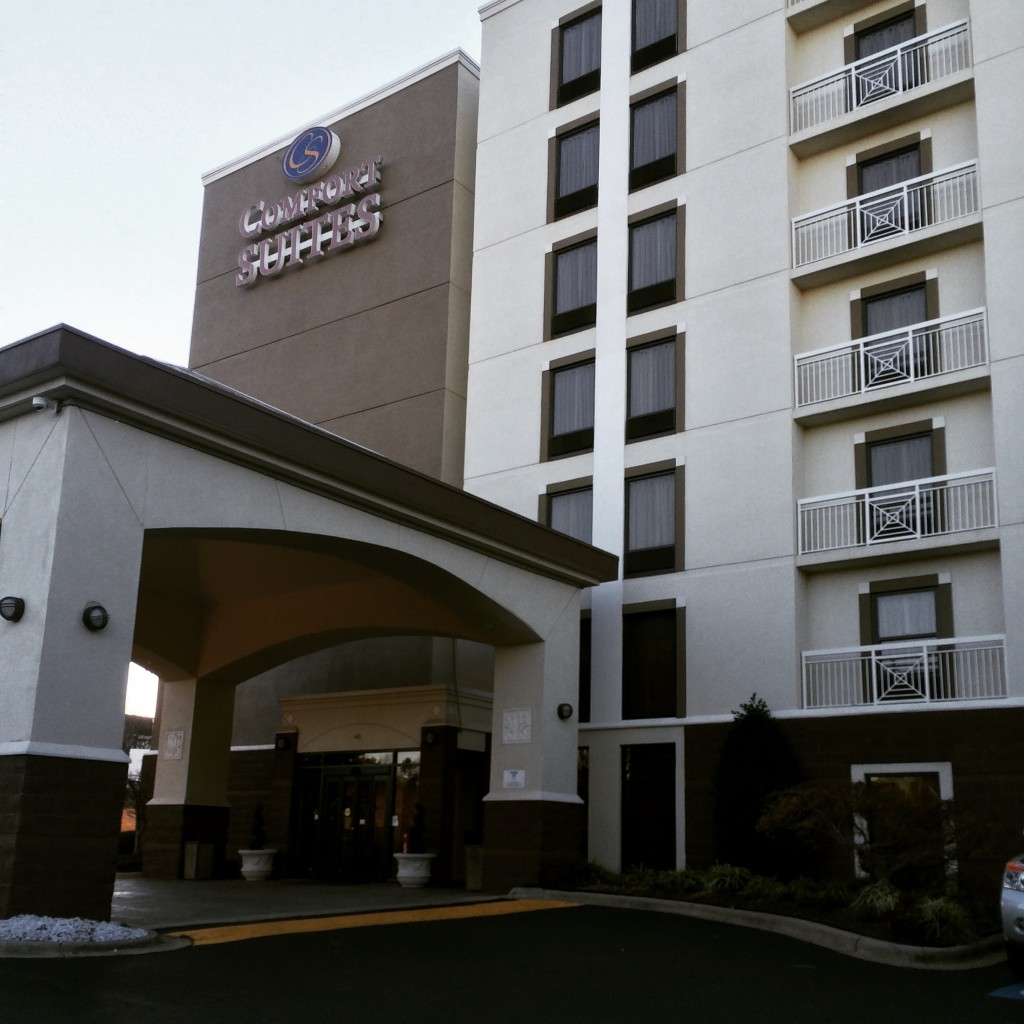 While there are multiple Comfort Suites locations in Charlotte, we opted to stay at the Comfort Suites University Area. We thought with it being near a college it would be a great opportunity to expose the boys to the college atmosphere.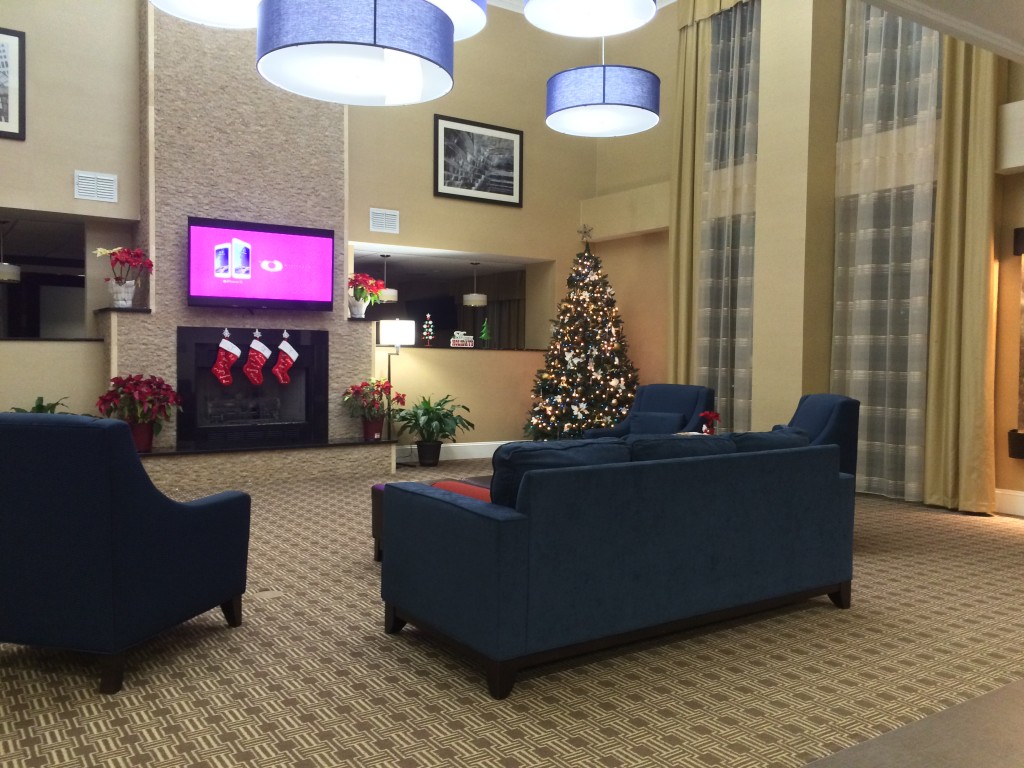 The lobby of the Comfort Suites University was beautifully decorated for the holidays. The decor was very modern and warm. The lobby was right off the reception area where we checked into the hotel.
In addition to revamping the hotel, Comfort Suites used feedback from 10,000+ guests and franchisees to revamp its free breakfast offering. The new offering is healthier, heartier, and as I mentioned above, they now offer flavored waffles in addition to plain (this was huge with the kids). Also, for check out day they offer a Grab It and Go breakfast bag which includes a breakfast bar, a piece of fruit, water and a mint.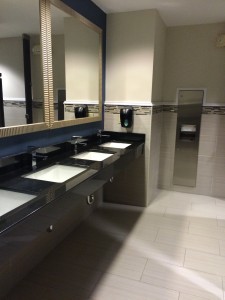 So first of all… yes. I took a picture of the bathroom. While normally I wouldn't, I really loved how they tied the bathroom decor into that of the rest of the hotel. It was very modern feeling, decorated with shades of brown.  I was (am) obsessed with the floor tile, which I have already added to my list of things I want to find when we remodel our downstairs bathroom.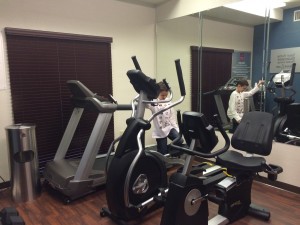 Those of you who like to stick to your workout routine while on vacation, like my husband, will like that the hotel also offers the free use of a workout room. The room contained all the things you would expect — weights, nice machines and a TV.  My husband and my oldest son used the room while we were there.
Now, on to what I think this the most important part of the hotel experience… the hotel room.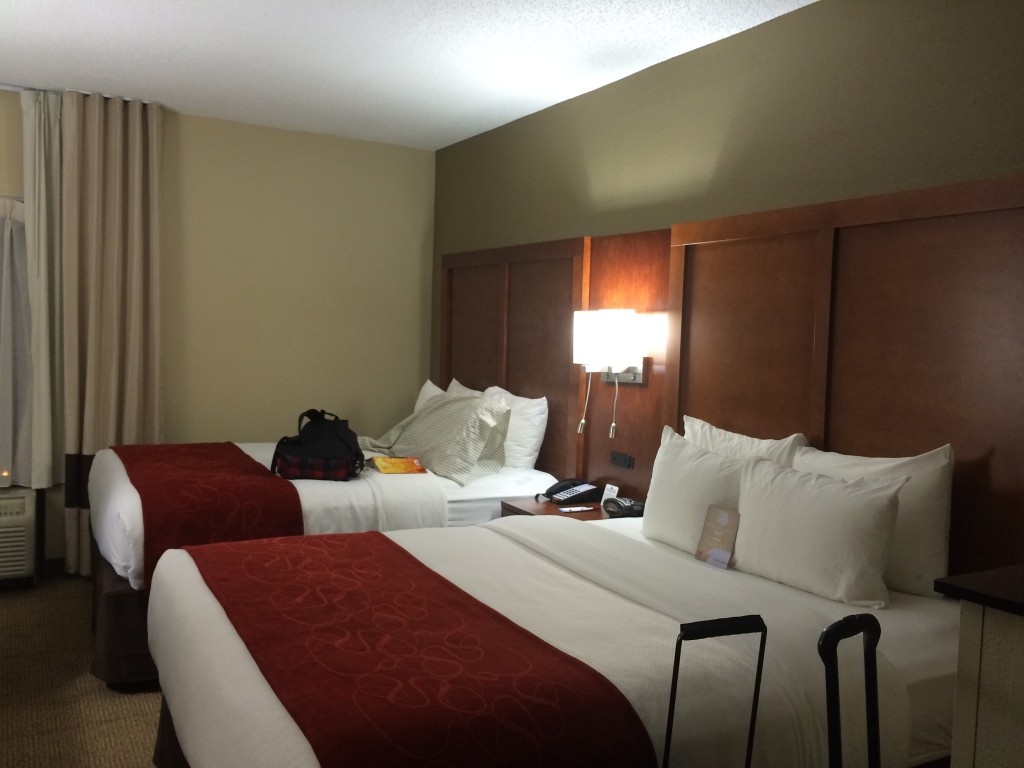 A family of four, we booked a suite room with two double beds (avg $119 a night). The beds featured 100% cotton sheets, and were topped with new coverlets and colorful burgundy bed scarves.  Pillows came in both soft and firm, which was nice because I prefer mine to be firmer than the kids do.  As part of the recent renovations, Comfort Suites tested about 100 different types of pillows and invested one-quarter-million in brand new bedding packages.
One of our favorite things about the room was this little sitting area. This area included a comfortable sofa and table and allowed us to feel like we weren't as cramped as you normally feel in a hotel room.  This space was widely used for building LEGOS, reading and even for a few rowdy Battleship matches. Best of all, it gave my husband and I somewhere to go when it was time for the boys to go to bed.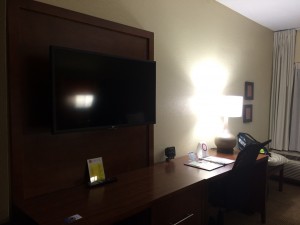 In addition to the sitting area, the room also came with a flat screen TV (they recently added more than 150,000 new flat-screen TVs to guest rooms) and a large desk area. Having free WI-FI in the room proved to be a huge plus as we logged online daily to map out our day's adventures. I also won't lie to you, the WI-FI was pretty awesome to have for surfing the web during the down time too ;-).  Oh, and for those of you who love your gadgets, the desk area included a multi-outlet recharging device with USB ports as well as traditional plugs.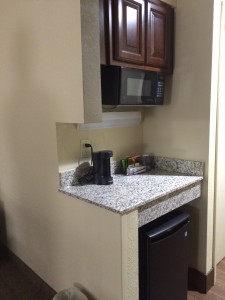 Lastly, a feature that I think is imperative for families traveling, the room included a "kitchen area."  This area included a mini fridge for storing bottles of water, snacks and even leftovers from eating out, as well as a microwave and coffee maker (a coffee maker is a must have….).
Having spent three nights at the Comfort Suites University in Charlotte, I feel like we really had the opportunity to fully experience the hotel. Coming and going throughout the day, we had the chance to engage with a wide variety of staff and to really try out all aspects of the hotel, with the exception of the outdoor pool. The hotel felt brand new, and the staff seemed to take real pride in its appearance.
Shout Out:::: I want to take a moment to give a special shout out related to customer service and the woman who worked the front desk in the evening. I didn't catch her hame, but she checked us in the evening of Christmas Day, and then was there working each evening as we arrived back from our day of adventures.  She was always smiling, always said "hello", "welcome back", "did you have fun today,"etc. (we'd told her we were there on vacation) and just really added to the experience.
So, why am I telling you about our wonderful stay at the Comfort Suites hotel in Charlotte, NC? Because the AWESOME people with Comfort Suites have given Family Friendly Cincinnati a TWO NIGHT FREE STAY (up to $400 value) to give away to one lucky Family Friendly Cincinnati reader!
That's right.  One lucky winner will win a two night stay at one of the recently renovated Comfort Inn or Comfort Suite locations.
ENTER TO WIN
Want to win a two-night free stay at a Comfort Inn or Comfort Suite property*** (up to $400 in value)?
Entering is easy! Simply comment on this post saying what Comfort Suites feature (shared above) you think your family would enjoy the most (pool, free breakfast, sitting area, etc).  Additional items outlined below are bonus entries. Leave a separate comment on this post for each one you complete. A total of FIVE entries are possible.
Bonus Entries:
That's it…that's FIVE ways to enter which means FIVE chances to win! The winner will be drawn and notified via email (we'll also announce it on our Facebook page). The contest will close at 2pm on Saturday, January 31, 2015. Winner will have 36 hours to respond or another winner will be chosen.
****Please note: The winner will have a choice of staying in a Comfort Inn or Comfort Suites hotel from a list of premier properties in select cities across the country.
 Disclosure: We received a complimentary stay at the Comfort Suites University in Charlotte, NC in exchange for sharing about the hotel and our experience. Opinions are 100% our own and reflect our experience.  If you have any questions, we would gladly answer them.