Our friends at Growing Sound, a musical division of Children, Inc. have a new CD being released in September called Dandelion.  The CD features songs written by the ever-fabulous David Kisor and features the singing talents of Demi Mays & Friends.  Preschoolers and toddlers are going to love this latest musical masterpiece from Growing Sound.  The songs are catchy and fun to move and groove too, or to cuddle to, whatever your munchkin prefers.  My Henry has no time for cuddles, but I did catch him dancing along while we listened.  Henry is already a huge fan of the Growing Sound CD's, so I think he's pretty excited that we have a new CD for our collection.  I taught preschool years ago, and I have to say this Dandelion CD will be in my collection when I return to the classroom.   I loved the collection from the fun and wacky "I Clap, I Shout" to the calmer selections "Let's Pick a Picture" & "Way, Way Deep".
All About Dandelion ::
Discover DANDELION, a collection of songs that capture and celebrate the day-to-day joys in a young child's life, and introduces Demi Mays and a group of very talented friends. Springing up in stores on September 16, DANDELION is produced by David Kisor and released by children's music publisher, Growing Sound.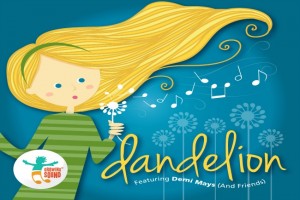 The opening notes of "Dandelion" sound like musical fairy dust – sprightly and light, letting children know they are in for something engaging and magical. Early contenders for hit singles include "'Cause I Love It," with a country acoustic vibe that explores the wonderful activities kids can enjoy (both new and familiar) with their families, and "Make a Face" featuring a high energy 60's "Beatle-esque" musical style that may single-handedly bring back The Twist, The Pony, and other dance crazes of that decade. On "Baby Animal Song" every animal presented (elephant, kangaroo, penguin, seahorse) has its own special instrumental representation of the way it walks – at once clever and fun.
 While the lyrics are simple for toddlers and preschoolers to easily follow along, David Kisor's songwriting and production are sophisticated and compelling. He has crafted the CD with a diversity of musical styles, rhythms (including beatboxing on "I Clap, I Shout" and "We Are Walking") and instruments that create a stimulating sound experience. Artist Demi Mays (And Friends) contribute delightful harmonies, lead vocals and superb musicianship. The project starts off peaceful, whimsical, and melodic but quickly picks up speed, before it starts to wind down again with "Hello Sky, Hello Earth" (perfect for children's yoga) and continues with more mellow songs for quiet time, closing with an instrumental-only track filled with gentle violins.
 Demi Mays has a sweet, friendly and organic voice that will appeal to little ones, and their parents. Now just 24, Demi began singing before she could walk. She has a special knack for sharing her joy and passion for music with children. "Living life through song will always be a part of my soul," says Demi.
 Growing Sound has developed an expertise at producing award-winning recordings that highlight interaction between young children and the adults that love and teach them as they grow – providing an opportunity for maximum parental engagement and fun.
—————————————————————————————-
While the Dandelion CD won't be officially released until September, Growing Sound will be having a special local CD release  celebration at the Covington branch of the Kenton County Public Library on Tuesday, August 19 starting at 5:30.  This event is FREE and open to the public but you need to register ahead of time: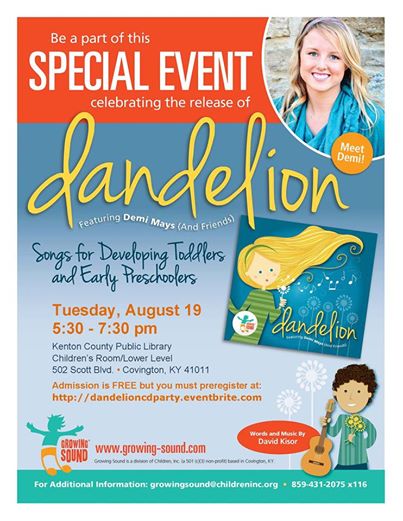 And to celebrate the release of this uniquely wonderful children's CD we have been given FIVE vouchers to give away.  Each voucher can be redeemed for a FREE download of the Dandelion album from CD Baby.  Enter to win today and  make your special preschooler or toddler very happy!
WIN WIN WIN
FIVE lucky FFC readers will be given a voucher to download the Dandelion album for FREE!

So how can you enter to win? It's easy. Simply answer the question below. Additional items are bonus entries. Leave a separate comment on this post for each one you complete. A total of five entries are possible. You must reside in the Tri-State and be at least 18 years of age to enter.
Question:
What is your favorite childhood song?

Bonus Entries:
Sign up for our Enewsletter:

 http://eepurl.com/bxdIb

Check out

 Family Friendly Cincinnati  and Growing Sound on Facebook.

Follow us on Instagram:

www.instagram.com/famfriendlycin

Tweet about this giveaway, including @FamFriendlyCin & @GrowingSound in your Tweet.
That's it…that's FIVE ways to enter which means FIVE chances to win!  The winner will be drawn and notified via email (we'll also announce it on our Facebook page) on Monday, August 25 at 2PM. Winner will have 24 hours to respond or another winner will be chosen.   The winner will be mailed a voucher to use on CD Baby to get a free download of the Dandelion album.

Disclosure: We were given a Dandelion CD for review purposes, as well as 5 vouchers for Dandelion downloads to give away.  All opinions are, as always, 100% our own.