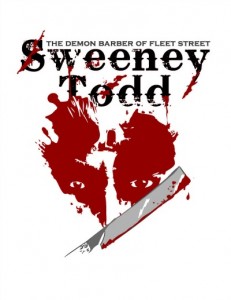 We are very excited about the upcoming theater season at The Carnegie — so many amazing shows to look forward to!  They are opening their season with SWEENEY TODD and we can't think of a better way to kick off an amazing season!  If you are ready for a grown-ups only night out, we've got the hookup!  Read on for more info on this wonderful show and your chance to win a pair of Date Night tickets to the opening weekend!  
SWEENEY TODD: The Demon Barber of Fleet Street, has been performed on stage as well as silver screen and has many different adaptations with everyone from Len Cariou to Johnny Depp taking their turn as Sweeney, the demon barber himself, and Angela Lansbury to Imelda Staunton as Mrs. Lovett, his land-lady and partner in crime.   In The Carnegie's production Justin Glaser takes his turn as Sweeney Todd as he pursues vengeance against the vile Judge Turpin played by Michael Sherman, aided by Helen Annaliesa Raymond-Goers as Mrs. Lovett the land-lady with a penchant for cannibalistic meat pies.
Here's a little about the show from The Carnegie:
On the heels of a season that saw 70% increase in attendance and a second consecutive win for "Best Musical of Year" from the League of Cincinnati Theatres, The Carnegie has joined forces again with one of its favorite collaborators for one of Broadway's favorite musicals.

The Carnegie proudly launches its 2014-15 Theatre Series with the Tony Award winner SWEENEY TODD, playing weekends August 8 – 23, 2014 at The Carnegie in Covington, KY. Co-produced with Northern Kentucky University's Commonwealth Theatre Company, SWEENEY TODD features local professional actors alongside the area's most gifted collegiate talent from NKU, CCM and Wright State University, led by national tour veteran and NKU alumnus Justin Glaser.

About the show:

On an errand of vengeance, a wrongfully imprisoned barber returns to 19th century London seeking blood from the men who destroyed his family. Aided by the bizarre bakeress, Mrs. Lovett, Sweeney Todd begins barbering anew, Londoners begin to disappear, and Mrs. Lovett's meat pies are suddenly tastier than ever. But will Sweeney take his delicious revenge before his plot is discovered?

Winner of eight Tony Awards (including "Best Musical") and adapted into a film starring Johnny Depp, SWEENEY TODD is a deranged theatrical treat and the very bloody best of Stephen Sondheim.
This promises to be an absolutely amazing show and we think it would make a 'killer' date night (see what we did there?), so we've partnered with The Carnegie to give away a pair of tickets to see SWEENEY TODD when it opens the weekend of August 8!
WIN WIN WIN
One lucky FFC reader will receive a pair of tickets to ONE opening weekend performance of SWEENEY TODD!  Winner can choose any of the opening weekend performances — Friday, August 8 at 7:30 PM; Saturday, August 9 at 7:30 PM; or Sunday, August 10 at 3 PM.

So how can you enter to win? It's easy. Simply answer the question below. Additional items are bonus entries. Leave a separate comment on this post for each one you complete. A total of six entries are possible. You must reside in the Tri-State and be at least 18 years of age to enter.
Question:
Who will you take with you as your date for SWEENEY TODD?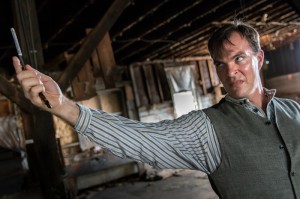 Bonus Entries:
Sign up for our Enewsletter:

 http://eepurl.com/bxdIb

Check out

 Family Friendly Cincinnati  and The Carnegie on Facebook.
Sign up to receive updates from The Carnegie straight to your inbox and never miss your favorite show: http://www.thecarnegie.com/emailsignup.php

Follow us on Instagram:

 www.instagram.com/famfriendlycin

Tweet about this giveaway, including @FamFriendlyCin & @The_Carnegie in your Tweet.
That's it…that's SIX ways to enter which means SIX chances to win!  The winner will be drawn and notified via email (we'll also announce it on our Facebook page) on Wednesday, August 6 at 2 PM. Winner will have 24 hours to respond or another winner will be chosen.  You will be able to specify which Opening Weekend performance you would like to attend, tickets will be held at Will Call the day of the event, you will need photo ID to claim them at the Box Office.
Tickets to The Carnegie and Commonwealth Theatre Company production of SWEENEY TODD are $21 – $28 and may be purchased online at www.thecarnegie.com or by calling The Carnegie Box Office at (859) 957-1940 (open Tu – Fr, noon – 5pm).
SWEENEY TODD will include nine performances over three weekends:
Friday, August 8, 7:30pm
Saturday, August 9, 7:30pm
Sunday, August 10, 3pm
Friday, August 15, 7:30pm
Saturday, August 16, 7:30pm
Sunday, August 17, 3pm
Friday, August 22, 7:30pm
Saturday, August 23, 2pm and 7:30pm
Single Ticket Pricing:
$28 Adults
$25 Carnegie and Enjoy The Arts Members
$23 Groups of 8 or More
$21 Students
Don't forget to check out the rest of The Carnegie's theatre season offerings: West Side Story, Driving Miss Daisy, and The Underpants.  More info on these shows can be found on The Carnegie website: www.thecarnegie.com/series.php
disclosure: The Carnegie provided the tickets for this giveaway.