Jimmy Buffett's Margaritaville® Cincinnati
A couple weeks ago we were invited to experience the taste sensation that is Jimmy Buffett's Margaritaville® Cincinnati, next to the Horseshoe Casino.  The restaurant has a new, refreshed menu featured over 15 enhanced dishes and drinks.
We were invited as a family, meaning my three kids, who are under the age of 10. At first I had second thoughts about taking my kids, because the restaurant is right next to the Horseshoe Casino.  [Note: It is Ohio state law that no one under the age of 21 may enter a casino.]  We entered the garage, valet parked and walked around the building to the entrance of Margaritaville. When we walked in the door, we were greeted with smiles and the island beat of Jimmy Buffett's music. The restaurant was clean, bright and filled with a fun energy that made me realize my kids were welcome. And, I spotted several other families!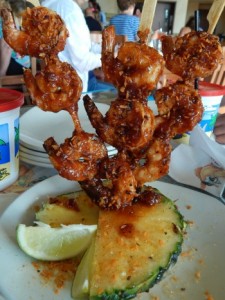 That night we tried FIVE different appetizers:
"Drunken" Shrimp Skillet sauteed in tequila key lime butter!
Asiago Crab Dip
White Cheddar Cheese Curds served with BBQ and Marinara
Lava Lava Shrimp
Key West Quesadillas
My favorite was the cheese curds with marinara.  They were lightly fried to a golden brown. The kids agreed. The shrimp skillet was a close second.  But, the Lava Lava Shrimp was a visual delight!  Check out that picture!
Next up were our entrees.
My land lover kids chose chicken tenders, a cheeseburger and a giant pile of nachos. When I say 'giant', this is actually an understatement. The Volcano Nachos were actually meant to be an appetizer shared by a table, but my 10-year-old foodie really wanted them. He barely made a dent in the dish and we thoroughly enjoyed them at the pool the next day!
I decided on the Crispy Coconut Shrimp. I thought maybe I'd have leftovers, but it was so delicious that I polished it off that night. The server said it was one of her favorites also.
We were stuffed, but still made some room for dessert. We tried two desserts—The Chocolate Hurricane and the Key Lime Pie. Both are fantastic, but, The Hurricane is a full body experience!
The servers brought out a huge pile of ice cream and chocolate cake slices covered in whipped cream, Kit Kats, mini vanilla wafers, crumbled candy bars and other deliciousness.
But, wait, there's more…
The whole concoction was on a Lazy Susan. One of my kids got to slowly spin the turn table while the other poured caramel and chocolate sauce over the decadent dessert.  Then, we dove in.
Everyone was happy.
The service at Margaritaville was fantastic.  Our server, and others that we met, greeted us with smiles and were efficient and fast.  Now that we realize what a fun time the kids can have there, we love spreading the word that munchkins are welcome!  There are many kid friendly dishes to pick from on the kids menu, and of course, lots for adults.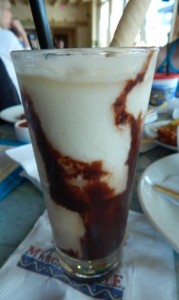 Speaking of adults, another tasty selection I'd like to mention is the drink menu.  I tried a Chocolate Banana Colada and it was simply heavenly.  I love frozen chocolate covered bananas, and this was it…in a glass!  With rum!  Talk about delicious on a hot evening.  Margaritaville has loads of other tropical drinks on their menu.
Margaritaville® Cincinnati is located inside of the Horseshoe Casino at 1000 Broadway Street. The restaurant features both interior and exterior dining, a concert stage, and multiple bars along with nightly entertainment.  This restaurant is great for family dining, an evening out with friends, or a date night. For more information, visit www.margaritavillecincinnati.com or call 513.250.3318. 

Next time you don't feel like making dinner and want a mini vacation, check out Jimmy Buffett's Margaritaville Cincinnati next to Horseshoe Casino in downtown Cincinnati.  You won't be disappointed!
Disclaimer:  In exchange for this review my family was provided with a meal from Margaritaville.  All opinions are 100% my own and I can honestly say that we all loved it!
When not blogging for Family Friendly Cincinnati, you can find Michelle writing at her personal blog, I'm Living the Good Life.