Today we bring to you a special sponsored post from Four Seasons Tent Rental.  We hope this post and their discount offer will help you with your party planning this summer!  Unless it's a pool party there is nothing worse than going to a summer party and baking in the hot sun or having to be crammed into a crowded house because an outdoor party was rained upon.  You can plan for these weather happenings and be prepared with a tent from Four Seasons to cover your party.
Four Seasons Tent Rental: $100 off your next package purchased!
Are you planning your child's birthday party? Parent's anniversary? Husbands 40th birthday? Does your party require a tent, tables, or chairs? If so, Four Seasons Tent Rental has what you'll need.
At Four Seasons Tent Rental we know planning any party can be stressful, especially when you're a parent. You already have enough on your plate: wake up, get dressed, feed the kids, get the kids to school, pick the kids up from school, cook dinner, take Susie to dance lessons and Billy to soccer practice, come home, bathe kids, lay them down, spend whatever is left of the day either with your partner, or preparing lunch and laying out clothes for the kids tomorrow. It's a lot! Where would any parent find the time to plan a party? Don't panic! Four Seasons Tent Rental is here to help.
Four Seasons Tent Rental is a family- owned business providing Cincinnati tent rentals, event management and equipment throughout the Cincinnati area since 2003. As a company we strive to make each client's experience a special occasion. We pride ourselves on consulting with our customers and delivering the highest quality tents and equipment supplies.
Whether it's  your child's birthday party, parents anniversary, or husbands 40th birthday party, our staff has the experience to guide you through the planning process to make your event both memorable and hassle free. We recognize that each event, whether large or small, has the same level of importance to our customers. We commit to you that your needs will be handled with the utmost of courtesy and professionalism by our delivery and installation crew.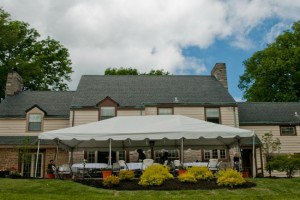 Remember, tents aren't just for shelter on rainy days anymore; tents provide extra space, shade from crucial summer rays and a touch of style to any party. Four Seasons Tent Rental wants to make sure you are prepared for anything; especially when Cincinnati is known for its unpredictable weather.
Tents are all about having fun! They allow you and your guests to sit outside, grill out, play some games, and most importantly enjoy the day! Renting a tent from Four Seasons Tent Rental guarantees you'll have fun, rain or shine!
From now, until August 31st, Four Seasons Tent Rental is offering $100 off any package purchased. Each package includes a tent, tables, chairs, and linens, and our packages range from 40 guests to 300 guests!
If you would like to book an event with us, please visit www.4seasonstent.com or call us at 859.485.6333. At Four Seasons Tent Rental, we like to maintain active relationship with a number of other vendors and are happy to recommend professional providers who you can trust to provide catering, entertainment, signage and more.  We strive to be your easiest and favorite part of planning your event. Don't believe us? Ask our clients!
Disclosure ::  Four Seasons Tent Rental is an advertiser on Family Friendly Cincinnati.