When I was a kid I got a kick out of going on a picnic.  I loved the idea of spreading out a blanket, pulling menu items out of a wicker picnic basket and spending time with my family.  The food always seemed to taste better coming out of the basket too.   Sometimes returning to simpler times can be even more rewarding and fun than heading to the latest and greatest attraction. Recently, we enjoyed the day at Glenwood Gardens.  This beautiful park can brighten anyone's day.  You enter the park off of a fairly busy road but then all the traffic noise and hustle and bustle fades away as you step onto the well manicured grounds.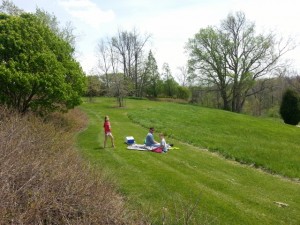 We got out our cooler (I wish we had a wicker picnic basket), a blanket and looked for the perfect place to have our picnic.  We let the girls choose our spot.  They found one overlooking the expansive park so we had a beautiful view of green space and trees. Plus it was fun seeing visitors walking their dogs, jogging or just enjoying a leisurely stroll.  After our picnic, we almost fell asleep relaxed on our blanket before heading down to the trails.  There is a 1 mile paved trail as well as a 1.6 mile Wetland Loop Nature Trail.  We had fun walking along the trail and enjoying nature (no bikes, scooters or roller blades are allowed but well behaved dogs on leashes are welcome).
Glenwood Gardens is part of Great Parks of Hamilton County. Admission to the park is free but you do need a valid Motor Vehicle Permit to enter the park.  A yearly parking pass is only $10 and you can then utilize this parking pass at any of the parks through the end of the year or you can purchase a daily MVP for $3.  There are so many other parks you can enjoy that it is well worth it to purchase the yearly pass (think Sharon Woods, Winton Woods, Woodland Mound, Lake Isabella, etc.).
Glenwood Gardens is also home to Highfield Discovery Garden. When my girls were younger we visited here often. Since they were feeling nostalgic, we decided to visit the Discovery Garden after our trail hike.   It combines nature and fun with an amazing and interactive tree house as its focal point and seven smaller themed gardens.  The Discovery Tree will keep your kids highly entertained as they explore all the levels of the tree house.  The Discovery Garden is geared for kids ages 3-8 years, but even my 9 & soon to be 11 year old were still captivated.  They had fun visiting the adorable play structures as well as looking for the big bullfrog we kept hearing in the pond. They also loved seeing the Fairy Garden and traversing the wooden bridge. We visited the educational building too and my youngest proceeded to teach me how a tadpoll becomes a frog since they had hands on displays already set up.  There is an admission fee to visit, but if you think you might return another time, then purchase a family pass (only $40 for a family of 4 with $5 for an add on family member).
We really enjoyed our day at Glenwood Gardens and hope that you and your family will get to visit one day soon. We'd love to hear what your favorite park in Greater Cincinnati is. Please leave a comment below to share with others.
Glenwood Gardens 10397 Springfield Pike Cincinnati, OH 45215
Find Great Parks of Hamilton County on Facebook
When not blogging for Family Friendly Cincinnati, you can find Kristin writing on her personal blog, MasonMetu (from me to you).