The City Flea that takes place in Washington Park in Cincinnati is the most interesting flea market I've ever been to.  Each vendor that sells their wares at the City Flea is carefully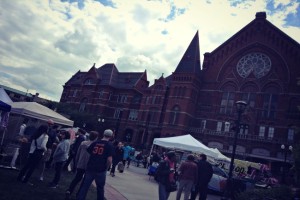 selected from the numerous applicants.  Each vendor offers something unique & interesting to the customers.  You can find everything from handcrafted jewelry to Cincinnati-themed artwork to soap made from beer to soap made from goat's milk to vintage clothing to artwork for your walls to clothes your friends will envy to homemade hot sauce and the list goes on and on.  We wandered around for a few hours visiting all of the great vendors and made a few fun purchases.  I didn't drop a bundle either.  Everything seemed to be very reasonably priced, plus my favorite part is that we were supporting local businesses and artisans!
The City Flea has quite a party atmosphere, with a DJ spinning tunes for your listening enjoyment, food and beer trucks to feed you, and people milling around everywhere.  Even though it was sort of a dreary day when we went to the Flea that did not diminish the party atmosphere.  Everyone seemed to just be having a lot of fun being in a beautiful park checking out cool vendors.  And since the park is huge, you don't feel like you are in a cramped crowded place.  There's plenty of room for everyone to spread out and enjoy themselves.  And when you are finished checking out all of the vendors the kids can play on the playground, the pups can run around the dog park, and fun can be had splashing around the fountains.  You could spend all day at City Flea and not get bored at all!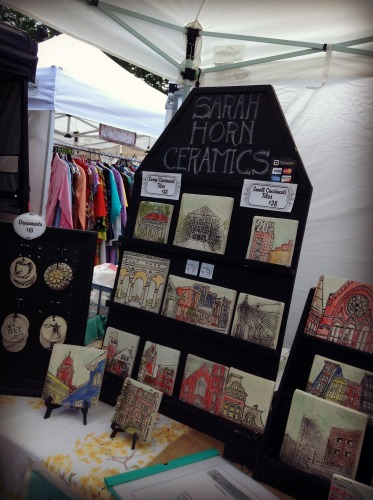 The City Flea in Washington Park:
2015 SUMMER MARKET DATES
May 16 / Washington Park 10a-4p
June 20 / Washington Park 10a-4p
July 25 / Washington Park 10a-4p
2015 FALL DATES
August 15 / Washington Park 10a-4p
September 19 / Washington Park 10a-4p
October 10 / Washington Park 10a-4p
2015 WINTER DATES
November / TBD
December 12 / Washington Park 5p-10p
For more pictures from the City Flea in Washington Park visit the Little Things Blog.