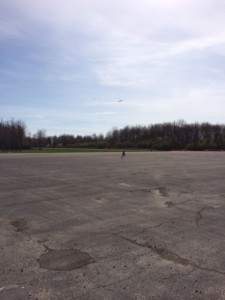 I love living in Blue Ash. I love the people, the sense of community, the small town feel within a bigger city. Another thing I really like about Blue Ash are our parks. We have some great parks. With the purchase of the Blue Ash Airport a few years ago from the city of Cincinnati, Blue Ash gained the ability to make the biggest park yet. The park is called Summit Park and it's located between Plainfield Rd., Glendale-Milford Rd., and Reed Hartman Highway. The park is opening in phases – for now, it's a big open space… nothing like the photo on the heading of this post. But I can't wait as this lovely park unfolds before our very eyes.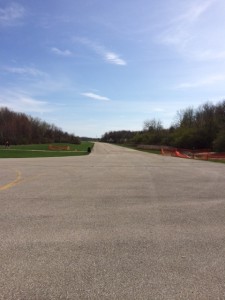 What's a big open space good for? Flying kites, riding bikes, throwing balls, frisbies and the like. A few Sunday's ago, not only was it gorgeous out, but it was also breezy. After a quick trip to Target, we headed over to Summit. It was fantastic! We spent a few hours flying our kites and soaking in the sunshine. While there, we shared the park with other families flying kites, along with families who were riding the bikes and scooters. Some were there for a picnic, while others were there tossing balls. The wonderful thing about this park is that it's large enough to accommodate all of this with room for more.
Phase 1 is happening now with a Phase 2 and 3 coming approximately in 2015 and 2016 respectfully. If you're looking for wide open spaces, then Summit Park is just the place.