Family Friendly Cincinnati would like to introduce you to our newest advertiser:
Junior Cuts Salon!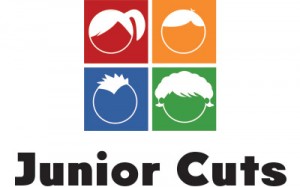 We're proud to welcome Junior Cuts to FFC and hope you will find what they do as amazing as we do.  Read on for a look at Junior Cuts Salon!
Junior Cuts = Quality, Convenience and Fun!
Have you ever taken a look at your child's hair, told yourself you couldn't go one more day without getting it cut, then found yourself dreading – even avoiding – the experience?  You're tired of unanswered phones, appointments that are hard to schedule, salons that are dirty or in disrepair, cuts you can't count on, and stylists that take little interest in you and your kids, or worse, seem ill-equipped to handle their fidgets or fears. Well, Tom and Sarah Callihan, co-owners of Junior Cuts – a new kids' hair salon inside Recreations Outlet – hope to change all that.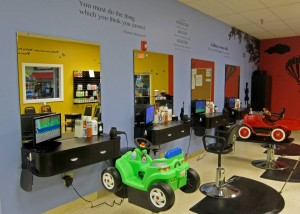 Fueled by their own frustrations with the limited choice and less than stellar experiences they had searching for the right salon for their boys, now 6 and 2, they started exploring ways to use their combined business (and parenting) experiences to offer something different.  Last summer, their vision found its home – and valuable advocates – in Pete and Lynn DeLois at Recreations Outlet.  And in March, they opened their doors.
What makes Junior Cuts different?
Their mission is to offer quality haircuts for kids with the convenience parents need and the fun kids crave, and they believe they can achieve that through important parent- and kid-friendly features:
24/7 online booking:

While walk-ins and phone calls are always welcome, the ability to book an appointment at any time through the salon's

website

or

Facebook

page is a game changer for busy parents.

FREE access to the indoor playground while you wait:

For the benefit and convenience of their clients, they've arranged for Recreations Outlet to offer their playground free of charge before appointments begin and to supervised siblings while they wait.

Experienced, kid-friendly stylists: The

team has between 8 and 34 years in the business with significant portions of their careers focused on families and young children, including extensive experience serving children with special needs, sensory processing challenges, and anxiety related to haircuts. The website includes tips for preparing your child for a haircut and making the actual appointment as calm and enjoyable as possible. They're happy to speak with you about anything that may help meet your child's specific needs.

Novelty, child size, and adult size chairs:

Kids can choose between fun cars or kid-size salon chairs. Teens, as well as busy moms and dads, can sit comfortably in a traditional salon chair, which also allows very young or nervous children to sit in an adult's lap during their haircut.

Personal TVs at every station:

A full menu of popular, on-demand shows and movies helps entertain (or comfort) clients of all ages.

FREE treats with every service:

 

Children can select a barrette or sculpting gel to complete their look and choose a sucker, bracelet, or sticker following their service.

Clean, comfortable environment:

You and your kids will feel at home in the newly remodeled, freshly decorated space and find it clean and welcoming, whether the first or last cut of the day.
Check-out their services and pricing menu online and book your child's next appointment at Junior Cuts today!
I was invited to visit the salon with my kids and take a look around and I was really blown away.  Junior Cuts Salon is situated inside Recreations Outlet which has an amazing indoor play area with trampolines, large playground structures, basketball hoops and so much more.  When we arrived we were greeted by the wonderfully friendly staff at both Recreations Outlet as well as Junior Cuts salon.  My youngest son was in need of a trim so he chose a chair and his stylist helped him choose a show on Netflix, which completely made the experience a win for him.  My oldest checked out the basketball court area while his brother got that much needed trim.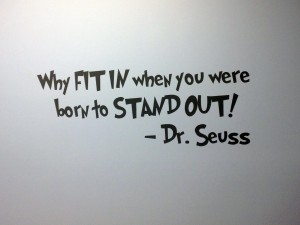 The salon was beautifully appointed and kid friendly all the way with bright colors, fun chairs for the kids to sit in, and awesome quotes on the wall.  I got a chance to chat with one of the owners while I waited and discovered that not only does the salon boast 5 amazing stylists but all of them love to work with kids…which makes a huge difference!  Another mark in their favor?  They go out of their way to work with parents to schedule a great experience for kids with sensory processing issues, for example children on the Autism spectrum, by scheduling them during low volume periods in the salon as well as Recreations Outlet, thereby avoiding overwhelming their youngest clients with too much noise and action around them. 
They have kid friendly haircare products available for purchase, can do prom up-do hairstyles (for WAY cheaper than other salons), and even have mini-mani's available for your special princess!  Does your little guy just need a neck or over the ear trim? They can do that, and cheaper than a regular haircut price too.  Find yourself remembering that you need to book an appointment for a cut but it's 10 PM?  No worries, you can book online 24 hours a day!  Want to book an appointment and drop by while you are out running errands?  Do it with your smart phone!  Yup, their website is phone friendly and allows you to book your appointment even as little as 15 minutes before you arrive.
Basically, if you've ever thought "I really wish that there was a kid salon that ____(enter awesome service here)" then Junior Cuts Salon has thought of it, too.  This place rocks!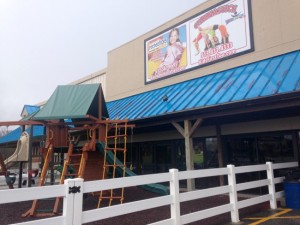 Junior Cuts is located at 885 State Route 28, Milford, Ohio 45150, inside Recreations Outlet.    Besides Junior Cuts Salon, Recreations Outlet also houses Kids First Too and small gift shop/cafe named Lulu Cafe where you can grab kid friendly treats like hot dogs, pizza, or sweet treats.  Open play times are listed on the Recreation Outlet website.  Recreations Outlet also hosts "Charitable Play" on Tuesday, Wednesday, and Thursday from 9 AM-11AM for only $2 per family with all proceeds going to a different charity every week.

Make a day of it at Junior Cuts Salon and Recreations Outlet!