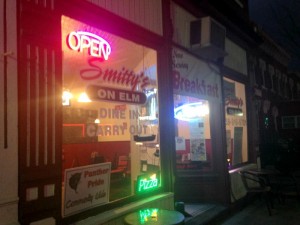 My family and I recently discovered an area of town we had previously left untouched in our travels through the countryside…a sweet, quiet little river town with a Mayberry feel to it-nestled right in the heart of the Greater Cincinnati area!  Ludlow, Kentucky has all the small town atmosphere you could possibly want with the advantage of being a mere 10 minute drive from Downtown Cincinnati, and it's seeing a renaissance as more and more businesses and young families find that they can have the close-knit, hometown feeling and keep the big city lights!
Right on the main street that runs through this quiet little town is a gem of a restaurant named Smitty's on Elm.  Great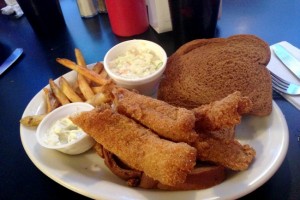 burgers, daily specials, breakfast served daily…what's not to love?  My family and I recently stopped in for dinner and it was absolutely delicious!  Looking for a new Fish Friday spot?  Look no further.  This fish sandwich was HUGE and super tasty and the price was fantastic. A fish sandwich with fries, tartar sauce, cole slaw and a drink was only $5.95…you can't beat that deal!
Next time we stop in I am going to definitely try out the burgers because I've heard they are absolutely delicious!  First on my 'to-do' list? Buffalo Bleu Burger (hot wing sauce and bleu cheese…yum!) But then there's the 'Bit Smitty Dog' too, which my husband tried..and it was delicious! A Nathan's jumbo hot dog, wrapped in bacon, battered, deep fried, and topped with chopped onion and mustard.  If you're feeling up to it you can take the Smitty Dog Challenge: 4 Smitty dogs with 4 toppings each, a large fountain drink, and 2 lbs. of fries.  Not sure what you get if you make it, but I'd love to see someone try!
Smitty's has daily specials so make sure to check out the Smitty's on Elm Facebook page and check in often, the daily deals are fantastic ($2.95 burgers, all you can eat 3-ways, $2.95 Smitty Dogs, and those fish sandwich specials I mentioned..just to name a few).  They have limited outdoor seating for warm weather days, and a television indoors for game watching so you won't miss a basket, homerun, or touchdown.
Smitty's on Elm is locally owned by Rick Smith and his son, Ryan.  Both are active in the Ludlow Community and take the philosophy of "Looking back and Moving forward" when it comes to running Smitty's.  The walls are filled with black and white photos, the history of Ludlow…yet there is still plenty of room for new memories to be made and shared as well.  If quiet, family-friendly dining is what you are looking for then Smitty's is the place to be.
Smitty's on Elm is located at 240 Elm Street in Ludlow, Ky.  Information on dining hours, daily specials, and the menu can be found at their Facebook page: Smitty's on Elm.