After the cold spell this week, I'm sure many families are ready to get out and have some fun!  I know we've got cabin fever in our neck of the woods!  And the temps are finally creeping back up, so it's a perfect weekend to get out of the house.  I've put together a rather lengthy list of ideas to inspire you, so take a look and start planning your weekend fun!
Friday ::
Culture Kids: Wonder of Wood at the Cincinnati Art Museum.  Friday Jan. 10th, for preschoolers & their parent.  Learn about art while listening to stories, taking a tour, having a snack and making your own artistic creations.  For times, prices, and more information see the Cincinnati Art Museum website.
Saturday ::
Musikgarten Open House    January 11, 2014 10:00-1:00    Little Songbird Music Studio 240 Main St. Florence, KY    FREE It's that time again! Both new and returning students are invited to join us kick off our spring semester! For kids we will have crafts, instruments, games, songs, snacks and more. Parents can explore our materials, ask questions, play with their children, enter a raffle and see all we have to offer. There are always some other fun surprises, so come see what's going on! This event is geared towards children 0-5 and their families, and is absolutely FREE.
Painter's Tape Masterpiece January 11, 2014  3 p.m. Public Library of Cincinnati and Hamilton County   Monfort Heights Branch, 3825 West Fork Road Free Create a colorful modern masterpiece using a simple painter's tool. Registration required. Call 513-369-4472.
Cincinnati Cyclones Classic on Fountain Square ~ FREE Saturday 12-8pm ~ See the Cyclones Website for all the details.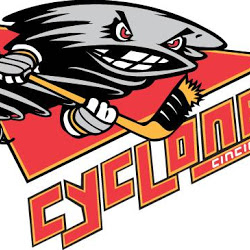 12:00pm-6:00pm: Youth Pond Hockey Tournament
6:00pm-6:30pm: Mite Clinic
6:30pm-7:00pm: Squirt Clinic
7:00pm-7:45pm: Cyclones Intra-Squad Pond Hockey Game
8:00pm: Public Skating
New Works    January 11, 2014 5:00 pm    Atmosphere @ Neusole    http://neusoleglassworks.com    Neusole Glassworks    FREE    Atmosphere @ Neusole presents Chadd Lacy New Works. Starts at 5:00 pm with a live demonstration and a gallery reception follows. The exhibition runs through February and public viewing is Mon-Fri 10-4, Sun 10-3. It is free and open to the public.
Meet the Artist – Photographer Tom Turner    Saturday January 11, 2013 12:00-4:00    The Picture Party Place 205 Main St., Milford, OH 45150    Free    Stop in to The Picture Party Place for our Meet the Artist Event. We are a new business located in Olde Milford offering You-nique photography packages and gallery space for artists. We host tea parties for children and offer space rental for adult gatherings and meetings.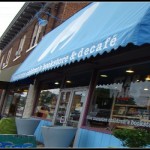 ManaTots at blue manatee    Saturdays  9:30am     blue manatee children's bookstore and decafe    www.bluemanateebooks.com 3054 Madison Road Cincinnati, OH 45209 Free, children up to age 4    Stories, songs and fun
Sunday ::
Second Sunday Family Showtime at the Clifton Cultural Arts Center: Welcome to the Symphony!  Show starts at 2pm, children are FREE adults are just $5 See the CCAC Website for more details.
Sensory Sunday: Stories, Songs and Fun for you and your Little One    January 12, 2013 | 2:00 – 3:00 pm    Shalom Family  Gymboree, 6209 Snider Road, Mason, OH 45040    FREE    These private interactive play groups take place on the second and fourth Sundays of each month, featuring the popular Miss Meliss, who keeps babies and their parents engaged and entertained with her unique brand of fun. Play dates are open to families in the Jewish community with children two years and younger in which at least one parent is Jewish. The programs are free and always include a snack. Plus, two families will each win a $50 Target Gift Card at every event! Dates and times are subject to change, please check myshalomfamily.org for updates and to RSVP.
Kite Fly at Voice of America Museum with PIGS Aloft! Fly some kites, get rejuvenated, relaxed, and enjoy the new year! What is PIGS Aloft? It's actually the PIGS Aloft Kite Club. That's People Interested in Getting Stuff Aloft ~ a group of kite enthusiasts playing

with the wind! Everyone is welcome to join in! You, your friends, family, co-workers, neighbors and acquaintances are always welcome! We fly kites in front of the VOA Museum on the second Sunday of the month (weather permitting) from 12 until 5 pm. For more information, contact Joe & Debbie Von Bokern by e-mail at [email protected].
 All Weekend Long ::
Perfect North Slopes ~ Do you love this winter weather?  Take the family to Perfect North for skiing, snow-boarding or tubing.  Read this post about Perfect North by FFC's Phyllis M. to see why we love to take our families there.
American Girl Fashion Show Model's Auditions ~ Saturday & Sunday, FREE.  Does your little one love American Girl dolls?  Here's her chance to audition for the upcoming fashion show in April!  Visit their website for all the details.
Winter Family Days at the Newport Aquarium ~ January 7 – February 28 ~ Kids 12 and under get in FREE (two children get in free with each paying adult).  Tickets can be purchased at the Aquarium, online or by phone.  Head to Newport Aquarium to see Snowball & Snowflake, the two new white alligators.   The Aquarium will open one hour earlier (9 am) on Saturdays & Holiday Weekends through the end of February.  Visit the Newport Aquarium Website for all of the details.

Cavalcade of Customs at Duke Energy Convention Center – Friday, Saturday & Sunday – For ticket prices, event information and times see the Cavalcade of Customs website.  Kids are FREE on Friday with a coupon from this site!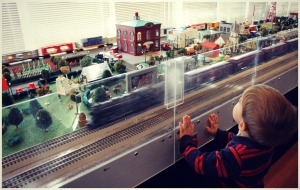 Holiday Toy Trains at the BehringerCrawford Museum in Devou Park.  With 250 feet of train track, over thirty push buttons, countless miniature buildings, several zooming trains, and a  layer of fluffy fake white snow, the Behringer Crawford Holiday Toy Train provides families with a great day of fun.  The Behringer Crawford Museum is located in Devou Park at 1600 Montague Road.  859-491-4003. For the 2013 Holiday Season the Toy Trains will be on display until January 19, 2014.  For more information see our post about the Behringer Crawford Toy Train Display.
Winter Blues Sale at blue manatee children's bookstore    Jan 10 – Jan 17    blue manatee children's bookstore and decafe is holding a storewide sale from January 10 – January 17. Get 20% off merchandise storewide and 15% off blue manatee boxes with free shipping. In addition, there will be sale tables with deeper discounts and Middle-aged chapter books will be buy 2 get 1 free.
'Testimony of Faith' Exhibit     Through January 26    The Public Library of Cincinnati and Hamilton County    http://www.cincinnatilibrary.org/press/    The Public Library of Cincinnati and Hamilton County    Free    This time of year brings a variety of celebrations for religions around the world. Explore their roots with the exhibit "Testimony of Faith: An Exploration of World Religions," on display in the Joseph S. Stern, Jr. Cincinnati Room at the Main Library through Jan. 26.