New Year's Eve – a time to ring out the  old year and celebrate the new. Make sure you check out our list of family fun events that happen all day and into the night!
The Ball on the Square — Oakley
Time: 8pm – 1 a.m.
Cost: Free
Information for 2013 has not yet been published. To make sure this is happening this year, please be sure to follow The Ball on the Square Facebook Page.
Kid friendly from 8pm-9pm which includes fireworks too!
Featuring family friendly live entertainers and an early fireworks show and ball drop by Rozzi at 9pm. Lots of refreshments and entertainment options for the little ones as well as mom and dad! After 9pm continues for grown ups with second fireworks display at midnight. More info.
Cincinnati Museum Center — International New Year's Celebration
Time: 11am – 6pm
Cost: Free
"Join us to celebrate the New Year and go around the world! Each hour in our Rotunda, celebrate the coming of a new year while learning about different countries and their culture with music, games and crafts.
Make sure you stop by Customs for your special stamp for participating! While there, write a letter to local troops who are stationed abroad during the holidays."
Cincinnati Zoo Happy Zoo Year — Avondale
Time: 5pm-9pm
Cost: Included with General Admission – Adult (ages 13-61) $15; Child/Senior (ages 2-12; and 62+) $10
Information for 2013 isn't available yet, please check the Zoo's website for updated information.
"Ring in the Zoo Year with a bunch of "party animals!"  Kids of all ages are invited to ring in the Zoo Year as the Cincinnati Zoo holds its very own New Year's Eve bash.  New Years activities will include shows of Winter Wonders by Madcap Puppet Theater at 8:30pm, a meet and greet with Father Time and Baby ZOO Year and the Zoo will cap off all celebrations with an EARLY (8:55pm) countdown with fireworks presented by Rozzi Fireworks at the Wings of  Wonder Theatre."
THE RUSTY BUCKET — OAKLEY

Time: All Day
Cost: Varies
Before watching the ball drop on t.v. at home celebrate in style at The Rusty Bucket!  Kids 10 and under eat free on New Year's Eve PLUS start off your celebrations right with festive hats and kids drinks as well!
CoCo Key Waterpark — Sharonville
Time: Call to confirm 513-771-2080
Cost: Varies
"Welcome in 2014 in a BIG Way!
You can reserve a ticket to one of the biggest parties around. We have thought of everything to bring in the New Year while having the most fun, and honestly who would want to spend a cold night splashing inside at CoCo Key?! Everything from Dinner, to Activities, a DJ, crafts and Breakfast is included in this Ultimate Package! With a completely re-vamped and overhauled experience, Coco Key Cincinnati is the place to be to welcome in New Year's 2014.
 Packages for the Party of the year including the following:
Dinner on New Years Eve in our Grand Ballroom (Cash Bar will be available)
(4)- 2 Day use bands to CoCo Key Water Resort to use arrival through departure dates
(2)- $10 Arcade Cards to use in our NEW Key Quest Arcade
Contdown to New Year's Party in CoCo Key from 9pm-12:30am
Crafts for everyone to enjoy thoughout your stay
Lots of confetti, balloons, giveaways and fun!
Breakfast on New Years day in our Grand Ballroom
PLUS much much more!"
To book and find out options on pricing, please visit their website.
Fountain Square New Year's Eve Blast — Downtown
Time: 8pm – 1am
Cost: Free
If you have young kids, you might want to head down early, get some ice skating in, a little dancing and maybe a nice treat and then head out.
"Ring in 2014 with friends and fellow Cincinnatians at the Huntington Bank New Year's Eve Blast on December 31. DJ Tweet provides the evening's soundtrack, and the New 94.9 is on hand to judge the annual dance contest. Food vendors, beverage stations and New Year's Eve souvenirs are available throughout the event, which culminates at midnight with a spectacular fireworks display from Rozzi's Famous Fireworks.
Skating on the U.S. Bank Ice Rink is free all night, starting at 8 p.m., thanks to Strauss Troy Law. Skate rentals are also free. First come, first served!"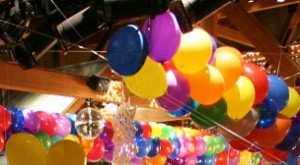 Great Wolf Lodge Snowball — Mason
Time: Check-in starts at 4pm, but you can enter the waterpark from 1pm on.
Cost: Included in the cost of your room
"Howl in the New Year at Great Wolf Lodge! We offer activities your pups can't wait to get their paws on! From a Dance Party to a Balloon Drop, the whole pack is sure to have a ball – a Snowball! Live music will be provided by Five O'Clock Friday in the Grand Ballroom from 9:00 p.m. – 12:00 a.m.!"
Check it all out and book your night out on-line.
Happen, Inc. — Northside 
Time: 6pm – 7:30pm
Cost: Free
There is normally a limited amount of space for this event. Please give them a call if you are interested in attending at 513-751-2345.
Free event with food, fun and dancing!
Hueston Woods State Park — Oxford
Time: 8pm — 1am
Cost: Varies depending on cost of room
"Join us as we bring in the New Year with a great celebration.
Resolve to kick start your New Year by counting down to midnight at Hueston Woods Lodge.
Party for All in the Fireside Room from 8:00PM – 1:00AM that includes:
DJ

Children's Activities

Snacks

Cash Bar

Midnight Champagne Toast

Midnight Buffet with Hotdogs, Brats, Saurkraut and Mashed Potatoes"
Click here to learn more and book your families spot.
Newport Aquarium — Newport
Time: 3:30pm – 5:30pm
Cost: Included with Admission
"Join Q102's Katie Walters in our Shark Ray Bay Theater for a super cool Kids' New Year's Eve celebration featuring music, dancing and giveaways.  Kids' also will receive party hats and noisemakers to help ring in the new year. Plus, enjoy a special appearance by Scuba Santa® who will join in the fun from inside the shark tank for the special countdown at the kid-friendly hour of 5:00 p.m"
Perfect North Slopes New Year's Eve Celebration — Lawrenceburg
Time: 8pm – 1am
Cost: Included with general admission
"Ring in the new year at Perfect North Slopes. Ski, snowboard or snow tube until 1:00am. Enjoy party favors and a DJ in the lodge. Watch ski instructors and ski patrol glide down the slopes in a torchlight parade. At Midnight, see the beautiful fireworks display sponsored by the Dearborn County Convention and Visitor's Bureau."
The Public Library of Cinti & Hamilton County Loveland Branch — Loveland
Time: 1:00 pm
Cost: Free
Not sure if the movie will be specific to New Year's, but we saw this and thought it would be fun.
"Come enjoy a movie with us." Here's information on the Loveland branch.
The Public Library of Cinti & Hamilton County Reading Branch — Reading
Time: 3pm – 4:30pm
Cost: Free
Celebrate the new year with us! Come and enjoy fun, games, and magic presented by Magic Robb. Here's information on the Reading Branch.
Roller Skating Rink — Various Locations
As in year's past, I'm sure there will be roller skating rinks around town participating in fun family friendly skate sessions. Unfortunately, none have any information on their websites at this time.
Here's a list you can use to check as it gets closer to the 31st: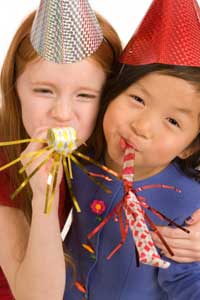 Run Jump-n-Play — Mason
Time: 5pm-8pm
No information on their website other than they're having an open play time.
Give them a call to see if they're hosting a big party like they have in years past at 513-701-7529. You can visit their website here. 
Scheben Branch Boone County Library New Year's Celebration — Union
Time: 11:30am-12:30pm
Cost: Free
A new Year's celebration complete with games, noise makers and snacks. Watch the ball drop at noon. Please register online.
Woodland Mound, Seasongood Pavilion — Anderson
Time: 6pm – 9pm
Cost: $4/person, Free for children under 2
"Kick off the new year with live animal programs, music, games, crafts and more! Lewis Petrushko, a real balloona-tic, will make balloon sculptures for the kids. Magician John Louis, of On the Edge of Illusion, returns with an all-new show. All this before the ball drops at 9 p.m. Cost is $4/person, Free/children under 2. Register by 12/26 by calling 513-521-7275."
YMCA Camp Ernst Winter Wonderland Weekend– Burlington
Time: 7pm December 30 –  2pm January 1 (Sunday through Tuesday)
Cost: $115 per person for members/ $125 non-members
"We offer Winter Wonderland over New Year's Eve. Campers enjoy all the fun of camp packed into just two full days.  All campers and counselors stay in Lakeview Lodge which is heated. Campers participate in camp activities with their cabin group during the day and come back to the lodge for fun evening programs at the end of the day. Campers make s'mores, sing songs, climb the rock wall, play capture the flag, and so much more.  On New Year's Eve the campers stay up to ring in the new year in Camp Ernst style with songs, dancing, sno-kones, cotton candy, popcorn, games, and more!"
Learn more by clicking here or call 859-586-6181.
YMCA Camp Kern New Years Kids Night Out — Oregonia
Time: 3pm – 12pm on 1/1/14
Cost: $100 first child/ $75 additional child from same family
"*Special Event* New Year Kids Night Out December 31st- Early Check In at 3.00pm for this date! Let the kids come celebrate the New Year with YMCA Camp Kern. Not only will we be welcoming in the New Year, but we will be doing traditional camp activities too! Check in is at 3.00pm Tuesday and Check out is Wednesday at Noon."
Know of another event?
If you know of other family friendly New Year's Eve events, please share them with us in the comments section.
We hope each of you has a wonderful evening spent with family and/or friends. Our wish for each of you is to have a wonderful New Year in 2013!
When not blogging for Family Friendly Cincinnati, you can find Karen writing at her personal blog at Little World After All.