There is so much FAMILY FRIENDLY FUN in Cincinnati and Northern Kentucky this weekend~~Brazee Street Studios, Santa Claus, nativities, holiday trains, Christmas crafts and more!  Check our list for some great fun going on this weekend.  
NOTE:  If the weather is bad, please check to make sure any event you are attending is still on schedule by contacting the organization hosting the event.
THURSDAY
SOG Kids: Snowman 6:30-7:30pm Brazee Street Studios $30/snowman ~~ Celebrate Winter by creating your own fused glass snowman! Design and decorate a snowman with moving parts and hang him (or her) up for everyone to see this Holiday Season. No experience necessary. Age 5+
SATURDAY
Open House at Brazee Street School of Glass – Ornaments 10:00am – 1:00pm   Brazee Street Studios $15 Celebrate the holidays by making ornaments with your family! Bring your parents, grandparents, siblings, and children to this introductory class and create fused glass ornaments for each other or someone you love. Open to all ages (we suggest 4+), kids young and old! Ornaments fired and ready in time for the holidays. No experience necessary.
SOG Kids: Glass Gift Studio at Brazee Street School of Glass 1:30pm-4:00pm  Price varies depending on project chosen. Create gifts in glass this holiday season! We're opening up the studio for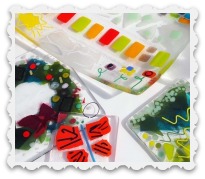 Make+Bake style Studio Time for all ages. Choose between a variety of Make and Bake projects including plates, bowls, sun catchers, channel plates, platters, and more! Work independently or as a family. Choose one object, or a few- just make sure you'll have enough time to finish. If you have never taken a class at Brazee before, a short demonstration of materials will take place at the listed start time. If you do not need an introduction, you may arrive no later than 3:30pm. Registration is required so we can best prepare for your visit. You will be contacted by email to confirm your chosen project(s).
SOG Story Time: Hand Book Brazee Street School of Glass 1:30pm-2:15pm  $18 Bring your little one to create art in our glass art story time! Listen to "Hand Book" by Jeff Newman, then create a fused glass sun catcher of your own hand using colorful Bullseye frit. Ages 3-6
Natural Christmas Ornaments at the Civic Garden Center  10:30am-noon & 1:30pm-3:00pm  2715 Reading Road, Cincinnati, Ohio 45206 $5 per participant There are lots of little treasures nature leaves us in the winter time. Learn how to take dried nuts and plants and turn them into ornaments for your Christmas tree.
Gift Boxes Galore 2:00pm Public Library of Cincinnati and Hamilton County  Greenhills Branch, 7 Endicott Street Free Join us at the Greenhills Branch Library as we create gift boxes just in time for the holidays! For teens.
SUNDAY
Comboni Missionaries Nativity Opening Night 4:00pm-9:00pm  1318 Nagel Rd. Cincinnati, Ohio 45255 ~FREE~ The Comboni Missionaries' 66th Annual Animated Nativity Display features moving figures in true-to-life activities, soft lighting and narration. Narration also available in Spanish. Join us for Opening Night for live entertainment, children's activities, and Mission Market. There is no admission fee but canned and non-perishable food items for St. Vincent de Paul are greatly appreciated.
ALL WEEKEND
Dazzle Days at the Main Library December 14-15, 1:00pm-4:00pm.  Public Library of Cincinnati and Hamilton County  Main Library, 800 Vine Street Free ~~Tis the season to be jolly at the Main Library during Dazzle Days. Enjoy activities from 1 p.m.-4 p.m. Saturday, Dec. 14, and Sunday Dec. 15, that include a holiday craft, refreshments, and family storytimes. New this year is a special model train display provided by the Cincinnati Northern Model Railroad Club.  The layout is a 17-by-10 foot "O" gauge with a peninsula in the middle. It will loosely resemble the Cincinnati Northern Railroad (Division of the New York Central Railroad) around Paulding, Ohio, in the mid-1950s. The train display is running noon to 6 p.m. Friday, Dec. 13, and all day Saturday and Sunday, Dec. 14-15. Also on display will be the Library's holiday wreaths and Christmas trees, complete with handmade, literary-themed ornaments. Be sure to visit the exhibit of children's book illustrations by Will Hillenbrand in the atrium.
Holiday Toy Trains at the BehringerCrawford Museum in Devou Park.  With 250 feet of train track, over thirty push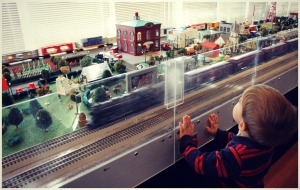 buttons, countless miniature buildings, several zooming trains, and a  layer of fluffy fake white snow, the Behringer Crawford Holiday Toy Train provides families with a great day of fun.  The Behringer Crawford Museum is located in Devou Park at 1600 Montague Road.  859-491-4003. For the 2013 Holiday Season the Toy Trains will be on display until January 19, 2014.  For more information see our post about the Behringer Crawford Toy Train Display.
Realm of the Immortals: Daoist Art in the Cincinnati Art Museum Now through January 5, 2014   FREE. Parking $4 for non-members, free for members The Eight Immortals are coming to Cincinnati! From acupuncture to martial arts, from calligraphy to feng shui, all Chinese art is based on Yin and Yang cosmology and its notion of balance and counterbalance. How did this folk religion become the popular culture from China centuries ago? You will soon know the answer when you explore the intricate stories of the Immortals in our new exhibit Realm of the Immortals: Daoist Art in the Cincinnati Art Museum. This exhibition of more than seventy-five objects from the Cincinnati Art Museum's Chinese and Japanese art collection, most never on display before, will enlighten the visitor on the true principles of Daoism and its influence in eastern philosophy by featuring the Eight Immortals.
Testimony of Faith Exhibit  through January 26 at The Public Library of Cincinnati and Hamilton County   ~Free~ This time of year brings a variety of celebrations for religions around the world. Explore their roots with the exhibit "Testimony of Faith: An Exploration of World Religions," on display in the Joseph S. Stern, Jr. Cincinnati Room at the Main Library through Jan. 26.
Take the whole family to see the Ensemble Theatre's production of Around the World in 80 Days.  Make holiday memories with a day at the theatre!  Several Family Friendly Cincinnati writers attended a preview of the show, and are raving about the show.  Read all about it in this post on Family Friendly Cincinnati.
Santa Skates
at the USBank Ice Skating Rink on Fountain Square every Saturday & Sunday!  Visit the
Fountain Square website
for all the details!
Cincideutsch Christkindlmarkt  
 December 6-8, 13-15    Cincideutsch    markt.cincideutsch.com    Findlay Market    Free    German holiday market. Vendors offer imported and local gift items, German sweets and foods, and m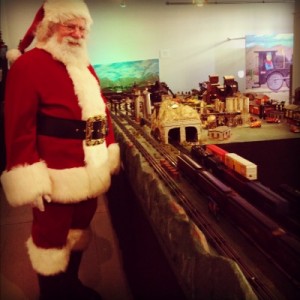 ore. Free crafts for kids, choirs, and brass groups.