This week we had a chance to take a sneak peak at the Newport Express Holiday Depot in Newport on the Levee.  The Holiday Depot boasts a very cool train display, lots of LEGO creations, and of course, Santa Claus!
The first room of the Depot contains a large train display and several smaller displays.  Train enthusiast Larry Goodridge was there to talk to us about the trains and how he built the models in the exhibit.
Just as my son was asking "How do you make those mountains?!" we turned around and saw a model that was broken into the different steps of making the mountain.  It was perfect to explain the process to both kids and adults.
What began as a block of Styrofoam is turned into a rugged mountain tunnel with the help of some paint and a hot knife.  Mr. Goodridge has loved trains all of his life and hopes to share that love with both children and adults and maybe even create some new train enthusiasts in young children.
We loved checking out the detail in Mr. Goodridge's work.   One of my favorites was the giant construction scene.  The display also has many interactive portions that kids will certainly enjoy.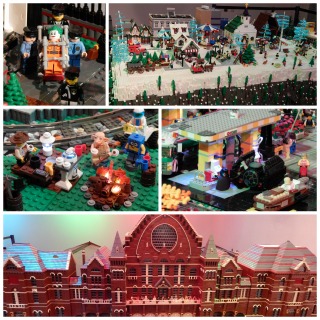 Next we hung out with the man in the red suit and examined the super detailed LEGO display. I challenged my 6-year-old to find all of the hidden characters…the bearded lady, Waldo, Yoda, Batman, Indiana Jones, a blushing bride and more.  They were all there!
We even saw Darth Vader gassing up his Tie Fighter, and a baseball game between Iron Man, Aqua Man, Thor and some other super heroes.  We also spotted Indiana Jones, Dobby and R2D2 roasting marshmallows.  There was a huge, detailed LEGO replica of Cincinnati's Music Hall, complete with a bride and groom on the front steps.
Of course, when you visit the Newport Express Holiday Depot, your child will want to talk to Santa and have their picture taken!  Photos are available for a fee.  After you visit Santa, don't miss the LEGO replica of him in the middle room.
Newport Express Holiday Depot is open November 26th thru January 5th.  Check Newport on the Levee's website for detailed hours and admission prices.
When not blogging for Family Friendly Cincinnati, you can find Michelle writing at her personal blog, I'm Living the Good Life.