Travel, suspense, action and misadventures are just some of the things you'll find in the Ensemble Theatre Cincinnati's production of Around the World in 80 Days. Running from December 4 through January 4, 2014, the musical is perfect for a family outing.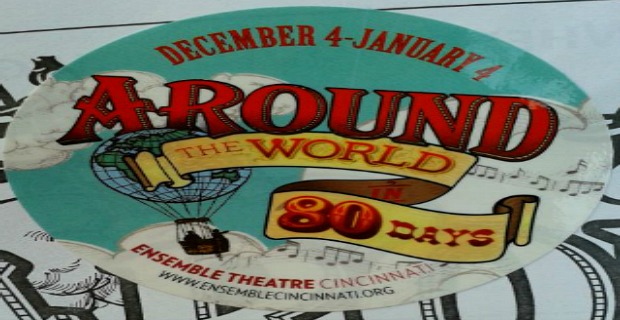 Around the World in 80 Days, based on Jules Verne's classic tale, tells the story of Phileas Fogg and his bet that he can circumnavigate the globe in 80 days. If he loses, he'll lose his entire fortune. Will he be able to make it, or will too many obstacles get in his way? Find out and take your kids on an adventure to Ensemble Theatre.
Ensemble Theatre Cincinnati is the area's second largest professional theater. Founded in 1986, the Over-the-Rhine theater brings classics, contemporary theater, and premiers to Cincinnati. In addition to their numerous productions, Ensemble Theatre has a range of educational programs and special offers for schools and students.
Disclosure: Tickets for this giveaway were provided by FFC advertiser, Ensemble Theatre Cincinnati. They also are providing tickets to writers with FFC so that they can see the show with their families.