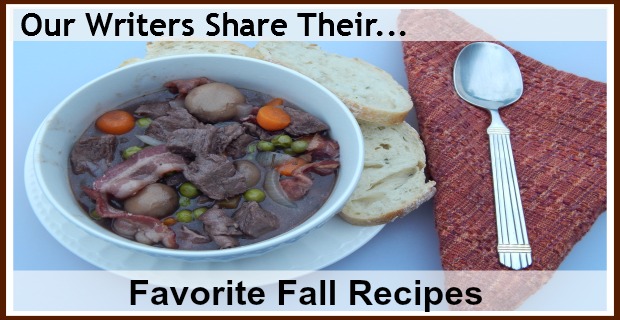 Favorite Fall Recipes – Soups, Chili, Pie and More
I love Fall.  It is, hands down, my favorite season.  I love the crisp Autumn air, the crackle of the leaves blowing in the wind, and the smell of bonfires.  One of the best things about Fall is the food.  By the time September and October roll around, I am tired of light summer salads.  I want savory, heavier meals that make my house feel warm and comforting.  Just in time for the cooler temperatures of Fall, we've rounded up some favorites from several of our writers.  Enjoy!
Katie, The Little Things
Beef Goulash Soup from a guest post by Vicky and Jen.  This is a simple, yet robust, one pot meal that is sure to keep your whole  family coming back for seconds and thirds this Fall!
When Fall is in the air, there is no better flavor than pumpkin.  Why else do you think Starbucks released their Pumpkin Latte early this year?  If you need a great recipe for Pumpkin Muffins, make sure you try Katie's.
Katie searched and searched for an easy, yet super tasty, beef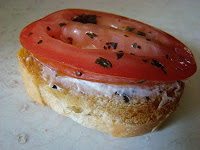 stroganoff recipe on line.  She was not happy with any of the ones she found, so she created her own.  That is how her Slow Cooker Beef Stroganoff recipe was born!  What a great way to end a crisp Fall day…come home to the savory smells of stroganoff in the slow cooker!
With all of the fresh tomatoes Katie gets from her farm share, she loves this recipe for Mini Open Face Tomato Appetizers.  This recipe has been handed down through Katie's family and is a hit at parties.
Phyllis, Cincy Health Coach
This Tortilla Soup from Phyllis is a Halloween tradition at her house because it's so flexible (use leftover turkey or ground chicken) and feeds plenty of people!  What better way to sit around your Halloween bonfire?  We hope you enjoy a bowl of this delicious soup!
Michelle, I'm Living the Good Life
One of Michelle's favorite recipes comes from her late grandma…it is her Saucy Meatloaf.  It is a sweet and savory meatloaf that is extra juicy, yet still firm.  It's just such a nice, warm and filling dish, especially when accompanied by green beans and mashed potatoes.
You can also prepare the loaf the day before, refrigerate it, and bake it the next day.  The yummy smell of this meatloaf in the oven will help you celebrate Fall weather for sure!
Michelle's husband loves to get in the kitchen and whip up a hearty dish.  Many times it conta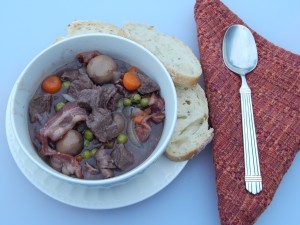 ins wine or Guinness, whether the recipe calls for it or not!  One of his favorite creations is his Easy Beef Bourguignon(or just call it beef stew!).  This one dish meal is complete when served with a crusty dinner roll.  Enjoy!
Do you like thick chewy dumplings?  Then this recipe for homemade dumplings is for you.  All you need is a can of biscuits, flour and broth.  Of course, you can add chicken as well.  Michelle's kids love this quick and filling dinner.
Amy, In a Galaxy
What better time for chili than Fall?  Amy's new favorite chili recipe, from Vicky and Jen's blog, is Truck Stop Chili .  It's ridiculously delicious and it's the only kind Amy makes now.  One recommendation from Amy is to go easy on the BBQ sauce. Just use about half what recipe calls for.  It's SO good!
Amy loved her Granny's apple pie, but unfortunately, she never wrote it down! But, this recipe for fried apples is as close as it gets, and it's delicious!
Karen, Little World After All
Fall is a great time for warm, comforting pies.  Everyone loves pumpkin pie on Thanksgiving, right?  And, apple pie is not just for the 4th of July.  Karen is sharing a couple of her family's favorite pie recipes, found on All Recipes.  She says "This is by far, my family's favorite apple pie recipe—Apple Pie by Grandma Ople.   And here is our favorite pumpkin pie (I don't do the topping): Brown Family's Favorite Pumpkin Pie"  We hope you love them too!
Kristin, MasonMetu
Kristin has a great, super easy, recipe for a great meal.  She says "You just need to dump a bunch of canned goods into a crock-pot with some taco seasoning and you too will have a winning dish. My Mom gave me the recipe."

Sandy's #1 Superbowl Chili

Taco seasoning packet
1 can whole corn (drain)
1 can black beans (rinse & drain)
1 can kidney beans (rinse & drain)
1 can stewed tomatoes
1 can 8oz tomato sauce
1 can chopped green chilies
½ cup chopped onions

Mix all together in a crock-pot, cover and heat on low for 5-7 hours.  Serve with tortilla chips.  If you want to make it more into a soup, you can add some more tomato sauce.  You could add shredded chicken or hamburger to make it heartier.
If you'd like to see more of our favorite recipes, for Fall or any time of the year, check our Family Friendly Cincinnati Pinterest Boards:  Recipes Kids Will Love and Mouthwatering Recipes.
When not blogging for Family Friendly Cincinnati, you can find Michelle writing at her personal blog, I'm Living the Good Life.