Walt's Hitching Post in Fort Wright re-opened a few months ago and I have to say they did so with a BANG.  The new owners are working hard to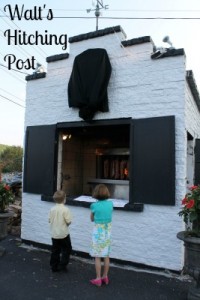 restore Walt's to it's former glory from years ago when people would drive for miles around for Walt's famous ribs.   The new and improved Walt's is impeccably clean, the staff is courteous & efficient and the food is outstanding.  And they've even fired up the outdoor smokehouse again for the ribs.  There's nothing like driving by Walt's and catching a whiff of ribs slow-cooking.  You almost HAVE to stop for dinner when you smell it.  And the new chefs are using the OLD secret signature sauce recipe for the ribs!  And that's not the only old recipe that has been brought back to life, they're using many of the great recipes you will remember from Walt's Hitching Post's heyday, such as their famous salted rye bread (my favorite – they even use the salted rye to make croutons for the salad!) and their signature salad dressing is made from the old recipe as well.   The new owners, Bronson Trebbi & Donny Arnsperger have restored the restaurant, so that it's a mix of what it looked like years ago, with touches of new furniture and decorations.  The new owners stuck with the horse motif that Bill Melton started when he owned the restaurant.  While Walt's was named for it's original owner, Walt Ballinger, the new owners pay tribute to Bill Melton, who owned the restaurant for 50 years with various touches throughout the restaurant, but the most notable tribute is the bar, which they've named (in big neon lights) "Billy's Bar".  This restaurant has roots & history aplenty.  When you walk in you feel like you are in a ranch somewhere in horse country instead of a restaurant on a busy highway.  It's certainly a fine-dining experience to eat at Walt's, but you don't feel like you are in some sort of stuffy restaurant, you feel at home and comfortable when you dine there.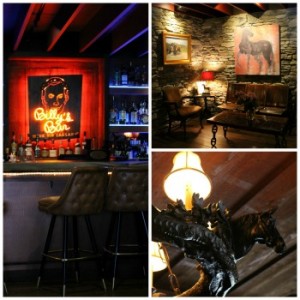 The menu at Walt's Hitching Post has plenty to offer, such as: seafood, chicken, steaks, and of course…RIBS!  It's a meat-lovers paradise really.  For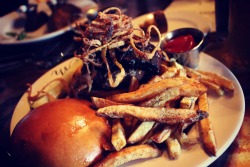 my first visit I had the Trifecta Burger, which is out of this world.  Please don't ask why I didn't try ribs when I went for the first time.  I don't have a good reason..I just wanted that burger.  And I have no regrets, it was delicious.  The second time I went however I tried a half slab of ribs with the Walt's secret sauce, and they were just as good as everyone says they are!  They didn't last long on my plate.  My favorite thing about ordering the ribs is that after dinner they bring you hot washcloths to clean yourself up.  After eating meat like a caveman I felt like I was at a spa washing up with my hot washcloth.  I should also add that I'm not a shy dinner date, so when I'm with other people I always ask for a taste of their food.  So I've had tastes of frog legs, scallops, steak and pork chops as well at Walt's and they were all A+ as well.  The menu also has plenty to choose from in terms of adult beverages…including some craft beers, cool cocktails and more.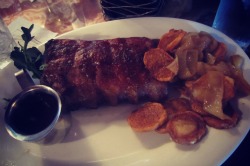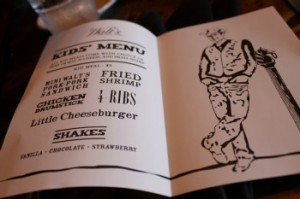 Walt's also has a child's menu.  The meals are $8 and have generous portions and include a drink.  Walt's is definitely family friendly, but remember when you go that this is a slow-cooking sort of place.  You might have to wait a bit for your food, but I think this is perfect because you can catch up with whomever you are dining with and snack on rye bread or even frog legs if they're your thing.  My kids loved Walt's, there's alot to look at with all of the memorabilia on the walls, and they were really interested in the smokehouse as well.  Being in a fancier restaurant was a great time to work on table manners and restaurant behaviors.
The staff at Walt's is wonderful, they are quite attentive to the guests, quick to meet our needs and take care of our table.  And they have pretty strict rules for their employees, as seen in the sign below (wink wink).  Walt's is still pretty busy on the weekends, so be sure to call ahead for reservations, especially if you have a larger party.  They also offer Valet parking for $5 or you can park yourself in the lot. If you haven't been to Walt's Hitching Post yet, it's time you made some reservations and headed over to see what it's all about.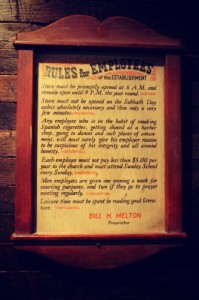 Walt's Hitching Post is located at 3300 Madison Pike, Fort Wright, KY 41017 (859) 360-2222  You can find Walt's Hitching Post on Facebook and check out their website as well.