Today we bring you yet another guest post by our 'Dad About Town'-Rodney Q: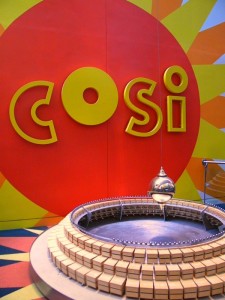 Nobel prize-winning chemist Sir Cyril Hinshelwood once called science, "an imaginative adventure of the mind seeking truth in a world of mystery". There are few places where this quote rings truer than at the playground for the imagination known as COSI! Formerly known as the Center for Science and Industry, COSI is a multi-story science museum located in Columbus, Ohio. Many years ago, I had visited COSI on a series of school field trips, and I have fond memories of the colorful, hands-on exhibits and mind-boggling science demonstrations I witnessed there. Amy and I were recently able to take the boys up for the first time, and after this most recent visit, I have to say that my memories did NOT do it justice!
COSI was about a 90-minute drive for us from Northern Kentucky, so it's definitely close enough for a summer weekend day-trip. We made the trek early and arrived not long after the complex opened, but even though we stayed the full day, we still were not able to experience everything there. We would definitely recommend arriving as early as possible – especially if it's your first visit.
Before I get into a thorough account of our visit, I'll preface by noting that, in addition to the bigger attractions, there are many smaller standalone exhibits scattered throughout the museum that would be difficult to cover in full. A few highlights include the Foucault pendulum that greets visitors at the entrance, whose swings illustrate the rotation of the earth; a set of high-tech instruments including a laser-harp and a drum that pulses along with one's heartbeat; and a collection of massive butterfly sculptures created with a hodge-podge of junked and recycled materials. Let's just say that it's no exaggeration to say that there's a surprise around every corner at COSI!
The first major exhibit we experienced, Adventure: In the Valley of the Unknown, required a small additional fee, but it was well worth it – this was the clear standout for our family and provided us with one of the most memorable experiences we've had together, period. Incorporating interactive animatronics and jaw-dropping set pieces, Adventure sends your family on a free-roaming quest through a temple, a maze, and a cavern to uncover clues that reveal a priceless "treasure" in the big finale. The production values were top notch and easily on par with something you might find at a Disney theme park attraction. As a result, the level of immersion was unprecedented – we really felt like we were in an Indiana Jones movie, using our brains to solve ancient puzzles. The best part is that kids are able to contribute just as much as the adults when overcoming the challenges and solving the mysteries. I won't spoil it, but one of the challenges required some physical maneuvering to complete, and here our littlest was able to shine, dodging around obstacles to seize the prize while the rest of us cheered him on. When he reached his goal, he felt like a super-hero who had just saved the day, and it was easy to see from the huge grin on his face that it was an experience he would remember for a long time. A word of advice: allow yourself plenty of time to fully enjoy this attraction. I believe they recommend setting aside about 50 minutes to get through it, but we spent closer to 90 minutes and easily could have spent longer.
Our next stop was the Ocean exhibit. Like Adventure, this attraction incorporates immersive sets with fun, interactive activities that teach scientific principles using methods that kids can relate to. Oceans is divided into two distinct areas; the first is designed to look like an undersea laboratory and contains aquatic technologies like submarines and submersible robotics. Our boys absolutely loved pretending to be captains of their very own submarine, and had a great time taking turns navigating an underwater drone until its mounted camera was peering at us through a porthole. The second half of this exhibit is focused on the behavior and scientific properties of water itself; it assembles an assortment of hands-on exhibits like water cannons and fountains around a stunning, larger-than-life sculpture of Poseidon. Kids love to learn by experience, so what better way to learn about water than by getting a little wet? A note of warning, parents – be prepared to get a little damp yourself!
After marveling at the fact that it was already lunch time, we enjoyed a fresh, reasonably priced lunch in the onsite restaurant, the Atomic Café, before continuing on to the Mezzanine level. This smaller floor houses a collection of bite-sized exhibits all loosely based around the themes of astronauts and space travel, and the boys particularly loved boarding a replica space pod and controlling moon-landing rovers. This floor is also home to a death-defying unicycle ride across a tight-rope high above the first floor that was extremely popular.
We proceeded to the second floor and one of the exhibits I remember most vividly from my youth visits: Progress. This walk-through installation takes visitors on a trip through the past with reproductions of streets and storefronts from various time periods. The attention to detail here was incredible and the boys particularly enjoyed sitting in a horse-drawn carriage and playing with an old phone board that operators from the early twentieth century used to connect phone calls by hand. Like the Adventure exhibit, one of the best qualities of Progress is its ability to transport visitors to another place and time; it reminds me very much of the steamboat-era street scene in the Cincinnati History Museum at Union Terminal.
After completing Progress, we returned back to the future (heh) to the first floor's "Extreme Screen" movie theater for a 3-D showing of Flying Monsters, a film about the evolutionary history of flying dinosaurs. The hour-long film was fairly light viewing, but it served as a nice "intermission" for our day; the boys were thrilled by the 3-D flight scenes and Amy and I were relieved to sit back and relax for a while after a full day of walking. The best part, though? A concession stand with prices that didn't break the bank!
Our final stop for the day was back on the second floor, at an exhibit called "Gadgets". Just as the name implies, this area is filled with various technological gizmos that demonstrate a variety of scientific principles. The boys' exploits here included refracting lasers through prisms, firing balls through cannons, and playing with magnets that produced all sorts of surprising effects. There is also an interactive show element to this exhibit called the Gadget Café, though there is a limit to the number of participants for each show and it requires check-in ahead of time, so we weren't able to get in on it so late in the day.
When we finally hit the road back to Cincy, we were all exhausted, but in a very satisfying way – imagine the mental equivalent of a good workout at the gym. Our boys were reeling from all of the incredible things they had seen, and it blew their minds that many of these wonders were produced by real-life principles – no tricks, no CGI… just science. For them to be growing up in the age of Photoshop and green screens, it was a precious lesson for them to learn that the natural world possesses many special effects of its own.
For that reason and many others, COSI earns our highest recommendation. It makes for the perfect family day-trip destination – all of the top-notch exhibits it houses combine memorable family fun with immense educational value. What parent could ask for more?
Family Friendly Cincinnati wants you to experience COSI for yourself so we are giving away a Family 4-pack of general admission tickets PLUS a 4-pack of tickets for one of the Extreme Screen movies!  What a great summer road trip in the making!
COSI is located at 333 W Broad Street, Columbus, OH 43215.  Phone 614-228-2674
disclosure: Tickets for our Family Friendly writer's family, were provided by COSI.  All opinions above are 100% honest and true-this really is an amazing science center!
When not blogging at Family Friendly Cincinnati you can find Amy Q. writing at her own blog

In A Galaxy.