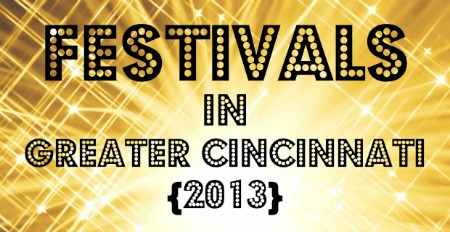 All over Cincinnati, Northern Kentucky, and outlying areas are organizations hosting festivals throughout the year.  We created a handy-dandy festival reference post for you to bookmark and use through the year to find fun places to go.  There's a little bit of something for everyone on this list!  It started out as a summer festival post, but then I realized that there are some cool festivals after summer ends..so we're adding anything in the year 2013 to the list!  Have fun!  And if you don't see your organization's festival on this list please email me at Katie(at)Cards-by-Katie(dot)com and I'll get the information I need from you to add your event to our list.
May
The Clay Alliance 13th Annual Spring Pottery Fair ~ DeSales Corner on Woodburn Avenue at Madison Road in East Walnut Hills ~ Saturday, May 4, 2013  11am – 5pm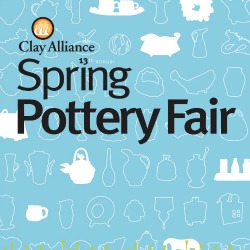 ~ More than 60 of the area's top clay artists will come together for the 13th annual Spring Pottery Fair, presented by the Clay Alliance. Patrons will have a chance to shop a wide range and selection of pottery– from functional wares to decorative art pieces – as well as shop for clay tools and goodies from local suppliers, view artist demonstrations by Clay Alliance members. The hands-on arts station where children can create their own mini masterpieces will return again this year. The Clay Alliance will also raffle off four ceramic pieces by artists Lisa Conner, Trina Feldhake, Martha Healy, and Leslie St.Clair. Raffle tickets can be purchased in advance at Core Clay or FUNKe Fired Arts, or the day of the fair. Raffle tickets are 1 for $1 or 6 for $5. Door prizes consisting of a variety of ceramic pieces created by Clay Alliance members will also be given away hourly from the Clay Alliance booth. One of Cincinnati's favorite bands, Jake Speed and the Freddies, performs from noon – 3pm. Spring Pottery Fair will be held rain or shine. For additional information, visit www.clayalliance.org.  Free to attend; Parking is Free
Appalachian Festival at Coney Island ~ May 10-12 ~ Artisans, Music and more.  For prices, hours, directions and more visit http://www.appalachianfestival.org/.
Madison Township's Springfest ~ May 11th ~ 11AM to 8PM ~ Held on the grounds of Madison Jr-Sr high school in Middletown, Ohio. This is a community Spring festive featuring music, arts, crafts, games, rock wall, basket raffle, food and more.  For more details see their website : http://www.madisonspringfest.com/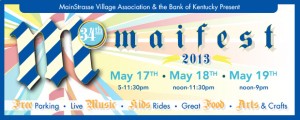 34th Annual MainStrasse Village Maifest ~ May 17-19 ~ Located along the 6th Street Promenade, Main Street, Philadelphia Street and Goebel Park in Covington.  Hours: Friday, 5:00 – 11:30 p.m Saturday, NOON – 11:30 p.m.  Sunday,  NOON –  9:00 p.m.  FREE parking is available in the IRS parking lot at 4th and Johnson Streets.  Come celebrate German heritage with rides, live music, games, delicious food, artisans and much more!  More information: http://www.mainstrasse.org/2013/04/maifest-2013/
Check out our post on the cool NASA exhibit that will be there too!
June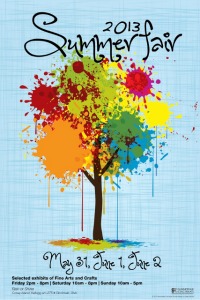 Summerfair Cincinnati ~ Coney Island  6201 Kellogg Ave. Cincinnati, OH 45230 ~ Friday, May 31 from 2 – 8 p.m.; Saturday, June 1 from 10 a.m. – 8 p.m.;  Sunday, June 2 from 10 a.m. – 5 p.m. ~ Summerfair 2013 will feature more than 300 fine artists and craftspeople from around the country exhibiting and selling works ranging from ceramics and sculptures to painting and photography, a youth arts area and a variety of gourmet food vendors. The annual event, held at historic Coney Island, is Summerfair Cincinnati's main fundraiser, with proceeds benefiting local visual and performing arts organizations and individual artists in the Greater Cincinnati area. Tickets are $10, CASH ONLY at the gate, or online at http://summerfair.org. Children 12 and under admitted free.  More Information :: http://Summerfair.org  or 513-531-0050
Joey's Journey ~ June 1st ~ 11am – 7pm, Location of Event: Goshen Ohio … Stagge-Marr Community park (next to the Goshen schools) ~ Joey 8yrs old was just diagnosed with Juvenile Batten Disease. We are having a Carnival Fundraiser for him. All donations will be used for medical expenses and also to Batten research. This is a huge event!  Website with Event Information (if applicable): https://www.facebook.com/pages/Joeys-Journey/228150847322850?ref=hl
Ashland Avenue Baptist Church presenting Taste of Ashland ~ June 2, 2013- immediately following a.m. service. 11:30-1:00pm ~ 4255 Ashland Ave. Norwood, OH 45212 ~  We are raising money for our teens to go to summer camp!  Website with Event Information: RUSHcamp.org is the camp website. The church site is www.AshlandBaptistNorwood.org   Church members will sell samplings of homemade food for $1. All proceeds go towards our youth group camp scholarships.
St. Michael Summer Festival ~ June 7, 8, 9 ~ 11144 Spinner Avenue Cincinnati, Ohio 45241 ~ For More Information: 513.563.6377 or http://www.stmichaelfestival.net/
Brass Meets Bronze on MainStrasse ~ June 7, 8, 9 along the Sixth Street Promenade in MainStrasse Village, Covington, KY.  Constella Music Festival, PAR Projects and MainStrasse Village Association have come together to present a weekend of exceptional music and bronze sculptures.  www.mainstrasse.org
DCCH Music & Arts Festival ~ Friday June 7th & Saturday June 8th ~ 75 Orphanage Road  Ft. Mitchell, KY 41017.  This won't be the DCCH summer festival that you are used to!  Things are changing…there will be over 20 local bands playing on 2 stages over the course of the two days, there will be craft beer, food trucks, and on Saturday there will be a cool modern craft sale in the barn where you can find fabulous crafts like can be found on Etsy.  Also, Friday night will be Family night in the barn from 5-9 with live performances & games for the munchkins.  You could make a weekend of it!  Take the kids on Friday for fun, then get a sitter on Saturday and enjoy a date night listening to music.  Or bring the whole family to enjoy the music.  Admission is FREE, parking is $5.  For More Information :: https://www.facebook.com/DcchMusicandArtsFestival/info or find them on Twitter:  @DCCHMusicArts For questions, or to be a sponsor call the Children's Home: 859/331-2040
22nd NEWPORT ITALIANFEST ~ June 13-16 ~ Location: Newport Riverfront ~ For More Information : http://www.newportky.gov/inner_main.php?secid=149
MainStrasse Village "Original" Goettafest on June 14, 15, 16 along the Sixth Street Promenade in MainStrasse Village, Covington, KY – a celebration of Goetta, music art/crafts and children's activities.  www.mainstrasse.org.
St. Joseph Academy Elementary School Festival ~ Friday June 14th – 5pm to 11pm and on Sat., June 15th – 4pm to 11pm ~ 48 Needmore Street, Walton, Ky 41094 A family event featuring food booths, games for children & adults, and a dinner on Saturday. More Information :: Go to ~ saintjosephacademy.net or call 859-485-6444
61st Annual Fenwick Festival ~Friday, June 21 – Sunday, June 23 ~ Bishop Fenwick High School ~ More Information: http://fenwickfalcons.org/events/232/61st-fenwick-festival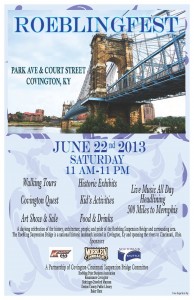 Roebling Fest ~ June 22nd 11:00 AM til 11:00 PM; Sponsored by: Covington Cincinnati Suspension Bridge Committee & the Roebling Point Merchants.  Raising money to fund the accent lights on the Roebling Suspension Bridge "Light UP History Campaign"; Educational Tours of the Bridge, the Murals, Historic Architecture,Tour of Danial Carter Beards Childhood Home.  Daylong live music by local performers, childrens games, pet friendly, Great food and drinks.  Website: RoeblingBridge .org
St. Veronica Parish Festival ~ June 28- 30 ~ Friday and Saturday from 6-midnite and Sunday from 12:30 to 9:00 ~  4473 Mt. Carmel-Tobasco Rd. Cincinnati 45244 ~  This is the 64th annual festival.  We have music, beverages, food, kids games, a casino, petting zoo, games of chance.  Major award drawing Sunday nite with top prize of $7000, second prize of $2000 and third prize of $1000.  Other raffles available.   Sunday is family day.  We will feature a craft and collectibles show and well as a fried chicken/ roasted pork dinner.    www.stveronica.org  Click on church site to find festival details
Panegyri Greek Festival ~ June 28-30– 12 and under are free, $2/admission. Holy Trinity-St. Nicholas Greek Orthodox Church, Finneytown, Ohio.  For more information : http://www.holytrinity.oh.goarch.org/panegyri/94.html
Independence Celebration ~ June 29 ~ 4-11pm Tower Park, Fort Thomas Kentucky ~ For More Information : www.ftthomas.org/Recreation/homepage.html
July
Sisters of Notre Dame 4th of July Festival    July 4th    1601 Dixie Highway, Park Hills, KY    Fun filled family event that features carnival games, fabulous silent auction, petting zoo & pony rides, great food and lively entertainment.  All proceeds benefit the SND Uganda Mission, locally Notre Dame Urban Education Center, and the SND Retirement Fund    www.sndky.org
Queen City Sausage Festival…"Crafted Sausages, Grilled and Celebrated!" ~ July 12-14 at Newport's Riverfront Levee ~ Start with Greater Cincinnati's passion for and appreciation of locally made authentic German brats, metts, and other great craft sausages including Italian, Andouille, and Chorizo.   Add in the region's best-selling independent sausage maker, Queen City Sausage.   Invite the area's best local food vendors and bring back Cincinnati's historic brewing traditions: Christian Moerlein, Hudy Delight and Hudepohl Amber Lager beer.   Provide a scenic view of the Cincinnati skyline, offer free admission, live lite-rock music, games, rides and plenty of relaxing shade and seating.  The result:  The Queen City Sausage Festival!  Friday: 5PM to 11PM.  Saturday: Noon to 11PM.  Sunday: Noon to 9PM.
Admission to the Queen City Sausage Festival is free including live, light-rock musical entertainment, rides for the children, and fun games appealing to all ages hosted by local charities.  For more information contact: Mark Balasa, marketing manager @513-541-5581, cell: 513-551-3787, www.queencitysausage.com.

The Ohio Challenge ~ Friday & Saturday, July 12-13, 4 to 10:30 pm and Saturday & Sunday, July 13-14, 7 to10 am ~ Location of Event: Smith Park, Middletown, Ohio ~ Come for the weekend . . . Hot Air Balloon Competition, Team Fastrax Skydiving, Balloon Glows, Saturday Car Show, Fireworks, Arts & Crafts, Entertainment, Circus Aerial Acrobatics, Festival Foods, Carnival Rides, Many new and exciting family experiences.  Website with Event Information: www.ohiochallenge.com

St. Rita Fest ~ July 12 – 14 ~ At St. Rita School for the Deaf ~ $2.00 / person,  after 9:00 pm under 18 must be accompanied by parent/guardian ~ Raffles, Live Music & More!  For details : http://www.srsdeaf.org/StRitaFest.aspx
Immaculate Heart of Mary Festival ~  July 19-21 ~ Times : Friday & Saturday 6pm-12am & Sunday 3-11pm ~ Location of Event: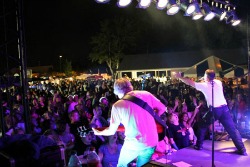 7800 Beechmont Avenue  Cincinnati OH 45255  Anderson Township  513.388.4466 ~ The IHM Festival has been voted one of the top three festivals by CityBeat Magazine for the third consecutive year. Aside from being the largest festival on the eastside, we continue to strive for ways to involve the community. This year we have several area businesses participating including, Skyline Chili, BW3, Papa John's Pizza, Sizzling Wok, Delzotti's Famous Italian Sausage, City BBQ and a petting zoo provided by All Creatures Animal Hospital. We feature a Sunday Chicken Dinner, a fantastic bid-n-buy and an afternoon art fair. In addition, we provide Live entertainment: Friday, The Blue Tip Band 7-11pm
Saturday, The Rusty Griswolds 7-11 Sunday, Easter Rising 6-10 Website with Event Information: www.ihom.org/festival
St. Margaret of York Festival ~  July 26, 27 & 28th ~ 9483 Columbia Rd., Loveland, OH 45140~  The bands will be Brent James on Friday night, Rusty Griswolds on Saturday night, and Second Wind on Sunday.  You can find more information at: http://www.smoyfest.org/
Cincinnati Children's Choir Summer Festival     July 29 – Aug 3, 2013    University of Cincinnati, College-Conservatory of Music    Young singers interested in enjoying and developing their skills in musicianship will come together for an exciting week as they attend inspiring, interactive sessions at the University of Cincinnati, College-Conservatory of Music.  Sessions will include Vocal Artistry, sight-singing, Musicianship through Movement, Music Theory, and Choral Artistry.    http://www.cincinnatichoir.org/programs/summer-festival/
August
Glier's Goettafest

~ August 1-4 ~Newport's Riverfront Levee ~ 
Glier's Goetta has been a local Northern KY, and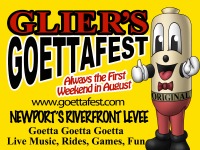 Greater Cincinnati breakfast favorite since 1946.  But in 2001, Glier's, eager to show the world that Goetta is versatile enough to be eaten at any meal, created the first annual "Total Celebration of All Things Goetta". Join us as we enjoy goetta in over 40 unique recipes, play games, ride attractions, listen to free music and relax in Cincinnati's only Air Conditioned Festival Tent!
Website with Event Information: Goetta.com, Goettafest.com
Lebanon Blues Festival   ~  August 3, 2013    downtown Lebanon, Ohio    Free! 8 Blues bands, Red Hot Blues Run, beer garden, classic car show, great Bar-B-Q    http://www.lebanonbluesfestival.org/index.html
 Ohio Valley Greenmarket    August 4    Ault Park    The mission of Ohio Valley Greenmarket is to celebrate the sustainable  efforts underway in our regional community – to demonstrate the benefits of  embracing local food and commerce, healthy choices, and sustainable lifestyle  practices for the advancement of the community.  Attend – ees meet national and regional speakers,  sustainable business leaders, participate in  hands-on workshops and demonstrations  in a fun-filled and positive environment.    http://ohiovalleygreenmarket.com/
MainStrasse Classic Car Show ~ August 11 along the Sixth Street Promenade and in Goebel Park, in MainStrasse Village, Covington, KY – over 250 Classic Cars will be showcased during this event. www,mainstrasse.org
Saint Bernadette 2013 Summer Festival ~  Aug 16 – Aug 18 ~  1453 Locust Lake RD Amelia, OH 45102     Church Festival – Cart-Full of Groceries Giveaway and Raffles, Bingo, Texas Holdem, Live Entertainment Chicken Dinners, TONS of Childrens gaimes, Adult Booths and Games, Bid and Buy Booths,     http://www.stbernadetteamelia.org/
Midwest Regional Black Family Reunion ~ August 17 & 18 ~ "Bringing Families Together"- Sawyer Point & Yeatman's Cove, downtown Cincinnati riverfront – FREE.  For more information : http://www.midwestbfrc.com/
Comboni Missionaries – Taste of Mission ~ Saturday, Aug. 24, 4-10 p.m. ~ Comboni Mission Center, 1318 Nagel Rd., Cincinnati, Ohio 45255 ~ Stop by a Taste of Mission to learn more about the Comboni Missionaries and their work around the world. Enjoy authentic food from Italy, Africa, Ecuador, Venezuela, Mexico, and many other countries while watching live performances. There will be dancers and music from Africa and the Americas, other live entertainment, international beers and wines, a mission market, art and artifacts exhibits, face painting, and other activities for all ages.  Website with Event Information: http://www.combonimissionaries.org, click on get involved.
St. Cecilia Independence Labor Day Festival  ~  Aug 31-Sept 2, 2013  ~  5313 Madison Pike Independence KY    $40000 car/cash raffle, music, food, rides, games    Stcfest.com
September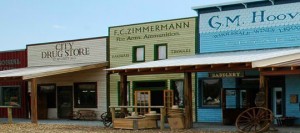 Old West Festival ~  Saturdays & Sundays, September 7 to October 6, 2013 ~ 10:00 a.m. to 6:00 p.m., Rain or shine.  Howdy partners! Head out to The Old West Festival for a gun-slinging, sasparilla drinkin' good time with the whole family! The Old West Festival is located at 1449 Greenbush Cobb Rd between Mt. Orab and Williamsburg, Ohio just off St. Rt. 32. Cost is $12 general admission; $6 for children ages 6 to 12; and children under 5 are free. Parking is FREE. Please visit www.oldwestfestival.com or call 1-866-WEST-FES (1-866-937-8337)
MainStrasse Village 35th Annual Oktoberfest ~ September 6, 7, 8 in MainStrasse Village, Covington, KY.  From the first Keg Tapping Ceremony to the close of the day, celebrate life with great German and American food, art/crafts and outstanding entertainment. mainstrasse.org
RIVERFEST ~ September 1st ~ Newport KY, Newport Riverfront -FREE – Noon-1opm.
St. Saviour Catholic Church    9/6 – 9/8    4136 Myrtle Ave, Cincinnati, OH 45236    one of the best local parish festivals, great music, food, rides, games and fun.    www.stsaviourparish.com
 Live It Up Downtown – A Celebration of Urban Living presented by Downtown Cincinnati, Inc. and the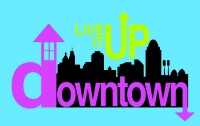 Downtown Residents Council ~ Sept. 7, 2013 from 3-10pm ~  on Fountain Square ~ Entertainment includes family programming from 3–5 p.m., with a special Kids' Zone with activities for families from downtown arts and cultural organizations.   A line-up of live music on the P&G Stage on Fountain Square with emcee Jeff Thomas from Q102, featuring local indie rock, hip hop, opera, and orchestral favorites, will entertain throughout the afternoon, with a special performance by Penny Tration, from Rupaul's Drag Race, in the evening.  Food and drink from downtown favorites, including beer and wine.  Realtors and property managers sharing the latest in available apartments and condos.  Booths highlighting all the businesses and organizations that make downtown a great place to live, work and play.  Live It Up Downtown is for residents, by residents, and open to all! Meet people who live downtown and find out why they love it. Learn where to shop, where to park, favorite local restaurants, and more.  Our downtown is a wonderful, walkable community where everything is within reach. Celebrate urban living, meet your neighbors, and help us welcome all of Greater Cincinnati to our home.   Website with Event Information: www.downtowncincinnati.com; www.ilivedowntown.com
Heritage & Bicycle Festival ~ The annual one-day event will be held on Saturday, September 14, 2013, in a new location with expanded hours from 10 am until 10 pm. A full schedule of events, site map and activity information is available at http://www.festivalsofmason.com/heritage.
The event's new location at the Mason Municipal Center and Mason Community Center complex provides even more activities, including a larger Kids Zone and Teen Zone, more food and entertainment offerings and evening fireworks. Local crafters will also be showcased inside the Mason Community Center at the ShopLocal event. The complex includes more lawn areas, better parking, and room for larger attractions.
New Parade Route ::  Already well known as one of the area's largest parades, the route will be reversed from past years, beginning at 10am at the plaza, traveling east on Main Street, turning south onto Mason-Montgomery and entering the Municipal Complex at Lakeside where it will conclude at the west parking lot of William Mason High School. Opening ceremonies and the crowning of the Little Miss Heritage pageant winner will take place immediately after the parade. Participants in the parade are encouraged to include decorated or unique bicycles as part of their entry in honor of Bicycle Days, which was the name of the festival during the 1970s.
Other fun things at this event:
Local RockStars in the Making, Foot Stomping Country, and The Fab Four!
Juggling, Dancing, Tumbling, and Soaring!
Teen Zone
Kid Zone
Great Food and Treats
Festival admission is free and the event is open to all ages. Free public parking will be available at selected William Mason High School lots and Corwin Nixon Park. Wristbands ride/activity tickets will be on sale at the event for $5.00 per person and may be used for all ages. Some activities are age or height/weight limited.
Country Pumpkins Fall Festival    September 13 – November 2nd    1835 Sherman Mt. Zion Road, Dry Ridge, KY 41035    Our desire is to create a fun experience for your family! In addition to a wide variety of pumpkins and gourds for sale, we also have lots of fun activities for your family to enjoy! Our kiddie corn maze, petting zoo, corn box, straw bale maze, play area, and picnic shelter are all FREE, and our U-Pick Pumpkin Patch, large corn maze, hayrides, barrel train rides, Gift Shop items and food are available for purchase.    www.countrypumpkinsky.com
FallFair Arts Festival    September 21    5847 Irwin-Simpson Rd    Beautiful arts event! 70+ local and regional artists. Music, Kids art activities, free to the community. 11am -5pm    Www.masonartsarts.org
Lebanon's Country Applefest    September 28, 2013    downtown Lebanon, Ohio    Old-fashioned apple pies, strudel, caramel apples in the town with the best apple farmers! Clowns, musicians, food, Johnny Appleseed! Very family friendly!    http://www.countryapplefest.com/
October
White's Tower Fall Festival    Saturday, October 5th    2977 Harris Pike, Independence, KY 41051    We welcome everyone, not just WTE families!  Games, prizes, Cake Walk, Snacks, Face Painting, Community Leaders like the Fire Dept, Bounce House, Crafts, WONDERFUL RAFFLE BASKETS, and this year we have many vendors that will be selling homemade items in our Fall Boutique area. We also have entertainment by the Simon Kenton Dance Team, Joel the singing Librarian, and the Jubilee Cloggers.  Wrist bands for games are 8.50 and are pre-sold to students and are also sold at the door.    https://www.facebook.com/whites.pta?fref=ts
Northern Kentucky Wine Festival at MainStrasse Village ~  October 19 along the Sixth Promenade  in MainStrasse Village, Covington, KY – Sample Kentucky wines and enjoy food, artisans and entertainment. mainstrasse.org
Fall Fun Fest    Sat. October 26, 2013, 4:00 p.m.-7:00 p.m.    Real Life church, 2300 Old State Rt. 32, Batavia, Ohio 45103    Free giant inflatables and carnival games, free hot dogs, cotton candy, s'mores, hot chocolate and coffee    https://www.facebook.com/reallifebatavia
Bark Out Against Battering Pet Fest    Oct. 26, 2013/ 11am-2pm    www.facebook.com/barkoutagainstbattering    Washington Park- 1230 Elm St. Cincinnati OH 45202    Free    The event will feature a pet costume parade, costume contest, pet vendors, social service agencies, raffle prizes and much, much more.   This event will help to connect the link between domestic violence and animal abuse. All proceeds are donated to the SPCA to assist in their program to help pets of women in the YWCA's Domestic Violence shelter to have a safe place to stay until their owners get back on their feet.
MainStrasse Village Dog Costume Pawrade – October 27 along the Sixth Street Promenade and in Goebel Park, MainStrasse Village, Covington KY.  MainStrasse Village "Goes to the Dogs" for this special event as costumed dogs parade along the Sixth Street Promenade for a bit of doggie Halloween fun. mainstrasse.org
November
Fort Wright Elementary Fall Festival ~ Saturday November 9, 2013  3:00pm-7:00pm ~  501 Farrell Covington Ky ~ Come join us for our biggest fundraiser of the year to help increase technology in our classrooms. Admission to the festival is free and game and raffle tickets are sold at the door. Have fun in the bounce house, cake walk, hair flair booth and more. Check out our silent auction items and make a bid!  Website with Event Information : https://www.facebook.com/pages/Ft-Wright-Elementary-Fall-Festival/197327933649589?fref=ts

Don't forget to keep checking back, we'll be adding to this post!  And to add your event, contact me at Katie(at)Cards-by-Katie(dot)com!