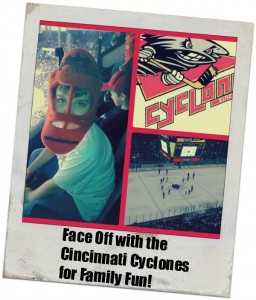 I love exploring this city and finding new and different things to do with my kids, it's part of why I was excited to contribute to Family Friendly Cincinnati…sharing our adventures.  I am pretty good at snooping out new, off the beaten path activities for us but I am amazed at some of the things that manage to stay off of my radar but which really should be no-brainers.
Add attending a Cincinnati Cyclones game to that list.  How have I never thought of this before?  We were invited to check out a game last week and we all loved it!  My boys were total fans right from the start.  There was  never a dull moment, even when the players weren't on the ice.  Twister, the Cyclone's mascot, tossed t-shirts to the crowd, they played fun games with the kids on the ice such as Chuck a Puck (toss a puck from the seats onto the ice and see how close to the center you can get, the one that gets it closest gets a prize!), and Musical Tubes-a funny twist on musical chairs where the kids had to grab a blow up chair when the music stopped (and let me tell you..it wasn't easy, those things were slippery).  The kids loved the fun music constantly playing…my kids were out of their seats dancing the whole time.  There was even a marriage proposal the night we attended!  And what would a good hockey game be without someone in the penalty box?  We did see a couple of good "fights" but don't worry, no one got badly hurt, it was all in the spirit of the game.  We even got to see Sudden Death Overtime! How exciting is that? Unfortunately our Cyclones lost, but it was a great game!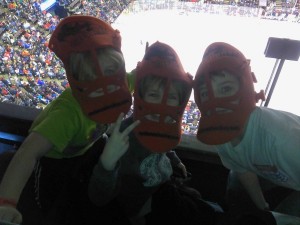 They also host fun promotions at their home games.  The night we attended  happened to be Free Kids Jersey T-Shirt night (the first 1500 kids received a free jersey tshirt) and Boy Scouts Night as well!  Coming up on Friday, February 15 it's Kids Eat Free night and every child 2-12 gets a free meal courtesy of Donatos!  On February 18 it's a special Kids Club matinee.  Register your kids for the Kids Club (you can do that online here) and your child receives a ticket to the Feb. 18 matinee free!
Did you also know that you can host parties or other get-togethers in the U.S. Bank Arena suites?  The party suites are amazing and come with all kinds of amenities that would make game watching, birthday parties, or even corporate events really special!  We got to check out one of the party suites and it was one of the coolest experiences I've ever had.

Long story short?  We all had a fantastic time at the Cincinnati Cyclones game!  Even those who aren't that big into sports will appreciate the fun and friendly atmosphere.   Don't worry about not being an expert at the game either…just have fun!  The Cyclone's website does, however, have info on how the game is played and hockey terms so that you can brush up before you go!
The Cyclone's home season runs through March 30 so there is still plenty of time to take your family and watch the team have some fun on the ice!  The Cincinnati Cyclones home games take place at US Bank Arena.  Please visit ticketmaster.com for tickets.  Game schedules, promotion night info and much more can be found on the Cincinnati Cyclones website at www.cycloneshockey.com.  They can also be found on Twitter at twitter.com/cincycyclones and on Facebook at www.facebook.com/cincinnaticyclones.
Have a great time and tell Twister we said hello!
When not blogging for Family Friendly Cincinnati you can find Amy writing for her personal blog In A Galaxy.