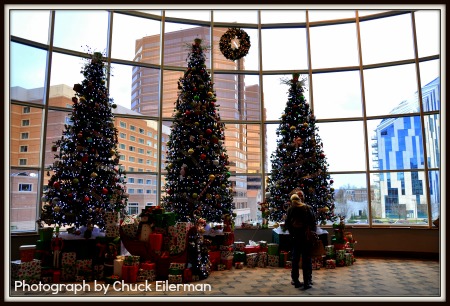 Family Friendly Cincinnati is your go-to blog for finding out what's going on around town to celebrate the holidays.  We've told you all about the Holiday events Downtown and also in the areas north of Cincinnati, and we've told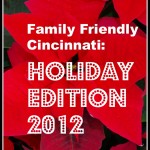 you all about where to shop local, and where to find the coolest light displays. We also have posts about all the different places you can see Nutcracker performances, and where to find Santa so you can take your picture with him.
Now we've compiled a list of all the Holiday Happenings going on in Northern Kentucky!  Thank you to our readers who gave us ideas on the FFC Facebook page!
Holiday Events & Activities in Northern Kentucky:
Friday, November 30 ~ Sunday December 2nd CHRISTMAS TREE SALE in the MainStrasse Village, come get your fresh cut trees and wreath at a reasonable cost on the 6th Street Promenade.  On Saturday (12/1)  you can enjoy live music with local favorites The Turkeys by the Goose Girl Fountain from 2-6pm.
Saturday, December 1st 1pm and 3pm : CIRCUS MOJO at NEWPORT ON THE LEVEE :: Free Magical Holiday Circus Show.  Big Band Nutcracker Circus,   where the sugarplum fairy spins in the air and the Rat King takes a pie in the face…gym wheel rolling globes jugglers acrobats and more.  Ring in your holiday with Circus Mojo.
Saturday, December 1st 6-9pm CHRISTMAS WALK in INDEPENDENCE.  See Sara's post on Family Friendly Cincinnati to get all the details on this wonderful evening.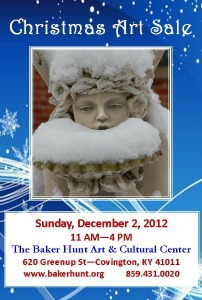 Sunday, December 2nd from 11am until 4pm there will be a CHRISTMAS ART SHOW at Baker Hunt in Covington.  See their website for more information, including a list of participating artists.
Sunday, December 2nd at 1:30pm HOLIDAY EXTRAVAGANZA at the ERLANGER LIBRARY ~ Bring your camera to take pictures with Santa from 1:30-2:30. Carriage rides from 2-4. Crafts while supplies last.  Follow the KCPL on Facebook to keep up with all the great things they do.
Monday, December 3rd – LAST DAY TO MAIL LETTERS TO SANTA at Kenton County Public Library branches and courthouses! Kenton County Parks & Recreation, in cooperation with the Kenton County Public Library, is excited to announce its annual Letters To Santa ~ Letters From Santa program. Every child who sends a letter to Santa will receive a return letter from Santa just in time for Christmas! PLEASE be sure to check your child's letter to see that Santa can easily read full names and home addresses so that each child will receive his or her letter at home.  When mailing your child's letter to Santa, please remember to bring non-perishable food or personal care items (including diapers) for those less fortunate. Specially decorated barrels will be located right next to the mailboxes at each location. Our goal is again 2,500 letters and 2,500 items! Remember, it's the season for giving!
Tuesday, December 4th 6-8pm FLORENCE TREE LIGHTING – pictures with Santa, sleigh rides, refreshments, music  and more!  FREE event!  For more details see their website or contact Florence Parks & Recreation (859) 647-5439 or e-mail [email protected]
Tuesday, December 4th at 7pm WELLNESS BY THE BOOK at Joseph Beth Booksellers in Crestview Hills.  This month's topic is: Gifts, Galas and Get Togethers: How to Handle Holiday Stress.  Brought to you by St. Elizabeth Healthcare and Joseph Beth Booksellers.  For more information about the Wellness by the Book Series see this post FFC published a few months back.
Thursday, December 6th 6pm  SAINT NICHOLAS ARRIVES at the Goose Girl Fountain in MainStrasse Village, with gifts for the children.  Hot Chocolate & Cookies will be served.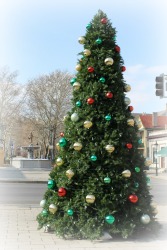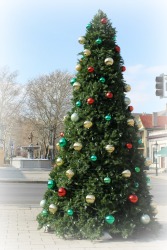 Friday, December 7th at 6pm TWILIGHT CHRISTMAS PARADE in MAYSVILLE :: Marching bands, floats, and of course Santa Claus himself!  See the City of Maysville website for all the details.
Friday December 7th at 6:30pm SANTA ARRIVES in BURLINGTON for a tree lighting and to meet the children.  See historic Burlington's website for more details about this event, and other holiday events they have going on all weekend long, like music, a pet parade, a train show, a live nativity and more!  There will even be special holiday hours at shops & restaurants in Burlington.  Sounds like a fun weekend!
Saturday, December 8th at 10am BREAKFAST WITH BLITZEN at the INDEPENDENCE SENIOR CITIZENS & COMMUNITY CENTER:  2001 Jack Wood Parkway in Independence, KY 41051. Come have pancakes & sausage with Blitzen!  Tickets are sold in advance of the breakfast. Cost is $7 per adult and $5 per child. Space is limited to 120 people and is on a first-come, first-served basis. Each child will receive an ornament and goody bag filled with candy and other items. Walgreens will be there to take pictures of your child/children with Blitzen. Call Nita Brake at (859) 363-2934 for tickets or more information.
Saturday, December 15 4-8pm AERIAL ELVES ACROBAT SHOW at NEWPORT ON THE LEVEE with the Cincinnati Circus.  Acrobats will be performing indoors from silks suspended from the roof of the Levee.
Saturday, December 15th 5th ANNUAL WHITE CHRISTMAS PARADE in AUGUSTA.  There will be a reindeer costume contest for children under age 10 at 4pm at the Firehouse in Augusta, and a parade at 6pm on Main Street.  Then it's back to the firehouse to visit with Santa!  See the Augusta website for all the details on this fun-filled evening!
Sunday, December 16 & Sunday, December 23 11am – 2pm MAGIC & BRUNCH at WERTHEIM'S in MainStrasse Village. 514 West 6th St.  Covington, KY 41011  (859) 261-1233
Friday, December 21st 4-8pm AERIAL ELVES ACROBAT SHOW at NEWPORT ON THE LEVEE with the Cincinnati Circus.  Acrobats will be performing indoors from silks suspended from the roof of the Levee.
Saturday, December 22nd 3-4pm TUBACHRISTMAS CONCERT at NEWPORT ON THE LEVEE Over 70 Tubas playing Holiday Carols.
Ongoing Holiday Happenings in Northern Kentucky:
SHILLITO'S ELVES at NEWPORT ON THE LEVEE ~ Come visit the elves that have been entertaining the children of this area for generations!  Read all about the history of these elves on this website.  Tickets are $7 per person (children under 3 are free) and the hours are: Sunday through Thursday 11AM-8PM  Friday & Saturday 9:30 AM-8:30PM
DICKENS CHRISTMAS CAROLERS at NEWPORT ON THE LEVEE ~ Dec 8, 15, 22, 23, from 6-8pm and Dec 24 from 12-3.
HOLIDAY TRAIN DISPLAY at BEHRINGER CRAWFORD MUSEUM  – this is going on now through January 13th.  Read this Family Friendly Cincinnati post for all the details!  You do not want to miss this!
 CHRISTMAS TOWN at THE CREATION MUSEUM in PETERSBURG :  Come see a free Live Nativity & Garden of Lights.   Dates/Times: 5:00–8:00 PM, December 7–8, 14–15, 21–22, 28–29 2800 Bullittsburg Church Road, Petersburg, KY 41080 For more details call: (888) 582-4253 or visit their website.
HATS & MITTENS DRIVE :: Give back to those in need this holiday season by dropping off new hats and mittens at the MainStrasse Village Association Office in Covington or you can donate $1 by purchasing paper mittens at  participating Covington businesses.  The hats & mittens will be distributed to children in Covington.
SCUBA SANTA at the NEWPORT AQUARIUM  ~ Go see one of the most unique holiday displays in town!  Scuba Santa is sure to entertain the whole family!  Visit the Newport Aquarium website for all the details!
 SIMS FURNITURE CHRISTMAS WINDOW DISPLAY ::  If you are driving around Covington with the family be sure to stop at 727 Madison Avenue to see what the elves are up to getting ready for Christmas!  This charming window display is a must-see!
Did I miss a holiday event in Northern Kentucky?  If so, please tell us about it in the comments below!!!