Yat Ka Mein in Oakley

Last week Amy Q. and I went to check out Yat Ka Mein in their new location on Madison Road in Oakley.  The building that houses Yat Ka Mein used to be an Arby's, but don't let that fool you, it's not any ol' restaurant at all!  It's now a nice restaurant where you can take the whole family, or host a business lunch or even take a first date.  The inside of the Yat Ka Mein is lovely, everything is so clean and nicely decorated.   I felt comfortable and at home here.  There are many tables, but you don't feel crowded at all.  The tables are nice and big (I can't stand taking the kids out to eat and not having enough table space!).  Our favorite part of the decor was the cityscape of Hong Kong on the front windows.  It's so unique, and the kids loved it.  They could also see past the cityscape to watch the cars flying by.
Yat Ka Mein is family owned and operated by Clarence Chan, who has been in the restaurant industry in this area for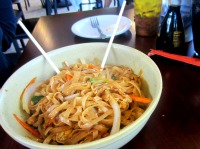 years.  And it shows, he runs a great restaurant!  The service was wonderful and the food was delicious.  Everyone was so sweet & friendly there and took care of everything we needed so quickly & efficiently.  I say that because when you are dining with children it always seems like you are asking for so many things of restaurant staff…can I have a high chair?  Do you have cups with lids?  Can we have a BUNCH of extra napkins?  And so on…  Luckily, this was a very family friendly place.  Nobody batted an eye and the giggling boys in the front of the restaurant.  In fact, they were even brought extra fortune cookies.  All of our food was great.  Amy had the Pad Thai, I had General Tao's Chicken and the boys split the Sweet & Sour Chicken (as usual).  We all enjoyed our meals immensely.  And the prices were great!  All within the $5-$6 range.  You can tell from the pictures, you really got alot of bang for your buck…the portions were quite generous!  I checked out the dinner menu as well, and the prices for dinner are also quite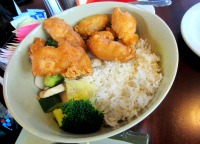 reasonable.  One thing they did at Yat Ka Mein that I've not noticed at many Chinese restaurants is that you can choose your spice level.  Which is good for wimps like me dining with friends who like a little kick in their dish.  The kids gave it two thumbs up as well.  You really cannot go wrong at Yat Ka Mein, the food is affordable and yummy and the service is top-notch.
Other added bonuses for Yat Ka Mein: they deliver, they cater, and they have a pickup window!  You can call your order in ahead of time and simply drive thru and pick it up instead of getting everyone out of the car.  I've also heard that you can find Yat Ka Mein at the yearly GoettaFest (August) in Newport.  So if you are looking for a delicious new Chinese restaurant to try, head to Yat Ka Mein at 2974 Madison Road in Oakley (513-321-2028).   And look for them on Facebook or find their menu on their website!
And if you want to explore Madison Road after you dine at Yat Ka Mein, read this post about some of the fun things to do on Madison Road.