Kocanut Joe's Frozen Yogurt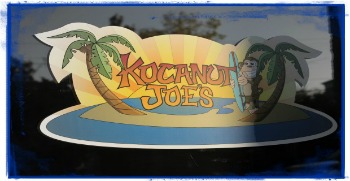 When Kocanut Joe's opened up this summer I knew right away that there was something special about this place.  I've never seen a business want so badly to be an integral part of a community before, and to bring great things tothat community.  The folks at Kocanut Joe's want to get to know their customers, they want to be the place where everyone from the neighborhood hangs out, they want young teens to have a safe and fun place to hang out, and most of all they want to have fun, and want their customers to have fun!  In just a few short months Kocanut Joe's has really made a name for themselves, it almost seems like they are a neighborhood establishment that's been around for ages.  You can read more about Kocanut Joe's in this post I wrote over the summer.
Today I'm here to tell you about all the crazy cool ways Kocanut Joe's is making their frozen yogurt shop the most fun place to get dessert in town.  For instance, this sign below hangs in their shop touting all the weekly specials & fun activities going on: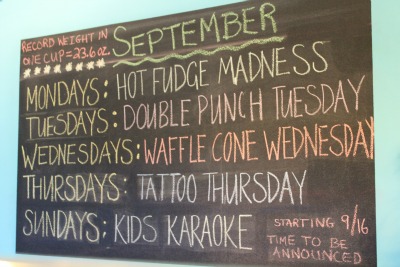 Kocanut Joe's has also had giveaways at the store that included Relaxation packages and Florence Freedom tickets.  The owners have plans in the works for a Reading Program for kids, Halloween Treats and more.  One thing they have started that I love the idea of is a Frozen Yogurt Happy Hour for parents who have young ones who only go to school in the mornings.  Every Monday-Thursday from Noon-3pm they will offer a FREE 4 oz. children's yogurt with the purchase of an Adult yogurt (Minimum $4 purchase, $.45 each additional oz. and NO COUPON IS REQUIRED.  Henry's preschool is in close proximity to Kocanut Joe's, so I am seeing lot of frozen yogurt lunches in our near future!
So as you can tell, Kocanut Joe's is the hoppin' place to be, and there's always something fun going on!  On top of all that I mentioned above, they also have some new flavors arriving soon including Spiced Apple Pie, Cotton Candy & Pumpkin Pie.  Yummmm…the tastes of fall in a frozen yogurt cup.  Breakfast at KoJo's will be ending after October 1st, resuming in the spring, and their new seasonal hours will be Sunday-Thursday noon-10 and Friday and Saturday noon-midnight.
When not blogging for Family Friendly Cincinnati, you can find Katie writing at her personal blog, www.thelittlethingsjournal.blogspot.com.