It's time to "Get Your Art On" friends!
The annual Macy's Arts Sampler presented by ArtsWave is back and this year it's running three Saturdays —> February 11, February 25 and March 10. We're talkin' three full Saturdays with almost 100 FREE arts related events and activities spread out all across the Tri-state and for families with children of all ages.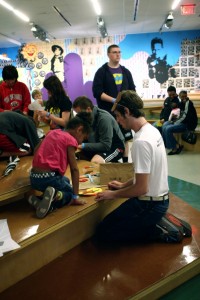 Macy's Arts Sampler is celebrating all things creative —theater, dance, museums, music, and festivals — happening in large and small ways throughout our region – and it starts this Saturday!.
Highlights for this weekend include:
Cincinnati Symphony Orchestra family concert, "The Big, Bad Brass Bash!" 10 a.m., Music Hall
Cincinnati Art Museum, interactive yarn-art installation with the BombShells of Cincinnati and live performances from Madcap Puppets, Bacchanal Steel Drum Band, Kique Infante, Sakura Ladies Chorus, beginning at 11 a.m.
Playhouse in the Park presents "In a Fool's Kitchen" by Z Puppets Rosenschnoz at 10:30 a.m. and 1:00 p.m., plus backstage tours and a Creative Dramatics class beginning at 9 a.m.
Cincinnati Opera performs "Opera Redux: Porgy & Bess", noon, Fairfield Community Arts Center
Cincinnati Boychoir, Cincinnati Children's Choir, and MUSE: Cincinnati Women's Choir, choral concerts, St. John's Unitarian Universalist church in Clifton, beginning 1:00 p.m.
Wyoming Fine Arts Center, live performances from School House Symphony, Musik Kids, beginning at 10 a.m.
A complete schedule is available on www.theartswave.org….. or….  you can check out their new smartphone app and have the schedule at your fingertips.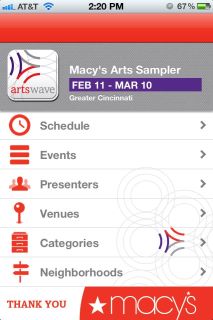 Macy's Arts Sampler Smartphone App
This year ArtsWave is making it even easier for families to find events to attend with the launch of an Macy's Arts Sampler smartphone app!  The free event-based app is available on all platforms and provides an easy way to find, choose, and plan for festival events that match your schedule, neighborhood, and household interests.  You can search by category – theatre, dance, etc; part of town; venue; and even by age range! You can learn more about the app, and download it, here.