Last week HUMANA presented Washington Park officials with a check for $25, 000 to help with the construction of the new children's area so we thought it would be the perfect time to share an update on the park with our readers. Thanks to the folks at 3CDC for the update below and for sending over some great photos of the construction progress as well as renderings of how they how to have the park looking in the Spring.  
– – – – – – – – – – – – – – – – – – – – – – – – 
In just a few short months Washington Park will once again be open for business—and just in time for summer!  Expected to open in late spring of 2012, Washington Park will be the perfect outdoor escape for the whole family.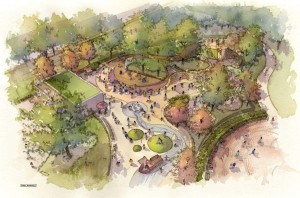 The park's uniquely designed playground will provide hours of magical play for children of all ages. It will feature a one of a kind play castle, complete with a challenging climbing wall. The playground will also have dual slides (designed for both speed and safety), a replica canal boat that is just begging to be explored, as well as musical instruments that make real noise…and lots of it!
Whether you're flying kites, playing a simple game of catch or capture the flag, or simply settling down for an outdoor picnic, families will have hours of entertainment on the new Civic Lawn. Explore nature with a creative scavenger hunt, or bring your bikes and simply cruise around the park. How you make your fun is up to you.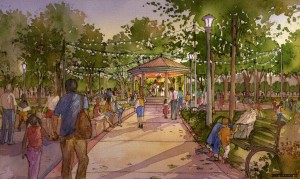 The park will be actively programmed after it opens, and families will be able to find new and exciting activities on a regular basis. Stop by any time during the week and you are sure to see children and parents engaged in action-packed programs. Kids will have the chance to take the wonders of nature and wave them into hand-made art projects. From free puppet shows to costume contests to family movie nights, Washington Park promises to have it all.
Follow the progress of Washington Park on 3CDC's website, or on the Washington Park Facebook Page.
Background on 3CDC

3CDC is a private, non-profit, real estate development and finance corporation focused on revitalizing Cincinnati's urban core in partnership with the City of Cincinnati and the Cincinnati corporate community.  3CDC's work is specifically focused on the Central Business District and in the Over-the-Rhine neighborhood.  3CDC also manages The Cincinnati Equity Fund (CEF) and the Cincinnati New Markets Fund (CNMF).  These investment funds play an important role by providing needed financial capital to 3CDC's development projects.  For more information visit www.3cdc.org.