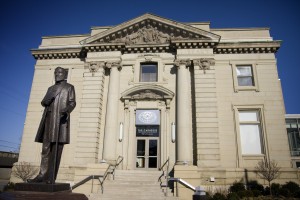 I gotta tell you: we simply love The Carnegie visual and performing arts center. Even before we had children who could enjoy their amazing educational opportunities and even before my friend ShannanB (founder of FFC) started working there, my husband and I enjoyed events such as plays and the Art of Food exhibit to name just a couple of our favorites.
However over the past couple of years our girls have enjoyed participating in summer camps and after school activities and I love watching them be creative in a fun, safe and diverse community environment. The summer camps allowed them to come up with their own creative performance from start to finish including set and costume design, story-line and perform it on stage for our family to enjoy.
They got to meet new friends and in fact my 4th grader who just started a new school was thrilled to find a friend at her new school that she'd met last year at ArtStop's CincyBallet dance workshop for third graders.
The Fall ArtStop programs just opened for registration. Our biggest challenge is deciding which one to do. As a parent, one of my favorite thing about these programs besides the fun, creative environment is the eight week duration which gives us all a chance to decide whether or not to add another activity or take a break. The after school programs are designed for ages 7-15 and this fall children can make a movie, a mask or create a pop up art project. The instructors are amazing and really know how to get the creative juices flowing using a variety of instructional methods.
The kids don't get to have all the fun though; there is plenty for adults to enjoy at the Carnegie too.  As you get the children back to school, you can enjoy gallery show in their  six galleries; and if it's an evening out you want then you can take in a theater or concert performance.  The current performance running through September 3rd is Pippin.
So as you can see the Carnegie really is a hidden gem in our Northern Kentucky community and if you are in Ohio it's worth crossing the bridge to come over and enjoy.