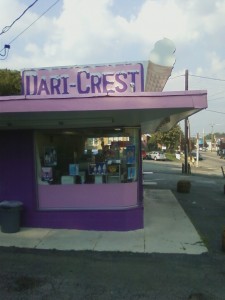 I love going out for ice cream!  And, of course, so do my kids!  But, with three kids sometimes it's not very cost effective to pile in the car and head to the ice cream shop.  And, sometimes you want something a little different than a big chain.  Then I found Dari-Crest…..
Located at 3024 Madison Avenue in Covington Kentucky, Dari-Crest is a hole-in-the-wall ice cream shop fashioned out of cinder blocks painted pink and purple.  With a motto that reads "You can lick our cones but you can't beat our shakes!" on the backs of the employees t-shirts, how can you not love this place?  I cannot decide my favorite thing about Dari-Crest:
The incredibly reasonable prices
The delicious ice cream and frozen treat selection
The fantastic selection for kids
The personal touch of a family business
The convenience of a walk-up window 10 feet from my car so the kids can watch a dvd while I get ice cream
 Tonight we had 2 small Reese Cup cyclones (ok, these are known as Blizzards at another ice cream shop!), a baby cone in a cup and a kiddie cone with a face (I'll get to that!).  Our total was $7.10 for the four of us.
 Let's talk about the face on the ice cream.  Have you had ice cream with a face?  You can at Dari-Crest!  My son loved his kiddie-sized chocolate cone with candy eyes, ears and a mouth.  I think it looks like a monkey.  You can also get sprinkles or chocolate dipped.  As I mentioned, this is kiddie-sized.  It's a little smaller than a regular soft serve sized ice cream so it doesn't melt faster than little mouths can finish it.  Even smaller than the kiddie-sized cone is the baby cone.  This is tiny, but is perfect for our 2 year old.  The cone is smaller as is the amount of ice cream.  And, it was 40 cents.  The kiddie cone is 80 cents.  I may have paid extra for the face, but I'm sure it wasn't much more.
 We love to get our ice cream and just eat it in the van in the parking lot.  If you are more adventurous, there are 3 or 4 picnic tables with umbrellas in the grass and on the concrete right in front of the building.
There is also a hot menu with lunch and snack items, but we have only tried the ice cream treats.
Dari-Crest is a fantastic place to take the kids for a quick and inexpensive treat!