What child doesn't like to paint pottery and create something special?  That's what's so neat about a local company called Star Glazers.  My sister had a super neat birthday for my 11 year old niece last week and I just want to share with all of you as it
was a cool way to plan a fun, hassle free party where the kids have a great time.
I'd heard about Star Glazers and how the pottery and painting comes to you, but I thought it might be too much for my nerves to have it all happen in my home.  Boy, was I wrong.  Ann Flynn, the owner of Star Glazers, takes care of the details and seamlessly controls a group of kids without any problems.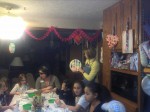 The party we attended included about  11 kids who painted pottery.  She let each child choose what they would like to paint – my sister had picked out 7-8 different things for the kids to choose – they could pick whatever they liked (and it could be the same as others). Ann supplied everything but the table and chairs – she had table covers, chair covers, paper plates for the paint, all of the brushes, stamping tools for special effect and of course the paint. And she had LOTS of paint.  The kids were all given the same three basic colors to start out with and then Ann went around and let the children pick additional colors from her paint palette (cleverly displayed on a ceramic plate).
The kids all get to let their creative self soar – it didn't matter how much or how little of the paint anyone put on. Ann was there to offer tips and helpful advice if anyone needed anything, but for the most part, the kids just did what they wanted to do .  After the main paint was put on, she got out the puffy paint for special accenting which was a big hit (particularly with my 6 year old son – he loved him some puffy paint!).
I was so impressed with Ann's professionalism and her patience – wow infinite patience. Nothing seemed to bother her – when one of the kids broke a piece of pottery even before we started, she just quickly cleaned it up and replaced it with an unbroken one. There were a couple of autistic children at the party and she let them get excited and do their own thing while gently keeping them on task with the other kids. She took time to listen to each child and to encourage them.  She didn't appear to rush anyone, but she kept us all on track as well.  The only straggler was my daughter, but she overshot her elaborate design idea and I had to take over and finish it for her so she could go play.
As a parent, what I liked in addition to all of the above was the cost.  Cost is based on what pieces of pottery you choose to paint – the least expensive pieces start out at $8 each and go up from there.  This means that a birthday party with six kids (Star Glazer's requires a minimum of six painters) would cost you $48.  I don't know about you, but even when I've tried to do a party on my own to save money, it's cost me a great deal more than that.  And this not trash and trinkets – it's nice pottery that can be put on display or even used (my daughter chose a bowl to eat her cereal out of).
The kiln fired finished pieces are returned to the host to distribute within two weeks of the party ending. Here's the ones from the party we went to:

Star Glazer pottery painting parties aren't just for birthday's nor are they just for kids – Ann will come and hosts parties for scouts, church groups, ladies night, during/after school groups, showers, corporate events, etc.
If you're looking to do something a little different and a lot fun, I definitely recommend you contact Star Glazers.
Check out my personal blog at Princess Poodle Puss.