Only one shopping weekend left before Christmas and if you're like me, you were burnt out on the whole shopping craziness weeks ago.  Why not forget those maddening crowds and carve out quality time with the family – after all that's what this season is really about!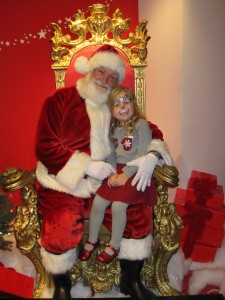 As I posted earlier this week, Saturday is the LAST CHANCE for Macy's Downtown Dazzle!  You can read all the details here, fun kicks off at 6:30pm.  And a full listing of all that is going on this weekend Downtown can be found here.  Don't miss out on these wonderful Cincy traditions.
In addition to the final performance of Downtown Dazzle, Dazzle Days Kids Workshops also call it a year on Saturday.  At Tower Place from 1pm to 5pm, thanks to Cincinnati Recreation Commission and Downtown Cincinnati, Inc., kids can make crafts, play games and win prizes!  Call (513) 421-4440 for details.
Have a star-gazer in your house? The Cincinnati Observatory will host. Constellation Mythology Nights on Friday at 7pm.  Hear all about heavenly myths as told by local expert Dean Regas, then see for yourself as the telescopes are made ready for participants (weather permitting).  Please note: Friday's event is FAMILY friendly; they have another one on Saturday, but that is ADULT-only.  Space is limited, so make reservations by calling: 513.321.5186.
We took P to the PJ Party at the Museum Center last year and had a ton of fun. It's back again this year on Sunday from 6:30pm to 8:30pm.  You need reservations: (513) 287-7000. $20 Member child, $25 non-Member child and $10 adults. Or be part of old-time radio with 'Twas the Night Before Christmas radio show. These free shows run Saturday at noon and 2pm, as well as Sunday at 1pm, 2pm and 3pm.
Events we've highlighted before continue this weekend: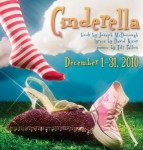 Cinderella continues to run at the Ensemble Theatre of Cincinnati on Saturday and Sunday.  As you know, our crew LOVED it and all of Cincinnati is falling in love with this new spin on a classic tale.  Tickets are selling so quickly, additional shows were added the week of Christmas. And be sure to check out Kristin's discount info especially provided by ETC for FFC's readers – save $10 with the purchase of two tickets.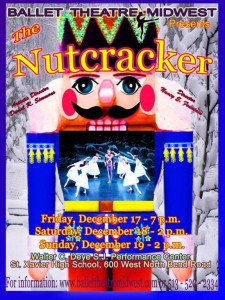 Cincinnati Ballet does an amazing job with Nutcracker each year – it is a well-earned Christmas tradition.  But maybe your little ones are a little too, well, little to go FULL Nutcracker this year.  We're opting to take P to a smaller venue for Nutcracker and Ballet Theatre Midwest is just the ticket.  They have performances THIS WEEKEND ONLY – Friday at 7pm and then Saturday and Sunday at 2pm.  Performances take place at St. Xavier High School. Tickets range from only $15 to $20 (BARGAIN!) and what a terrific way to support local young artists working on their craft.  We're going Sunday afternoon – just P & me for a girlie afternoon.
If you haven't already taken the kids for Breakfast with Santa, this weekend is probably your last chance.  Joseph Beth will host their final one this year on Saturday at 9am.  Seating is limited, so please contact them (513.396.8960) to make reservations.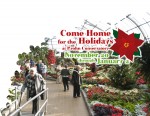 Santa will be visiting Krohn Conservatory on Saturday from 5pm to 7pm.  Bring the kids and your camera for a chance to take some pictures with Big Man in a beautiful setting.  Holiday foliage is everywhere as they invite you to Come Home for the Holidays! Can't make it Saturday for Santa?  Head over on Sunday and make your very own scented candle or soap.  This  free craft class is offered 1pm to 3pm and if you still haven't shopped for me, I heart evergreen scented anything!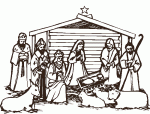 Nothing brings the true meaning of Christmas to your heart quite like a live Nativity.  Bring your children to see one of the area's best as the Kirsch Family has theirs Friday, Saturday and Sunday from 6pm-9:30pm (35 Jacobs Road Hwy 10 North, Butler, KY 41006). For more details contact them by calling 859.472.3464 or emailing [email protected].
Or if Pendleton County is a bit too far, Hyde Park Methodist Church will host their live Nativity on Sunday night 6pm-7:30pm.
Let's face in, indoor crafts are the way to go in this weather and Hamilton County Parks has you covered on Sunday (from their site):
Star Garland Class at Farbach-Werner 11am-3pm; make holiday garland from recycled holiday cards! Suitable for kids 6 and up.
Peaceful Day at the Park at Miami Whitewater Forest 11am-4pm; take a break from the bustle, bring your camera and snap some shots of the winter scenes (which I bet are GORGEOUS with all this snow). Kids are invited to the Visitor Center for craft making when you need to warm up!
Snowflake Crafts at Sharon Woods, 1pm-4pm; come make a cool snowflake craft while staying warm and cozy in the Sharon Centre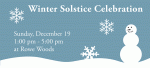 Sunday, take the family to the Cincinnati Nature Center to celebrate the Winter Solstice from 1pm-5pm.  Enjoy carriage rides, a scavenger hunt, Celtic music by Dark Moll and more!
Light Up the Levee is going on all weekend with amazing light shows starting at 6:10pm each evening.
The Cincinnati Art Museum has a ton of things (as always) for families and kids of all ages: TEEN studio night on Friday; Artworld on Saturday and Sunday from 11am to 5pm;  Family ARTventures Art Stop on Saturday and Sunday from 1pm to 4pm; and a special even – ART IN THE MAKING for kids ages 6-12 and their parental units will happen Saturday 2pm to 4pm – reservations are recommend for this particular program.

The Carnegie presents Nativity – The Pop Opera, generously donating proceeds to The Cincinnati Children's Hospital Medical Center's 'Njoy-it-all Camps.  There is an 8pm show on Friday, Saturday and Sunday and a matinee at 2pm Saturday.
The Cincinnati Cyclones are in town with matches against the Wheeling Nailers on Friday and Saturday – puck drops at 7:30pm both nights.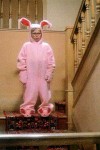 YOU'LL SHOOT YOUR EYE OUT if you miss Covedale Center for Performing Arts' production of A Christmas Story.  Performances this weekend include Friday at 8pm; Saturday at 3pm and 8pm; and Sunday 2pm and 7:30pm.
Inside Peanuts: The Life and Art of Charles M. Schulz continues at the Main Library Branch in Cincinnati. Learn all there is to know about those charming kids and world's greatest dog – Snoopy.  All weekend
I think the older kids out there might enjoy Cincinnati Playhouse in the Park's holiday tradition – A Christmas Carol.  Check out performances Friday at 7pm; Saturday and Sunday at both 2pm and 7pm.
The Bengals return home on Sunday to take on…oh, what difference does it make?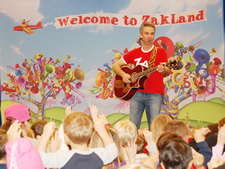 Zak Morgan's Incredible Holiday Show at Main Library, Saturday at 3pm. Zak's music, theatre and comedy for the whole family – for FREE!
I've been wanting to stop in at The Betts House and Saturday sounds like a perfect time to do just that! They are hosting a final Family Fun Saturday for 2010 on, duh, Saturday.  Drop in anytime from 12:30pm to 5pm and kids, along with their crafty parentals, can make a Mid-Century Modern House Christmas ornament!
The Know Theatre has added performances for A Wrinkle in Time's engagement.  You can get tickets for Friday's 8pm show; Saturday's 3pm and 8pm shows or Sunday's 3pm show.
Whole Foods' cooking programs continue Saturday – Kids Can Cook (Rookwood) and Sprouts in the Kitchen (Deerfield Township) both begin at 10am.  Kids Can Cook will be making  thumbprint cookies followed by storytime!  And Sprouts will mix up some Holiday Cocoa in a Bag for the kids to give to someone special – complete with gift tag! Now the hard part…picking which location to go to!  Remember to sign up so they have enough holly jolly prepared for everyone.
Take a lovely wagon ride through The Christmas Ranch in Morrow, Ohio.  Enjoy a Christmas light display like no other in a charming, rustic spot all weekend 5pm to 10pm.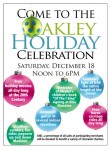 Oakley is decking the halls with a Holiday Celebration on Saturday!  Carolers,  free carriage rides, hot cider, free movies at 20th Century and much, much more…the whole city of Oakley is pulling out all the stops to make a holiday to remember!  Fun runs 12pm to 6pm.
If this week's snow didn't scare you off, perhaps a little more quality time with the wintery mix at The Beach on Ice is in order! The family fun happens all weekend long 5pm to 9pm, check their site for more details.   My sister and I are braving it on Sunday – at least temperatures in the 20's  will keep us…alert!
Whatever you come up with for this weekend, FFC wishes you a wonderful time surrounded by love and joy – stay warm and enjoy all that Cincinnati has to offer!