Last night, the FFC family was lucky enough to be invited to Star Lanes on the Levee for a holiday party.  Since they opened this past Summer we'd all been wanting to check the place out and this gave us a great chance to do so and spend some time together – just the girls.  Our mission: have fun, try not to dislocate anything and see if Star Lanes could earn the title of HOT-SPOT FOR FAMILY FRIENDLY FUN.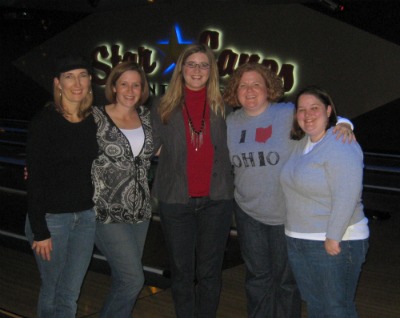 First off, dismiss any old-fashioned ideas of what bowling alleys looked like when we were kids.  With neon walls, neon balls, electric everything (the bowling system calculates how fast your ball goes down the alley for heaven's sake), this made my Saturday morning bowling league when I was ten look like something from the stone age!  Funky music playing in the background, excellent lane-side service from a terrific staff – it has the feel of a nightclub, but with all the comforts of hanging out in someone's family room.  The lanes are set up in such a fashion to give every group their own VIP section with chummy couches and table space enough to have a seven course meal to dine on.

And dine we did!  Bonnie, our lovely and oh-so-generous host, said she'd be sending over samples of their top dishes.  These "samples" could have fed an angry mob of lumberjacks and each dish she delivered was better than the last.  Everyone was stuffed by the ninth frame!  The only thing lacking the entire evening was skill when it came to the bowling, which I'm choosing to blame on the over indulging we were doing with those "samples".

We got to hear about all the cool things Star Lanes has going on each week: Ladies Nights on Thursdays; catch all the games with the NFL Ticket on Sunday (which is nice since it's likely the next two Bengals games are gonna be blacked out); and plenty of things for families – high-style kids parties to fit any budget, as well as Mommy & Me bowling every Wednesday (see details below). A kids menu is available with complete meals for only $4!  Or opt for their delicious new "family style" dishes like Fish & Chips or their Star Family Pasta Bowl – both for only $9.99!  We tried both the fish and the pasta and loved 'em!  Though hands down my favorite dish was the Pretzels – soft and warm, with garlic butter for dipping…I'm still licking my fingers!  Oh and by the way – kids eat free Monday thru Thursday 4pm-7pm!!!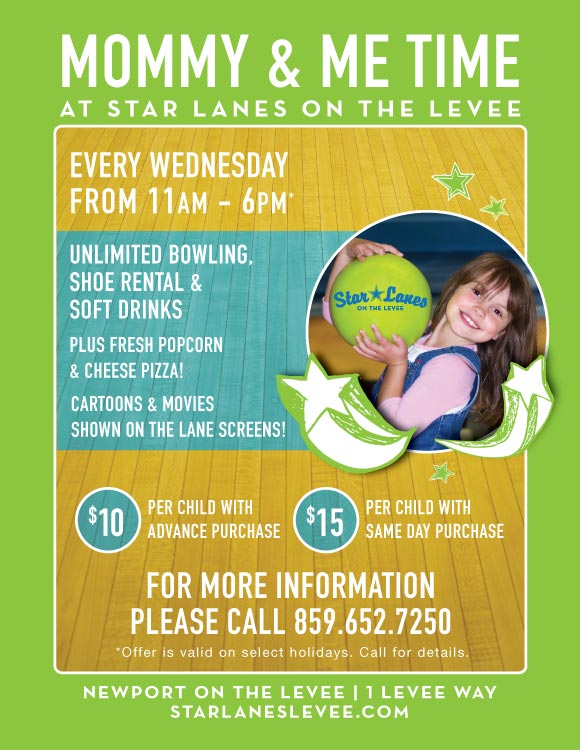 Star Lanes is definitely at the top of our list for family fun destinations.  It is a top night spot in town in the evening of course, but there is plenty offered for families in the earlier hours when things are more "kid-friendly". I'm lucky enough to be off next Wednesday, so I'm planning to take P down for Mommy & Me Bowling.  On Wednesdays from 11am-6pm, for only $10* you get unlimited bowling, shoe rental, unlimited soft drinks, cheese pizza and popcorn.  And they'll have kids movies and cartoons playing on all the TVs – a virtual kidtopia and what a way to get out of the house on these uber-cold days we're having.  (*Just an FYI from Bonnie – though the flyer says $15 at the door, they are only charging $10!)
We'll have plenty more to say about Star Lanes in the weeks ahead and if you behave yourselves we might even surprise you with a pretty awesome giveaway so one lucky winner can check it out.  So be good for goodness sake readers and if you're looking for something to fill the day next Wednesday – I'll be the one on lane 7 throwing the gutter balls!